Earnings season is upon us, and for the most part, there are some pretty solid earnings in everything other than financials. Next week we start to break into transports, discretionaries and more energy. We took some time to look at companies reporting Tuesday evening of next week that can offer three-day values into earnings and out of earnings.

We look at Buffalo Wild Wings (NASDAQ:BWLD), Dreamworks Animation (NASDAQ:DWA), Las Vegas Sands (NYSE:LVS), Panera (NASDAQ:PNRA), Nabors (NYSE:NBR) and Norfolk Southern (NYSE:NSC).


BWLD - Buffalo Wild Wings may be looking at a rally into next week on dual stories. For one, the company is getting some relief on the fact that the NFL is getting close to completing a deal for the season. While the situation has not weighed on BWLD (even though it should have because no NFL Sundays would be a huge hit to the business), the relief of it can be a catalyst - especially when coupled with earnings on Tuesday. The company had a great earnings report last quarter that helped propel the stock 10% in the next week, and some of that movement should start to move into the stock before this earnings report. EPS estimates are for an increase from 0.50 to 0.60 with 21%-plus growth in revenue. Technicals seem a bit toppy, but a breakout could actually be its next move into earnings.

Click to enlarge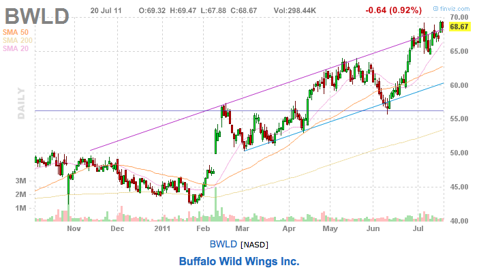 Click to enlarge

DWA - Dreamworks has had a very rough go this year, down nearly on 30% YTD. The company has had a very weak showing with movies like Kung Fu Panda 2, Shrek: The Final Chapter and Megamind. A lot of this bad news seems priced in for DWA now. The company is expecting a nice rise in revs and EPS YoY with 0.40 to 0.27 in EPS and 25% increase in revenue. The stock is pretty cheap with an 11 P/E and 12 future P/E. The bad news seems pretty well priced into the stock, and a relief rally out of earnings could definitely be on the way with a beat. The company, typically, outperforms the market and has good rallies off past beats (even if short-lived).

Click to enlarge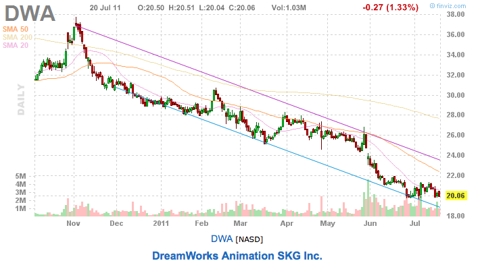 Click to enlarge

LVS - Las Vegas Sands had a disastrous quarter in Q1 compared to expectations, but the company has nearly recovered completely from a post-earnings month-long sell-off. The stock, at this point, looks like it is ready for a breakout. More large gains are expected for the stock, and we would not be shocked to see some pretty solid gains coming into the stock pre-earnings. At that point, we believe a beat on earnings would propel LVS much higher as a reaction to the last earnings disappointment. EPS growth is expected to be from 0.17 to 0.44 with 38% growth in revenue. P/Es are still high, but this market loves to overpay for growth. Seems like that mantra will ring true for LVS here in the next week.

Click to enlarge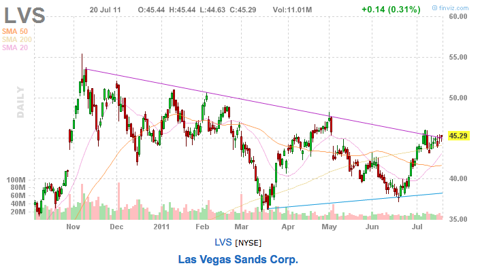 Click to enlarge

PNRA - On Monday, we launched coverage on Panera with a Buy rating and price target at over $150. We believe the company is a great growth story in the low-growth dining sector and is yet to see the potential of that growth factored into its stock price. We are not ecstatic about pre-earnings rallies for PNRA as they have not happened historically, and the stock currently seems to have a lot of overhead pressure on it. Rather, we think PNRA could be set for a great post-earnings rally with even more rallying to occur into the second half of the year. The company has more growth on this way with nearly 20% growth in revenue as well as EPS growth from 0.85 to 1.17. Additionally, we believe margins are key for this company as it needs to continue to improve profitability along with growth. If those move higher, watch out for PNRA.

Click to enlarge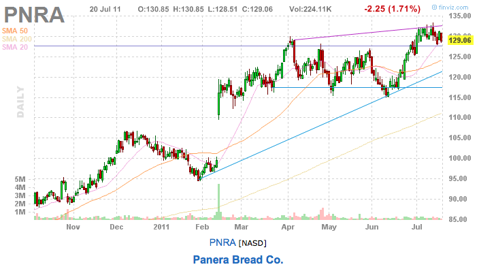 Click to enlarge

NSC - We are in a position in NSC right now with what we think is a lot of upside still left in this company. The company has a future P/E at 13 vs. P/E at 17, so a lot of growth is expected for this company this year, and the stock is not reflecting that price as of yet. With a move from 1.04 to 1.28 in EPS expected, we think a move toward 80 into and out of earnings should be easily met for the stock. The company has an amazing upward price channel that it has been consolidating around the bottom of with slow growth. MAs are right underneath the stock with money flow and stochastics pointing to more upside.

Click to enlarge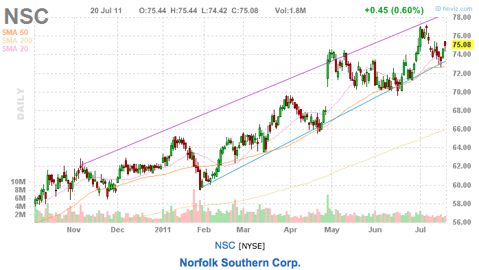 Click to enlarge

Disclosure: I am long NSC.