By Andy Hyer
Apparently, German companies aren't waiting around for Italy, Portugual, Spain, Greece etc. to get their acts together. Monday's New York Times article "Europe's Economic Powerhouse Drifts East" offers an interesting profile of a number of German companies who are proactively finding robust growth in the East, while much of Europe staggers under a debt crisis.
Germany has long sat at the center of the European economy, but Europe is no longer as central to Germany as it used to be.

With large parts of Europe still in an economic rut and struggling to cope with a debt crisis, Germany is increasingly deploying its money and energy outside the euro zone to fuel its robust growth.

The shift in focus, while still in its early stages, could have profound economic and political implications because it comes at a critical time when the rest of Europe is counting on Germany to continue its traditional role as the locomotive of the Continent's economy.
Profiled in the article is Fresenius (NYSE:FMS), a German healthcare company in Bad Homburg, near Frankfurt, which also happens to be a holding in our PowerShares DWA Developed Markets Technical Leaders ETF (NYSEARCA:PIZ).
Last year, Fresenius recorded a sales increase in Asia of 20 percent, to €1.3 billion, or $1.8 billion. That compared with its sales in Europe of €6.5 billion, up 8 percent.

Fresenius's chief executive, Mark Schneider, said he expected the trend to continue, noting that China was trying to create a universal health care system that would ensure its people access to kidney dialysis and infusion therapies — the sort of products that Fresenius provides.

Fresenius is one of many companies that reflect the trend. Corporate investment in Western Europe is still rising in absolute terms, said Mr. Schneider, but "capital spending and employment is not rising as much as we are seeing in emerging markets."
The best companies always rise to the top and find a way to thrive, in spite of macroeconomic conditions if necessary. We think relative strength is an ideal method of identifying and capitalizing on those winners.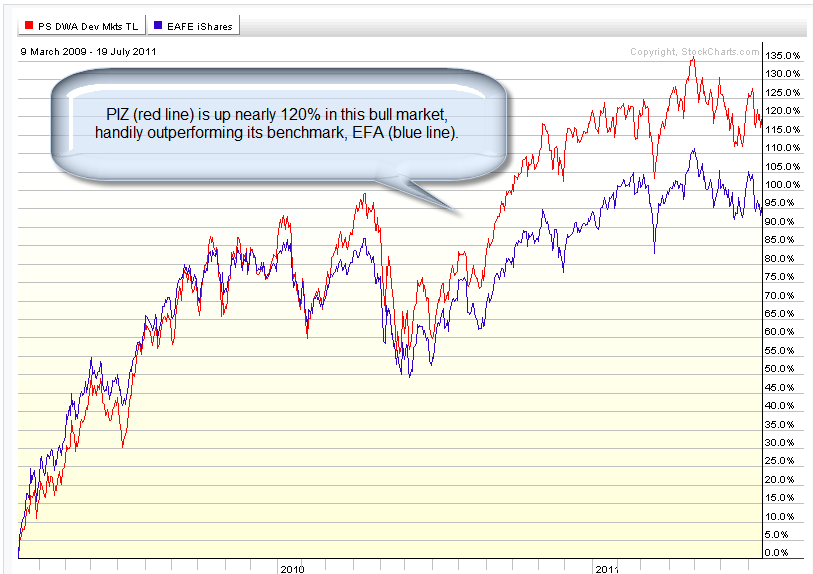 (click to enlarge) Source: StockCharts.com