A lot of investors remain passionately bearish on big bank stocks. But, with the earnings report season well underway, we've already heard from some of the biggest banks in the country. And, what they're telling us is encouraging. Loan activity is picking up, credit quality is continuing to improve and banks are beginning to take important shareholder friendly steps, including dividend increases and share buybacks.
Last quarter, banks eased standards for both commercial customers and consumers. Commercial standards have eased for 6 consecutive quarters, and consumer standards have eased for 4 consecutive quarters. Interestingly, the -20.5% Q2 reading for consumer and credit card loans marked the lowest reading on records back to 1996. Banks are increasingly willing to lend.
This willingness was reinforced in this week's commercial and industrial loan data for banks. In June, commercial and industrial loans at commercial banks came in at $1261.2 billion, up from $1257.9 billion in May and 2.2% higher than March.
click on image to enlarge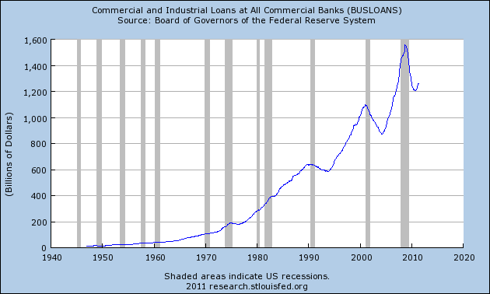 Click to enlarge
And, not surprisingly, we're seeing this same message echoed in earnings reports:
Across banks, the loan run-off weight is lifting. Companies and consumers are doing a better job making payments.
At US Bancorp, charge-offs are expected to continue to trend lower. In Q2, commercial net charge-offs dropped to 1.22% from 2.35% last year. US Bancorp's residential charge offs fell to 1.46% from 2.06% while credit card charge offs declined to 5.45% from 7.79%.

At PNC, non-performing assets fell to 1.7% from 2.19% last year. And, their net charge offs were 1.11%, down from 2.18%.
Wells Fargo charge offs similarly fell to 1.52% from 2.33%. Credit card charge offs at Wells dropped to 5.63% from 7.21% last quarter.
Keycorp (NYSE:KEY), net charge-offs were 1.11% against 3.18% in Q2, 2010.
And, Bank of America (NYSE:BAC) and JP Morgan both saw charge-offs drop to 2.44% from 3.98% and 3.25% from 5.34%, respectively.
This improvement in credit quality is allowing banks to recapture money previously set aside for losses. Provisions at US Bancorp fell by $175 million in the quarter, three times the decline in Q1. At Wells Fargo, loan loss reserves declined by a billion. And, Bank of America's provision for losses finished Q2 less than half year ago levels.
Deposit activity is making lending more attractive too. Banks are benefiting as low rates provide stable cheap financing, particularly as high cost CD's are rolled into low cost savings.
At U.S. Bancorp, deposits increased 14.2% led by 22.1% growth in non-interest bearing savings accounts.
PNC noted a 4% decline in CD savings accounts and unchanged overall deposits, indicating lower funding costs.
At Wells Fargo, deposits rose 9% from last year, which dropped its average deposit cost by to 0.28% from 0.30% last quarter.
Keycorp saw similar activity, with money market and NOW account deposits up 12.6% and 5.7%, respectively. At the same time, CD's at Keycorp fell 38.2%.
At Bank of America, deposits were up 4% and deposit costs fell 0.16%.
Improving balance sheets at banks are behind a return to share buybacks and dividends. At US Bancorp, the company started buying back shares late last quarter and intends to buyback more shares going forward as it aims to return earnings to shareholders. At PNC, its Board of Directors approved a dividend of 35 cents a share for Q2, up from 25 cents in Q1. And, while PNC didn't actively buyback shares in the first half of 2011, it still has 24.7 million shares remaining on its authorization. Wells Fargo also resumed its share buyback program in Q2, repurchasing some 35 million shares.
Despite the improving trends, short sellers remain overly pessimistic on banks. But, that may be changing. In the last month, short interest has fallen across both large and mid cap money center and regional banks. As bank loan portfolios expand, write-offs shrink and profits increase, banks are becoming shareholder friendly again. That's bad news for short investors and good news for long investors.