Nucor (NYSE:NUE) has the potential for strong quarterly results today (Thursday). I initiated a position in the company on Tuesday. My theory hinges on evidence of rebounding construction and the auto industry, as well as the results of fellow steel producer Steel Dynamics (NASDAQ:STLD).

Nucor, like Steel Dynamics, operates electric mini mills for steel production and is one of the largest steel producers in the United States. Unlike the traditional blast furnaces that continuously forge iron and coal into steel,, mini mills melt scrap steel to use as raw material for new steel. These mini mills are very efficient and are able to change capacity quickly, which is always useful during a recession. Also, they are not as dependent on potentially high coal prices as blast furnaces and are less labor intensive, helping to keep costs down. Nucor often receives high praise for its employee treatment, creating an egalitarian and performance based culture. There is really a lot to like about Nucor's business model.

On Tuesday, Steel Dynamics, a smaller mini mill operator, reported its quarterly results. STLD reported higher volumes, good order book and better pricing than expected, causing the stock to bounce almost 5% on the day. Since both STLD and Nucor operate in similar environments, this leads me to believe Nucor will report similarly positive results.

On a macro scale, steel-- of course-- is closely linked to construction, infrastructure and auto manufacturing. I've noticed a few interesting data points in construction lately, so let's cover that first.

The retails sales report (on which I write a monthly blog) has shown that sales at building materials stores were up over 1% the last two months. June showed that building materials sales are up almost 8% year over year. Also, this month's Housing Starts surprised to the upside, jumping almost 15% in June. Permits increased as well. Banks have been reporting more Commercial and Industrial loans. So while employment in construction is still weak, there are signs that construction itself is beginning to turn around.

Auto sales have steadily improved off the low 11 million annual sales or so during the recession, to an estimated 13 million sales this year, and still have a way to go to get to the 16+ million of the last business cycle. Tsunamis notwithstanding, auto sales have a long way to run with slowly improving employment, greater worldwide demand and looser credit. And of course, China and India continue to build out infrastructure to meet the needs of their strengthening economies.

Finally, I like value, technicals and dividends. Let's look at Nucor itself.

Click to enlarge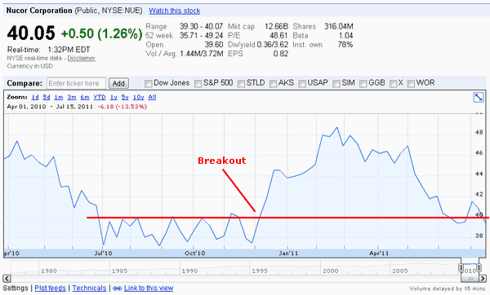 Not exactly a technical knockout, but it is bouncing along $40 or so, which would be the price of the previous breakout near the beginning of December 2010. This could well be support for this stock. Earnings for 2011 are estimated to be around $3, which would put Nucor at a fairly cheap 3 times this year's earnings. Nucor even offers a tasty 3.5% dividend with sufficient cash flow for debt coverage. Price targets are around $48 - 50, a 20 – 25% improvement off the current $39.

Nucor looks to be solid on a fundamentals basis, with improving industry dynamics. With its competitor's strong quarter, there is potential for a nice bounce on earnings. This makes Nucor a potential strong short term trade or a rewarding traditional long term investment, and this could be an advantageous entry point for this efficient steel producing company.

Disclosure: I am long NUE.