Whirlpool Corporation (NYSE:WHR) is scheduled to release its second quarter 2011 results before the market opens on July 21, 2011.
Benton Harbor, Michigan-based Whirlpool Corporation earned a profit of $2.11 per share in the first quarter, beating the Zacks Consensus Estimate by a significant margin of 49 cents per share.
For the upcoming quarter, the Zacks Consensus Estimate for Whirlpool Corp. is pegged at a profit of $2.76 per share, which reflects an annualized decline of 2.23%. The upside potential of the estimate, essentially a proxy for future earnings surprises, is 5.07%.
WHR's average earnings surprise over the past 4 quarters is 17.52%, with a negative surprise having been recorded in only one of the four quarters.
First Quarter Recap
Revenues in the quarter increased marginally by 3% to $4.40 billion, up from the Zacks Consensus Estimate of $4.21 billion. The adjusted operating profit decreased 23% to $221 million in comparison to $287 million in the previous year.
Revenues in the North American region increased slightly to $2.3 billion as unit shipments rose 4% in the U.S. industry. However, unit shipments of major appliances dipped 1% during the quarter.
Adjusted operating profit fell significantly to $52 million from $140 million in the first quarter of 2010. Results were favorably impacted by cost reduction and productivity initiatives and foreign exchange fluctuations, which were more than offset by lower product price/mix and higher material costs.
Revenues in the Europe, Middle East and Africa region inched up 1% to $743 million as industry unit demand during the quarter was flat compared with the prior year. The operating profit fell to $25 million from $27 million due to lower product price/mix and higher material costs, partially offset by cost reduction and productivity initiatives.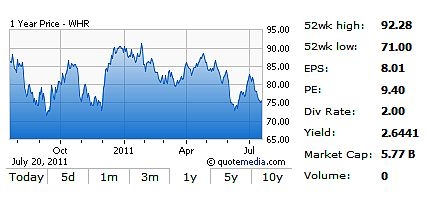 Revenues in the Latin American region escalated 8% to $1.2 billion. Excluding currency translation, revenues increased about 2%. Operating profit rose to $174 million from $167 million in the prior year due to increased monetization of certain tax credits as well as cost reduction and productivity initiatives. These were partially offset by higher material costs.
Revenues in the Asian region rose 8% to $208 million. Excluding the impact of currency, revenues increased approximately 6%. Operating profit was flat at $11 million compared with the prior year. The results were favorably affected by volume and product price/mix, offset by higher material costs during the quarter.
In the quarter, the company had a cash outflow of $224 million from operating activities compared with an inflow of $71 million in the year-ago period, primarily due to lower accounts payable and lower deferred taxes. Meanwhile, capital expenditures decreased to $115 million from $146 million in the quarter.
Whirlpool Corporation anticipates recording earnings per share of $12.00 to $13.00 for full year 2011. The company expects to generate free cash flow between $400 million and $500 million for the year. This includes approximately $300 million to $350 million of energy tax credits and cash pension contributions of approximately $300 million in the U.S.
Estimate Revisions Trend
The Zacks Consensus Estimate for the second quarter of 2011 is currently pegged at a profit of $2.76 cents per share. Analysts are slightly cautious on the stock considering the increasing prices of raw materials and the company's vulnerability to global risk and the intensifying competition.
Agreement of Estimate Revisions
Out of the seven analysts covering the stock for the second quarter of 2011, one has upgraded the stock in the past 30 days. None have downgraded the stock so far.
Magnitude of Estimate Revisions
Following the first quarter earnings release in April, the second quarter earnings per share were projected at a profit of $2.93. However, in the last 60 days, the estimate dropped by a substantial amount and stood at a profit of $2.76 per share. It again fell to $2.72 per share in the past 30 days. However, analysts currently maintain an estimate of $2.76 per share for Whirlpool.
Our Take
Whirlpool is considered to be the largest home-appliances manufacturer in the world, leaving behind Electrolux AB (OTCPK:ELUXY), LG, Samsung (OTC:SSNLF) and General Electric Co. (NYSE:GE). The company holds the No. 1 rank in North America and Latin America, No. 2 in India and a No. 3 in Europe.
Whirlpool is steadily gaining business momentum after the economic downturn. Its demand trends recovered in the U.S. as well as in Europe. Whirlpool comprises 41.5% of U.S. appliance sales while LG Electronics and Samsung have only 8.7% and less than 1%, respectively.
The company also focuses on research and development with an objective to upgrade the existing product line and introduce new and innovative products.
However, rising material costs have forced Whirlpool to raise the prices of its products. This may lead to a decline in demand for its products, thereby losing market share to some of its major competitors like LG and Samsung who have retained their previous prices.
Furthermore, Whirlpool's customer concentration is high. The company's large trade customers include Sears Holdings Corporation (NASDAQ:SHLD), Lowe's Companies Inc. (NYSE:LOW), The Home Depot, Inc. (NYSE:HD), Casas Bahia, Best Buy Co. Inc. (NYSE:BBY) and Ikea, which have significant leverage as buyers. This makes the company all the more vulnerable to risk.