Danaher Corporation (NYSE:DHR) is scheduled to announce its second quarter earnings before the opening bell on July 21, 2011.
The current Zacks Consensus Estimate for the quarter is 67 cents per share. Revenue is expected at $4.1 billion.
First-Quarter 2011, Summary
Danaher Corporation reported first quarter 2011 earnings per share from continuing operations of 61 cents, exceeding the Zacks Consensus Estimate of 57 cents. This reflected a year-over-year increase of 42%.
Revenues from continuing operations for the 2011 first quarter were $3.3 billion, 11.0% higher than $3.0 billion reported for the first quarter of 2010. Revenues matched the Zacks Consensus Estimate. Core revenues increased 10% in the quarter compared to the first quarter of 2010.
During the quarter, the company completed two acquisitions with aggregate annual revenues of approximately $250 million to strengthen its Product ID and Water Quality platforms.
Guidance for Fiscal 2011
Management had increased its full year adjusted earnings per share guidance to a new range of $2.65 to $2.75 from the prior range of $2.55 to $2.70 .
Second-Quarter 2011 Zacks Consensus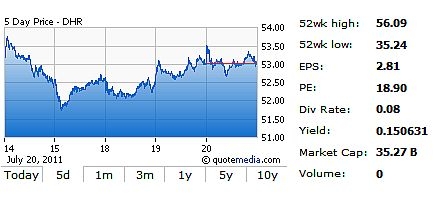 Analysts covered by Zacks expect Danaher Corporation to post second-quarter 2011 earnings of 67 cents per share, which is higher than earnings of 56 cents delivered in the prior-year quarter.
The current Zacks Consensus Estimate ranges between earnings of 65 cents to 69 cents a share.
For the second quarter, management expects earnings to be in the range of 62 cents to 67 cents.
Zacks Agreement & Magnitude
Of the 20 analysts following the stock, one analyst revised his estimates upward in the last 30 and 7 days, while two analysts lowered their estimates in the last 30 days. However, the Zacks Consensus Estimate remained unchanged.
Positive Earnings Surprise History
With respect to earnings surprises, Danaher Corporation has averaged approximately 5.8% over the past four quarters.
Our View
The company has been performing well over the last four quarters, with strong double-digit and high single-digit growth across all of its five segments. The company has also completed six acquisitions recently to further strengthen the Test & Measurement, Life Sciences & Diagnostics, Dental, and Sensors and Control businesses.
Furthermore, the company's recently concluded Beckman Coulter (NYSE:BEC) deal is expected to add significant revenues to its Lifesciences and Diagnostics segment, as there is a strong drive from hospitals to reduce operating expenses and become more efficient. In addition, hospital construction in the U.S. is expected to rise at 5% in 2011 and 9% in 2012.
Danaher Corporation primarily competes with Tyco International Ltd. (NYSE:TYC), 3M Co. (NYSE:MMM) and ITT Corp. (NYSE:ITT).