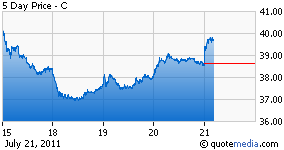 The past week has been important for the financial sector with many of the largest companies in the sector such as, Citigroup (C), Bank of America (BAC), JP Morgan Chase & Company (JPM), etc. announcing quarterly earnings. There were several financial stocks which experienced gains on Wednesday July 20th as a result of these earnings.

I believe this sector to be undervalued and I see a bullish rally for many of these financial stocks in the coming months. After reviewing several companies within this sector I have found one that's value exceeds the others and should see accelerated growth in the coming months.

Citigroup is a financial company that, I believe, is undervalued and should be considered for purchase.

The company released earnings which reported EPS of $1.09 versus EPS of $.90 during the second quarter 2010. The net income for Q2 was $3.3 billion compared to $2.7 billion in 2010.

While these numbers show the company has improved operations for a 3 month period, they still do not tell the story of Citigroup's financial progress. Any investor interested in purchasing stock should review the company's yearly reports. According to the income statement from Yahoo, Citigroup had a net income of negative $27.684 billion in 2008 and a net income of $10.602 billion in 2010.

Citigroup's stock is down 4% over the past year and usually trades in a range of $40-$50 a share. The stock is trading close to its 52 week low of $36.30 with a P/E ratio of only 11.35.

With so much uncertainty within our economy, investors are skeptical of an investment within a bank. I believe that investors should be taking a long hard look at Citigroup. I was once told that in order to make an investment you need three reasons to buy other than someone told you. I believe you should have four reasons in which you purchase a stock, taking into consideration the technicals and the fundamentals of a stock.
Income is a very simple indicator of financial strength. When looking at a company's income or revenue, I prefer yearly results and trends as companies can post one weak quarter in addition to three strong quarters and investors will sell because of the moment. Over a 4 year period, Citigroup's income before and after taxes has increased at an incredible rate. Citigroup's income after taxes, in millions, for 2007 was 3,192, in 2008 it was -32,029, 2009 was -1,066, and in 2010 the company posted income after taxes of 10,951. These numbers are incredible in regards to Citigroup's growth and rebound from financial hardship. If we look at the first two quarters of 2011, Citigroup has already posted income after taxes of 6,363. If this rate were to continue, the company would post 12,726 which would be significantly greater than 2010.

When speaking of financial companies, such as Citigroup, you must look at assets. There are many different ways to view assets. I prefer looking directly at Net Tangible Assets. Net Tangible Assets are calculated as the total assets of the company not including the intangible assets, which are typically non-monetary. The following numbers are listed in thousands: 2008 = 100,339,000, 2009 = 118,594,000, 2010 = 129,812,000. As you can see, each year, the net tangible assets have increased. As I previously stated, it is better to look at these financial numbers on a yearly chart since some quarters are seasonally stronger than others.

Another indicator I use is comparison amongst competitors. JP Morgan Chase, Wells Fargo (WFC), and Goldman Sachs (GS) are large companies who operate in a similar fashion while placing emphasis on different areas of development. All four companies have seen significant advances within their operations. Each company has seen considerable increases of income both before and after tax over the last three years. All had higher net tangible assets in 2010 versus 2008. They have traded in similar patterns, all have low P/E ratios under 15.0, and each company has seen an increase in profit. Yet, not one of these companies has seen yearly gains over 10%, and two of these companies, C and GS, saw yearly losses.
My last area of research will come from Citigroup's trading chart from different periods of time. I will say that I am not an investor who buys stock based on technicals. I do use them to obtain certain facts, such as if the company is over sold. Since Sept. of 2009, Citigroup's stock has seen loses greater than 15%. If you remember the data which is listed above, then you know the numbers have continued to go up. If you are an investor who trades on the technicals, then you should appreciate the FSTO and RSI which are both showing over sold on a one year chart. There is little regarding this chart that makes sense. When I see a drop in price, I look for news that matches the particular date so that I may find out what made the stock drop. On January 14th 201, the company had been in an uptrend trading at a 52 week high of $51.50, only to drop the next day to $47.50 after annoucing dividends. On May 9th, the company was trading at $45.50, the next day a 1:10 reverse split was initiated and the stock experienced downtrend over one month to $36.81. The majority of the time this stock price was not being pushed down by company news. It was either a sector move, as we identfied with some of the companies with similar 52 week performances, or the move was based on market panic. The market gets cold feet very easily and because of economic uncertainty it reacts like a Yo Yo, dropping and gaining a 100 points on the Dow Jones Industrial Average as a reaction to news that is usually irrelevant. Unfortunately, because of Citigroup's market cap they have been unable to experience the rewards of improved earnings because of this fact.
I believe Citigroup's stock will experience accelerated growth during the second half of the year. I would not be surprised to see new highs, a price in the mid 50s. Next year is when I believe Citigroup, and other financial groups, should flourish. There will come a time when financial performance cannot be ignored and Citigroup investors will reap the benefits.
If your goal is to buy low and sell high, then I would absolutely start investing my time into Citigroup and financial institutes alike. Watch to see what direction the company goes as it usually experiences several days of gains or several days of loss. After weighing the risk versus the reward, decide if a purchase in Citigroup is right for your portfolio.
Disclosure: I have no positions in any stocks mentioned, and no plans to initiate any positions within the next 72 hours.