Congratulations to everyone who got in on the Zillow (NASDAQ:Z) IPO, you made a killing! Now for almost everyone else who bought today "ouch." Today Zillow looked dead on arrival in the secondary market. In case anyone missed it, Zillow initially doubled based off the IPO price, but then immediately took a crash course to lower levels.
Click on image below to enlarge.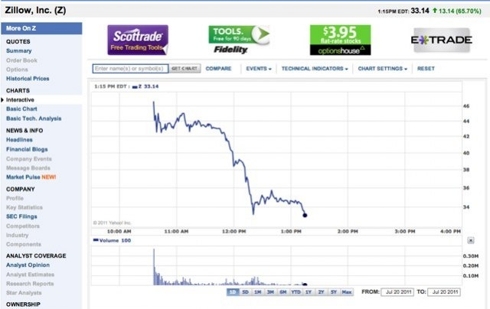 Click to enlarge
What everyone wants to know now is whether this is going to look more like another Pandora (NYSE:P) or LinkedIn (NYSE:LNKD) trading environment. In our view, Zillow has a murky future although the markets would suggest otherwise given its stock price didn't retrace to IPO pricing levels.
Zillow might be the most interesting Internet company of three companies mentioned. This deals with the fact that Zillow has actually achieved profitability like LinkedIn, but has simultaneously warned that it could become unprofitable again as the business matures. We can imagine at this point whomever bought Zillow today might be saying, "I didn't hear about this anywhere" and ask where our proof is.
If we fail to continue to grow our revenue and overall business and to manage our expenses, we may continue to incur significant losses in the future and not be able to achieve or maintain profitability.
*Source: TechCrunch
You can check out this snippet of news on TechCrunch. It looks like they found this on the S-1 filing for the company. Before anyone has a heart attack, though notice the key word "may", meaning that there is no guarantee this will occur. Still, it seems like more than a few people either glossed over this reference or just weren't made aware of it because we haven' t heard any chatter on the topic. Now we rate Zillow a PASS due to the fact that the firm focuses on the US real estate market, has already warned that its ability to remain profitable is serious enough that the potential was referenced, the lending market remains tight, and because the US unemployment rate remains high.
US Real Estate! Are You Kidding Me?
Any wealthy investor with a lot of liquidity that has gone after US real estate is probably making a killing given the steep discounts. Now let's realize this doesn't describe the vast majority of Americans. Most Americans have been struggling just to keep their jobs, pay their mortgage, and maintain their way of life. In addition, US real estate as a whole has continued to remain weak years after the bubble, with only a few prime areas doing better now. So before everyone starts drinking the real estate cool aid again let's all remember that this arena currently remains bleak.
Now, some people are going to point out that traffic to the site has continually increased which illustrates promise. Rising traffic is great but most people can't afford to buy a home period. Zillow, in our view, is the ultimate window-shopping site. Sure plenty of people want to buy a home, point in case why they go to Zillow, but they haven't and real estate prices illustrate this.
Going Public Because They Can
In another time and place Zillow would actually be an IPO we like. Now, what might this world look like, you ask? To start, the official US unemployment rate wouldn't be hovering at 9.2% and the US economy wouldn't be digging itself out of an economic crater. Also, the US real estate wouldn't have just collapsed nationwide and still be in a slump. Basically we would have liked it to go public at any other time when the US economy wasn't facing such a massive amount of real and perceived head wind.
In our view, Zillow IPO'd for only two real reasons. First, they made it public that once the firm was profitable they would be interested in this route. The other reason is that right now Internet IPOs have been hotter than an exploding hot potato. In other words, they knew they could fleece investors in a hot IPO market and they did. It doesn't take a genius to figure out that investors can't get enough exposure to "Web 2.0" companies. Also, we doubt the backers of Zillow planned on keeping the company private for this long so while the sun shines they'll make hay.
Great Idea, but Horrible Timing
In 2008 Zillow launched a mortgage market place at pretty much the peak/end of the real estate bubble. Great idea but horrible timing obviously. Now, we still think this was one of the best things Zillow did, but the problem is the banks. They just aren't lending actively to the average Joe. This is why we consistently hear about cash deals in the RE market now. We have little doubt this could be a huge money maker for the firm but an icy lending market just doesn't help the firm.
Conclusion:
If Zillow hadn't come out at such a high premium we might have rated the firm a "buy." Why? Well, if it had come out at a fair valuation we could see this as a long term recovery play for the US economy and real estate market overall. We can't do that though given the huge "internet" premium being priced in and the fact that earnings expectations will now be much tougher to surpass. Now, if Zillow goes down around $20 a share or lower we'll take another look at the situation and reevaluate, but while it trades at $30+ we think the name is a PASS.
Disclosure: I have no positions in any stocks mentioned, and no plans to initiate any positions within the next 72 hours.