Hedging of liquid production by mid-sized Canadian E&P companies reached an all time high in the first quarter of 2011, according to an exclusive analysis by CanOils.
This group of companies are hedging a larger proportion of their liquids production compared with any other group of Canadian companies. The percentage of liquid production hedged by intermediates has tended to track the WTI spot price, with the proportion hedged rising and falling in line with the oil price.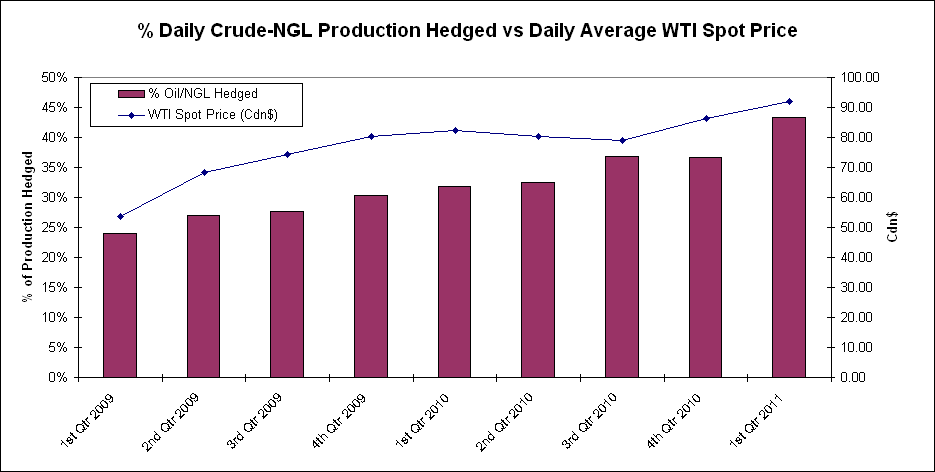 (Click to enlarge) Source: CanOils
Companies use derivative instruments to reduce their exposure to fluctuating commodity prices and to increase cash flow predictability. To ensure that funds flows are sufficient to fund planned capital programs and distributions, collars or other financial instruments are often utilised. Types of derivative instruments used include variable to fixed price commodity swaps, two-way and three-way collars and basis swaps. While intended to reduce the effects of volatile crude oil and natural gas prices, such transactions may limit any potential gains if crude oil and natural gas prices rise over the price established by the arrangements.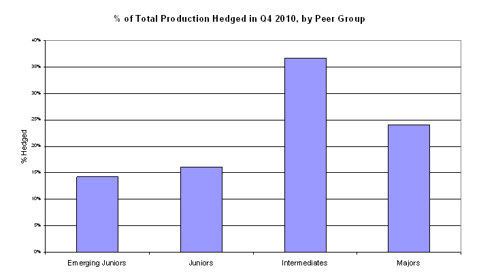 (Click to enlarge) Source: CanOils
On a company by company basis, the following pie chart shows how the production varies between these Canadian intermediates (companies with production between 10,000 and 100,000 boe/d). Crescent Point Energy, with core areas in southern Saskatchewan and central and southern Alberta, holds the largest proportion of liquids production in comparison with their peers.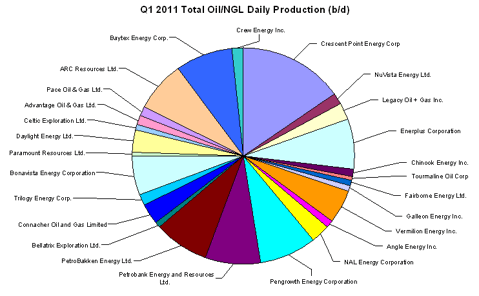 (Click to enlarge) Source: CanOils
There is little variance between companies in terms of the percent of their liquids production hedged. The figures are based on hedging contracts outstanding for the next quarter, as a percentage of current production. The average percentage of liquids production hedged in the first quarter of 2011 for this group was approximately 40%.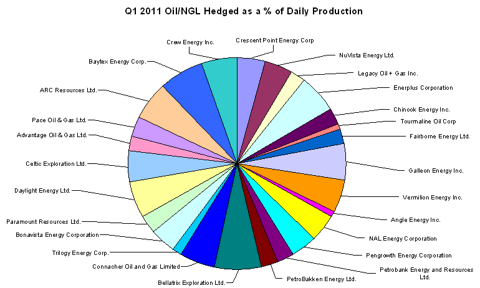 (Click to enlarge) Source: CanOils
If we take a closer look at these intermediates with hedging greater than two thousand b/d in Q1 2011, we see a growing trend in the proportion of companies hedging around the $80/bbl mark. The following bubble chart analysis, compiled using CanOils data, illustrates this. The larger the bubble size, the greater the volume hedged. [The anomaly here, Baytex Energy Corp. (NYSE:BTE), would be receiving a lower price as most of its production is heavy oil. NuVista Energy Ltd. (OTC:NUVSF) and Enerplus Corporation (NYSE:ERF) also have heavy oil production as well as crude and NGLs].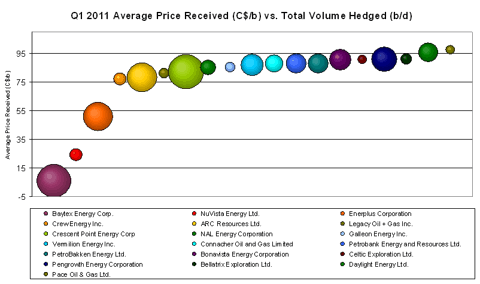 (Click to enlarge) Source: CanOils
Oil and natural gas prices are impacted not only by world economic events that dictate the levels of supply and demand but also by the relationship between the Canadian and U.S. dollar. Actual realised oil prices lagged behind the gain in WTI due to the strengthening of the Canadian dollar against the U.S. dollar, and widened differentials relative to the same period of 2010. Looking just at the first quarter of this year, not all intermediate sized companies benefited from hedging. The following graph indicates that Arc Resources (OTCPK:AETUF) benefited the most in realised terms, whilst Crescent Point (CSCTF.PK) made the largest losses.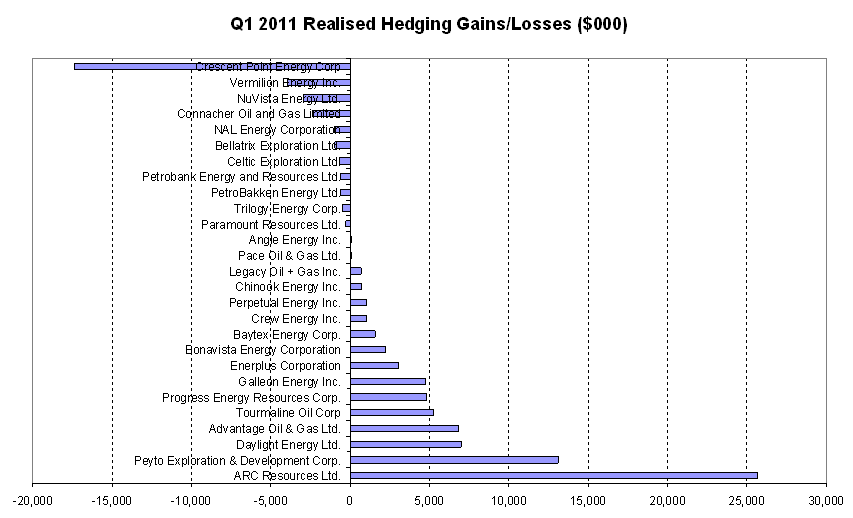 (Click to enlarge) Source: CanOils
Looking at the intermediate group as a whole over time, the largest gains from hedging strategies were made in 2009; total realised gains for these 32 Canadian intermediates reached over $1 billion.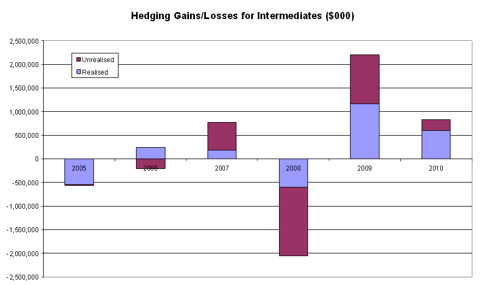 (Click to enlarge) Source: CanOils
CanOils tracks individual hedging contracts for all companies in the database, including volume outstanding and floor and ceiling prices per barrel or mmcf for oil and gas respectively.
Disclosure: I have no positions in any stocks mentioned, and no plans to initiate any positions within the next 72 hours.