By Elizabeth MacBride
The five asset classes a well-diversified portfolio should hold
The sovereign debt crisis is spreading through Europe like an economic plague: Greece, Portugal and now Ireland. Last week, Moody's announced it cut the country formerly known as the Celtic Tiger to junk grade.
The ocean is no barrier to the bad news, as U.S. equities markets reacted by falling.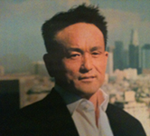 The classic answer for an investor seeking to protect his or her portfolio against such market turmoil – volatility — is to diversify. But we all thought we'd done that by dutifully stocking up on investments that mirror indices or investing in the stocks of companies that operate in different areas of the U.S. economy. Not quite, say the principals of Positive Delta Asset Management, an investment firm in Los Angeles that manages capital through global macro strategies and runs a strategy on Wealthfront. CEO Donald Kim and CIO Andi Kim (same last name, but unrelated. Donald pictured left; Andi pictured below.) say investors need to think more broadly than they have in the past about diversification.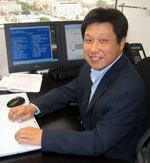 Their global macro strategies invest across not only the globe but across different asset classes. Their strategies combine what they call art – screening new investments – and science, which means proprietary investing models to monitor the portfolios they structure. CEO Donald Kim and I did this Q&A by phone, with assistance from Andi Kim.
-------------------------------------------------
What does a diversified portfolio look like?
We think investors should have exposure to the five main asset classes: stocks, bonds, commodities, real estate and currency. Commodities includes things like hard assets – hard assets meaning gold, oil, as well as soft commodities like grain … things where there is a limited global supply and increasing global demand.
That's different from what a lot of people might think. They might be diversified across stocks only.
When we first talked, you drew a line between true diversification and what you called "Mad Money" diversification. What did you mean?
Jim Cramer has a segment on his show Mad Money, where people call him and ask, "Jim, tell me if I'm diversified." Jim will then put the time clock on it and go through the portfolio. Sometimes, there will be six stocks, things like Apple, Goldman, etc. in different industries like tech, financials etc.
My point is … that kind of diversification is somewhat of a misconception – as it's limited to individual stocks and the overall stock market. Those investors are not necessarily diversified across asset classes per se: Is there a fixed income component, is there hard asset exposure – things that we global macro folks think are important today.
Please understand, I think if you are a pretty educated investor … Cramer has amazing insight and can be pretty good – he understands how various global markets work.
But a lot of the things he says may deserve further research. For him to take it to the global macro level would probably take more than a daily show – although he does a brilliant job of summarizing complex geopolitical events and picking individual stocks based on his views.
We've all been told that U.S. equities return the most. Why not just buy them and hold them for a long time? Why bother to diversify at all?
Most individual investors [deal with volatility by going long in equities]. When the stock market goes well, that's fine. But there are periods where the market is in a trough for a long time, or when another asset class is outperforming equities. For instance in the late 60s through mid 80s, stocks underperformed commodities.
I noticed you make a point of telling investors that you invest your own capital using your strategies. Do you mean you own retirement plans and family savings? Why is that important?
Yes, we believe in our strategies and have our own capital in them primarily because they have lower volatility, or risk, levels than the S&P 500 and because of the monitored exposure to other asset classes.
Why is lower volatility important?
Because it allows for a greater compounding effect – the net effect being better portfolio growth. As an example, if your portfolio has high volatility – meaning bigger ups and downs, and your portfolio drops say 20%, you'll need to return 25% to get back to where you were. Limiting these swings allows for this compounding effect, which can help growth. Retirement plans and family savings are sensitive to big downside swings, as people's investing time horizons are different. It's fine to be an outright bull on stocks for a portion of assets, but it's also important to diversify across asset classes and limit volatility and correlation with the overall stock market as part of your portfolio.
Can an individual investor develop a truly diversified portfolio like the one you're talking about?
Sure … generally speaking, for a solid global macro strategy, an individual investor can hold ETFs in different asset classes. Their goal should be to construct a portfolio with appropriate weightings across these asset classes, and monitor and adjust them over time. See: Four Keys to Choosing a Good ETF.
What individual investors can't do? Take for example the Greek debt crisis. There are more sophisticated ways professionals can put money to work, like some of the higher-yielding bond issues … with yields north of 20%, or things like credit default swaps. It's very difficult for an individual investor to invest in those [because access is limited to institutions], and the risk is much, much higher.
What about diversifying globally, across regions or countries?
That's important, too. An investor can look at whether they have this company or this ETF and consider, what's the underlying exposure? A U.S.-based company might derive 60% of its revenues from other areas of the world. Investing in a country ETF – that's another strategy if they feel the country's fundamentals are sound.
Not Greece?
Not Greece, right now.
Editor's note: As part of our conversation before the official Q&A, Donald Kim and I talked about a recent deal between Morgan Stanley and Mitsubishi UFJ, a Japanese holding company. Kim followed the transaction with interest for what it might indicate about the banking sector in the long unwinding of the financial crisis. Here's what he said:
In 2008, when the financial crisis occurred, there was a real need for our biggest banks to shore up their balance sheets. What happened is, basically, former Treasury Secretary Hank Paulson made a deal with the finance minister from Japan for a $9 billion investment in Morgan Stanley.

The way to bring investors into different banks here was to offer them preferred stock with very good dividends. To a lot of people, it seemed like there was an implicit guarantee from the U.S. government.

So if Mitsubishi UFJ has converted to common stock, I would be looking at this very carefully and wondering why this was agreed to. Given that common stock has a greater upside potential, and a greater risk … Is this a bullish dance for the banks? Some analysts think so.

Right now, about 4% of our portfolio is in U.S.-based but global financials.