As you know one of the most widely used figures in determining if an equity is 'cheap' or 'expensive' is its price-to-earnings ratio. It is argued that lower P/Es insure safety, stability, and less risk, while higher P/Es are generally reserved for growth stocks with less predictability. When the economy is doing well these P/Es will inflate, suggesting that people are more willing to take on additional risk as there is more confidence in the market. The past recession brought an unprecedented shrinking of P/Es as investors became aware of the fact that stocks are only worth what someone else is willing to pay for them at the current time.
Now, since prices are subject to change at any moment and assuming P/Es will not take drastic swings in short periods of time, simple algebra tells us that we are left with earnings, which is held constant for all but 4 days of the year. This is what makes earnings season so exciting for investors. Earnings prove whether the company you have put faith (and money) into is performing, and usually, whether or not it thinks it can keep it up. News outside of earnings can only take prices so far, and the subsequent price shifts can be attributed to the beliefs that investors have on how that will ultimately affect earnings.
Look at a company like J&J (NYSE:JNJ). Over the last few years it has taken huge hits from the media, mainly regarding the endless line of recalls on its products, both pharmaceuticals and devices. But its earnings over this time has shown that it can handle it and its dividend, which has been increasing annually for far longer than I have been alive, keeps its price up and healthy.
So when a company comes out and absolutely crushes on earnings like we've seen this week, we can predict new lows on its prices based on how low its P/E can slip, the company's ability to handle worldwide market-moving news, and its technicals. The following three companies are among the largest in the world and are arguably the leading name in the sector. The companies have histories reeking of success and are the epitome of a portfolio backbone. Earnings announcements have propelled these companies to new highs that will likely be able to hold barring market disasters, and yes, a refusal to increase the debt ceiling would be considered a disaster.
Apple (NASDAQ:AAPL) reported quarterly earnings of $7.79, the highest in its history. The fact that it came in a non-holiday quarter is just gravy. It destroyed the consensus estimates, and more than doubled its earnings from this quarter last year. Of course, Apple has a history of lowballing its earnings so perhaps analysts will give it some more respect next quarter.
Regardless, buildup to the announcement saw the price rise through an upper trendline off an unwarranted downswing. At this point, its 50 day moving average was creeping eerily close to its 200 day, as seen below. Then it jumped over $370, a new all-time high and this was followed with its afterhours earnings report which saw afterhours trading in the upper $390s. The price settled in the mid $380s with a current P/E of only 15.3. That's the lowest its P/E has been in several years and is great news for at least the next year or so. Based on these figures, I would say it's unlikely that we'll see Apple below $380 any time soon.
click on images to enlarge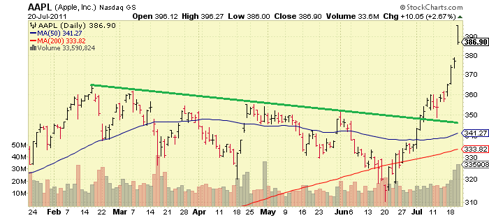 International Business Machines (NYSE:IBM), on Monday, reported quarterly earnings of $3.09 beating estimates by 7 cents. Certainly this was not as surprising as Apples announcement but it did shoot up the price, reassuring investors. It also beat last year's figures by 18% and brought earnings over the last 12 months to $12.50 per share. IBM also raised its guidance slightly.
As you can see in the graph below, IBM's earnings brought them through a resistance trendline. With any luck this will become a new bottom and provide support in the $180 range. IBM should not be thought of as as much of a growth stock as say Apple, but you do get 1.7% back in dividends. The jump in price brought its P/E up to 14.9. This does bring them back to the pre-recession range in terms of P/E, but its earnings have supported this growth.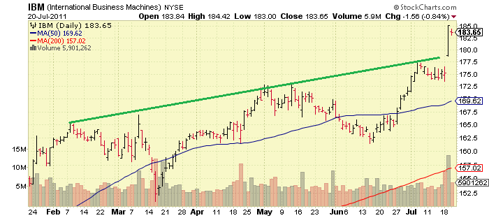 Coca-Cola (NYSE:KO), Tuesday morning reported earnings of $1.17, a beat much smaller than the companies listed above, at only 1 cent. What Coke has that the others don't is its sheer dominance of its sector and a growing dividend to be envious of, at 2.8%. It is not necessarily purchased for capital appreciation, but it has been there like a cherry on top. It was also able to perform this well while dealing with massive runs in commodities.
Coke is now sitting with a P/E of 18.8. This is indeed sort of high for them, but again, you would be paying for future growth. What I mean by this is, say you bought now locking in a price and held the stock for a few years while earnings rose. This would effectively lower your P/E while it would actually grow or stay constant. Basically, you would make money. Its graph does not seem to indicate any support for its new price. Its earnings did propel them upwards, but this was mostly making up for a pre-earnings drop-off. If Coke were to maintain its P/E at around 18 this would yield a price around $66. Despite this, Coke's size and dividend make them a much safer pick until the debt ceiling is sorted out.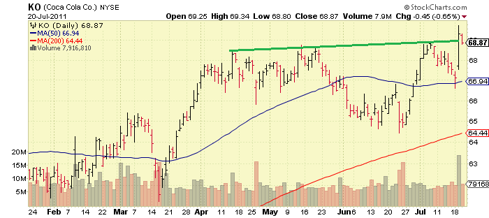 Here we have seen how earnings can drive prices through the roof and set new lows at prices that were once highs. We can only hope that earnings continue to impress and prices keep rising.