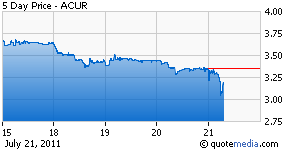 Acura Pharmaceuticals (NASDAQ:ACUR) is a company I have followed since January of this year. I began following this company after being made aware of their new AVERSION technology. The purpose of the AVERSION technology is to discourage the common methods of prescription drug misuse and abuse which include: injection of dissolved tablets, snorting crushed tablets, and intentionally swallowing in excess quantities.
Prescription drug abuse is a large financial problem in America. Opiate abuse costs Americans over $480 billion annually in healthcare costs, lost job wages, traffic accidents, crime, and funding of criminal justice systems. Knowing these facts made the AVERSION technology especially appealing as an investor. Chronic pain is a health problem that millions of Americans are forced to endure every day. There are good people who suffer from pain that have no intentions of misusing their drugs yet become addicted to opiates. I see the AVERSION technology as a way to manage pain with powerful opiates while lowering the risk of addiction. The value placed on a technology such as this would be priceless.
Reckitt Benckiser (RBGBF.PK) has made a fortune with its drug Suboxone. Suboxone is a partial opiate antagonist, meaning an opiate is present but does not carry the same effects as that of a full opiate such as Oxycodone or Hydrocodone, and is used as medicated assisted treatment to help the addict get past the physical aspect of addiction. The need for drugs like this is serious and has left several biotechnology companies racing to get their products through clinical trials and approved through the FDA. Both Titan Pharmaceutical (NASDAQ:TTNP) and Catalyst Pharmaceutical Partner (NASDAQ:CPRX) have drugs in clinical trials that contain Suboxone's main ingredient Buprenorphine.
Several companies have drugs in their pipeline similar to that of Suboxone. This shows that companies understand the financial rewards if FDA approval is granted. The problem has been the lack of drugs to reduce pain that prevent abuse. Pharmaceutical companies have chosen to address the problem of addiction after the disease has already evolved. Acura Pharmaceuticals has developed the AVERSION technology to help those who suffer from pain while lowering the risk of addiction. This technology treats addiction before it begins or prevents the risk of addiction making narcotic pain medication safer for all patients.
The company obtained, what appeared to be, their first break with this technology in the drug Oxecta partnering with Pfizer (NYSE:PFE). Oxecta is the first immediate release oxycodone HCI medication that applies the AVERSION technology. On June 20th Pfizer and Acura announced the marketing approval from the FDA of Oxecta. Both Acura and Pfizer developed Oxecta however the drug will be commercialized by Pfizer in accordance with AVERSION technology license. Pfizer has licensed 3 additional AVERSION technology products from Acura making four at this point. Acura Pharmaceuticals received a payment of $20 million from Pfizer which was a scheduled payment at this point in the process.
If I were reviewing this information alone it would seem that Acura is on track to becoming a multibillion dollar company. The issue of drug abuse is serious and there technology will prevent unintentional abuse. Yet the stock has seen a substantial slide in price and there have been events that cause me to question how effective Acura's business will be.
On June 20th, Pfizer and Acura announced the marketing approval from the FDA and Acura saw its stock increase to over $6 a share from its close of $3.87. Since then the stock has dropped to a current price of $3.35. The company has seen tragedy as their most recent CEO passed away forcing the company to make changes. The company has not seen a full year of profit since 2008, with 2010 seeing EPS of -.27.
The company's potential short selling has me more concerned. When I say short selling I am not speaking of investors but rather the company accepting a modest amount of money for a drug of so much potential. I worry that Acura is not taking advantage of their technology as $20 million is a small price to pay for a company such as Pfizer. The details of their arrangement are unknown at this point, Acura may very well receive a percentage of the revenue that Oxecta produces. But I feel that $20 million for a technology that is so transcendent is cutting yourself short, unless there is more to the story.
Why didn't Pfizer just buy Acura? They have purchased many companies over the past few years as their total assets have nearly doubled. Pfizer bought Icagen (NASDAQ:ICGN) another company in a partnership. While ICGN could be a great company in the future it is currently producing little revenue and negative net income. Pfizer has a market cap over $150 billion, it can afford to take chances and I cannot understand why it would not purchase Acura. They could purchase the entire company for less than $200 million and use the technology anytime it wanted. This question bothers me as an investor, if this technology was so good then Pfizer would buy Acura at any price, they could not resist.
I want Acura to be successful, I am hoping for billions in revenue. Not because I am a share holder but because its product could prevent lives from being lost. So many companies are in the business of treating the disease of addiction and Acura is trying to prevent the disease. However, the questions still remain: will this technology be successful, will the company become profitable, will they earn more money per deal, and why has there been no interest from Pfizer? I do not feel comfortable in making an investment into this company at this time. I still think the stock could go either way, my interest in buying this stock will begin around $10. At that time the company would have made significant changes to their operations. If that point ever presents itself I will be the first person in line wanting to buy this stock.
Disclosure: I have no positions in any stocks mentioned, and no plans to initiate any positions within the next 72 hours.