This is the one-year anniversary of the ETF Pullback strategy I've been writing about on Seeking Alpha. As detailed in the appendix below, this is a weekly strategy based entirely on technical analysis, more specifically, the idea that it's worthwhile to buy ETFs just after a recent period of relative strength has been interrupted by a pullback. Nothing ever goes straight up or down, so, it would seem, pullbacks ought to represent good opportunities to invest in ongoing trends. Think of it as akin to stepping onto a train that has stopped at a station, rather than running and jumping aboard while it's still moving. Here are the current selections:
Here was last week's list:
As followers of this feature can see, the current list represents a continuation of a development that surfaced last week, namely, a renewed (relative to recent experience) emphasis on U.S. equities. But this week, the model is zeroing in more closely on healthcare and telecomm.
As to performance, Figure 1 is a screen shot showing my real-money results as computed by the brokerage firm which I use to trade the model, FolioInvesting.com:
Figure 1
Click to enlarge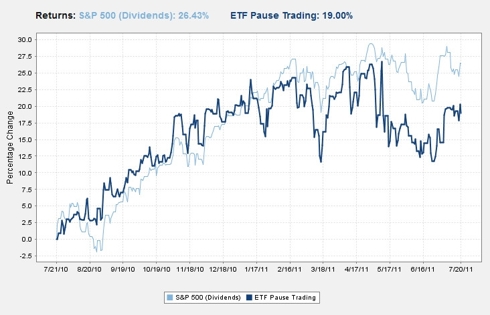 As you can see, it hung in well early on, but as the market became increasingly volatile in 2011, the model had trouble keeping pace and had a couple of noteworthy missteps from which is still trying to recover, although it recently seems to have been regaining its footing.
Nobody ever likes underperformance, but on the whole, the degree of relatively weakness shown here is something I can live with. Even the best models go hot and cold and to stay this close to a generally strong market is a strategic-miss penalty with which I can live with (I've seen much worse outcomes, as, I'm sure, have many other readers).
I plan to continue to trade the model for my own account and subscribers to StockScreen123.com can continue to access it here. (I saved the model in such a way that other StockScreen123 users can see and/or copy it.)
However, I will at this one-year juncture discontinue regular weekly write-ups about it on Seeking Alpha.
I've made this choice to free up more time for other Seeking Alpha projects I believe are of particular interest not only to myself but the Seeking Alpha community at large, especially income stocks (I want time to do more updating and individual-company analysis relating to my Triple-Play Income Strategy) and micro-cap equities. I'm particularly concerned that the amount I've written about the latter on Seeking Alpha is miniscule relative to its importance in my regular professional efforts. I want to correct that.
I'm also anxious to do more research into use of technical analysis for ETF selection. Normally, with equities, I rely on bottom-up fundamental approaches but that's not really feasible for mutual funds or ETFs. I've seen attempts at this with screeners that try to select ETFs based on portfolio P/E, portfolio growth rates, etc. But these seem unsatisfying given that so many selections are eliminated right off the top due to the absence of necessary data. Most ETF selection tools I've seen are, essentially, momentum oriented (best returns in past week, month, quarter, etc.). While historical price-volume performance is typically all we have (I've seen no showing demonstrating any relationship between shareholder returns and expense ratios, etc.), I think those of us who want to bring some objectivity into the selection process would be better served if we were to learn to make use of all the technical analysis tools at our disposal, rather than simplistic recent-performance screens. The pullback model I've been writing about here goes one step further, by exploring and testing the introduction of pullback, but that's a very small step. I believe more can be done.
There's also more to learn in terms of how to integrate top-down choices. In this pullback strategy, I've run the model against a broad ETF universe and essentially relied on it to make the top-down judgments by concentrating all selections in one or two areas (such as healthcare and telecomm this week, precious metals in other weeks, etc.). I'd like to explore other approaches to making the top-down calls, and perhaps, running a second model to identify the most appealing ETFs within whatever area seems worthy of current consideration.
I hope readers have found this pullback strategy interesting and for those who are particularly focused on ETF strategies, as opposed to income or micro-cap stocks, I will continue to address this area periodically in the future. (I won't wait until I find THE answer, as if any of us ever accomplish that.)
Appendix
To create this model, I started with a very broad-based ETF screen I created in StockScreen123.com.
Eliminate ETFs for which volume averaged less than 10,000 shares over the past five trading days

Eliminate HOLDRs (I don't want to be bothered with the need to trade in multiples of 100 shares)

Eliminate leveraged and short ETFs (I think of these as hedging tools rather than standard ETF investments of even trading vehicles)
Then I sorted the results and select the top 5 ETFs based on the StockScreen123 ETF Rotation - Basic ranking system, which is based on the following factors:
120-day share price percent change - higher is better (15%)

1-Year Sharpe Ratio - higher is better (15%)

5-day share price percent change - lower is better (70%)
The idea of using weakness as a bullish indicator is certainly not new. But often, it's an add-on to other factors that, on the whole, emphasize strength. Here, the weakness factor is dominant, with a 70% weighting.
This model is designed to be re-run every week with the list being refreshed accordingly. I trade through FolioInvesting.com, where I pay a flat annual fee rather than a per-trade commission, so I don't care about the fact that turnover form week to week is often 80%-100%. If you want to follow an approach like this but do have to worry about commissions, the strategy tests reasonably well with three ETFs, or even with one. (Cutting the number of ETFs is far preferable to extending the holding period.)
Figure 2 shows the result of a StockScreen123 backtest of the strategy from 3/31/01 through 12/30/10.
Figure 2
Click to enlarge
Figure 3 covers the past five years, a very challenging market environment that witnessed the fizzling of many strategies that had succeeded for a long time.
Figure 3
Click to enlarge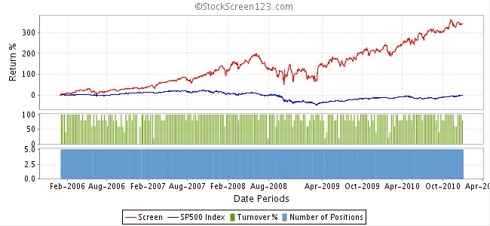 Disclosure: I am long IBB, IYZ, PTH, VOX, XBI.