Residential Mortgage REITs (mREITs) hold agency, non-agency paper or a mixture of the two. They borrow money and then use that money to buy paper that pays a higher yield than their costs. Most of these companies specialize in agency paper, which carries a lower risk profile than non-agency paper.
Mortgage REITs make money off the spread between costs and paper yield, and generally leverage this spread somewhere between five and 10 times. Non-agency paper, which carries a higher risk profile, pays a higher yield and is generally not levered so heavily.
Where spreads narrow, an mREIT with a higher level of leverage will recognize a reduction in yield times the leverage multiple. Some of these companies attempt to maintain their spreads by holding adjustable rate mortgages (ARMs) or utilizing hedging strategies.
Below is a list of five mREITs that have market valuations above $2 billion, along with their present yields, price to book value, and level of leverage used according to their most recently filed quarterly reports.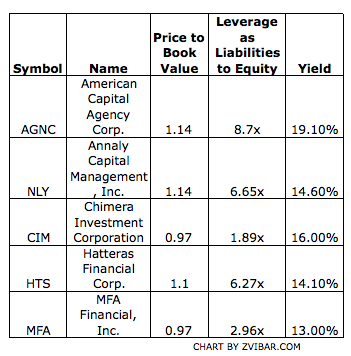 Other well-known mREITs include Anworth Asset Management (NYSE:ANH) and Capstead Mortgage (NYSE:CMO). Both ANH and CMO, like HTS and MFA, are known to have a majority of ARM paper. It should also be noted that CIM and MFA, the only two listed mREITs that hold both non-agency and agency paper, have significantly lower leverage rates than the other listed mREITs that are more strictly agency mREITs. They are also the only two of those listed that are trading below their last known book values.
Leverage may be calculated in several ways. Some prefer to use debt to market valuation, but many accounting and finance conservatives argue that current market price has nothing to do with the actual equity and that market pricing introduces irrelevant volatility.