About two months ago, with Cal-Maine Foods (NASDAQ:CALM) trading at about $28 per share, I wrote an article suggesting that Cal-Maine might have beeen setting up for a short squeeze. Two weeks ago, with the stock at about $32 per share, I wrote that the short squeeze could be beginning to happen. Today Cal-Maine has passed its 52 week high and is trading above $36 per share.
Interestingly, as the equity has moved upward during the past two months, the short interest has remained fairly stable. The stark difference is in the days to cover. Two months ago it would have taken 45 days to cover the short side. Today that number is 29 days. The good news for those who did not hop in at $28 is that it appears that a short squeeze would still carry a potentially huge impact.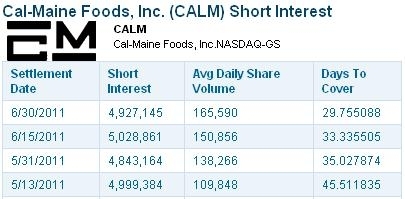 As you can see, there are still an incredible 5 million shares short. This represents about 37% of the float. There is a substantial bet against Cal-Maine, and those who made the bet have to begin to feel the pain of being short at some point. In two short months, this equity has gone from $28 to over $36.
Can Cal-Maine make a serious run from here? I think the answer is yes. As shorts begin to hit their threshold, they will have little choice but to cover. Of course I would have thought a short squeeze would have already started, so I am a bit perplexed by the lack of covering. Perhaps the debt ceiling issue is offering shorts some solace.
Either way, keeping CALM on your radar screen is a good idea.
Disclosure: I am long CALM.