Investors should look at several key metrics when comparing and analyzing mortgage REITs, including size (market cap), leverage profile, composition of investments (gency vs. non-agency and fixed vs. floating rates), and most importantly tenure and strength of the management team. All of these metrics can significantly affect the risk profile of a particular REIT.
Below is a detailed overview of the largest mortgage REITs and the metrics investors should keep in mind when analyzing the space.
[Click to enlarge]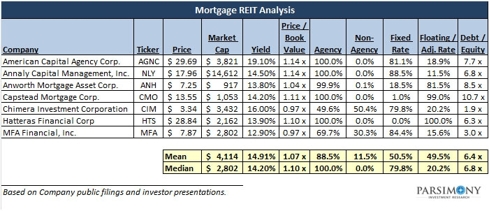 Dividend Yield vs. Price-to-Book Value
As REITs are required to distribute a minimum of 90% of their taxable income to shareholders as dividends, there is a limitation on the company's ability to retain earnings because of the 90% distribution requirement. Thus REITs oftentimes issue new equity when the stock price trades above book. Investors should be mindful of investments at significant premiums to book value since new equity issuances are dilutive to current shareholders.
The chart below plots dividend yield and price-to-book value for each REIT. Note: Marker sizes are based on market capitalization.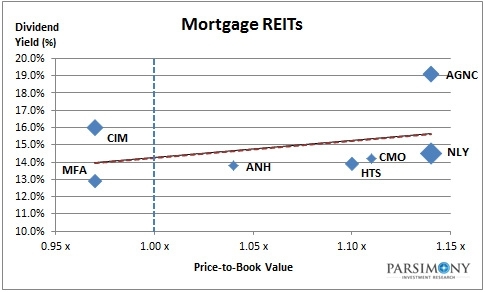 Conversely, MFA Financial (NYSE:
MFA
) may seem extremely undervalued compared to other REITs, but it is trading slightly above its historical average of 0.96x (see recent
MFA article
for details). Also, even though Chimera Investment Corp. (NYSE:
CIM
) appears one of the best risk-adjusted opportunities, it has significantly more risk than you can see on the surface (see recent
CIM article
for details). We believe that It is also important for investors to compare current price-to-book values to historical levels for each REIT. For example, Annaly Capital (NYSE:
NLY
) may seem like it is overvalued at 1.14x book value. However, it is actually trading below its historical average of 1.24x (see recent
NLY article
for details).
MFA and NLY remain our two main REIT holdings due to their strong management teams and proven ability to manage their portfolios through different rate cycles. However, we also have a small position in American Capital Agency Corp. (NASDAQ:
AGNC
).