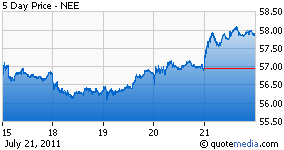 One utility that looks interesting to me right now based on valuation and dividend yield is NextEra Energy, formerly Florida Power & Light.
NextEra Energy (NYSE:
NEE
) - NextEra Energy, Inc., through its subsidiaries, engages in the generation, transmission, distribution, and sale of electric energy in the United States and Canada. As of December 31, 2010, NextEra Energy had approximately 43,000 mega watts of generating capacity. The company involves in the generation of renewable energy from wind and solar projects. It also generates electricity through natural gas, nuclear, oil and coal, and hydro power plants. The company serves approximately 8.7 million people through approximately 4.5 million customer accounts in the east and lower west coasts of Florida. In addition, it leases wholesale fiber-optic network capacity and dark fiber to telephone, wireless carriers, Internet, and other telecommunications companies. The company was formerly known as FPL Group, Inc. and changed its name to NextEra Energy, Inc. in May 2010.
8 reasons to own NEE at under $57:
NextEra pays a generous dividend of 3.9%. It also has grown its dividend payment by an average of 7.5% annually over the past five years

NEE is historically undervalued as it is selling near the bottom of its five year valuation range based on P/B, P/E, P/S and P/CF.

The stock is selling at less than 13 times this year's projected earnings and 12 times 2012's consensus EPS. Consensus estimates for both 2011 and 2012 have been revised up in the last ninety days.

N

EE has grown EPS an average of 9% a year over the last half decade. The company has given guidance that it expects EPS to grow 5-7% a year over the next few years. This is respectable growth for a utility.

NEE has an A- rated balance sheet with a low beta .62, it is a safe "widow and orphan" stock with solid and sustainable dividend growth.

It gets only 13% of its energy production from oil and coal plants. This is should make it less impacted by "climate change" and other regulatory changes than other utilities.

The company also is the national leader in solar and wind energy development. In addition, it has a growing fiber optic business. The cap ex for this part of the business should start to come down significantly after 2011.

The company's prospects should improve along with the South Florida economy. Florida should go back to its status as one of the fastest growing states once the overall economy recovers.
In summary, NextEra is a well run utility with decent growth prospects that provides a generous, sustainable and growing dividend yield. It would be a good core holding for long term shareholders seeking low volatility and solid dividend growth.
Disclosure: I have no positions in any stocks mentioned, and no plans to initiate any positions within the next 72 hours.