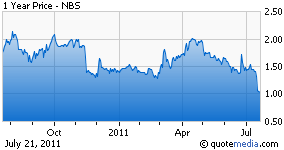 NeoStem (NBS) announced on July 14 the acquisition of Amorcyte.
The definitive merger agreement will be paid in stock with an earn-out potential. The agreement provides for the issuance of an aggregate of 6,821,283 shares of NBS' common stock and warrants to purchase an aggregate of 1,881,008 shares of common stock. An additional 4,092,768 shares of stock will vest upon achievement of specified AMR-001 milestones. Amorcyte shareholders will receive additional consideration in the form of an earn-out upon commercialization.
The public offering pricing which is set to close 7/22/11 is for 13,750,000 units at $1.20 per unit. Each unit consists of 1 share of common stock and a warrant to purchase 0.75 of a share of common stock with a per share exercise price of $1.45. NBS expects to receive $14.667 million in proceeds.
NBS should have $20M in cash and cash equivalents upon closing with approximately 95 million basic shares outstanding and 152 million fully dilutive shares of outstanding. With a $20M equity line of credit, the cash position should be sufficient to fund operations through FY12.
Amorcyte, a clinical-stage stem cell therapy asset, should begin a 150 patient, 25 center, blinded and controlled, randomized P2 trial in Q1/12. The study is designed to evaluate the safety and efficacy of the lead product AMR-001 for the treatment of AMI and is estimated to cost $8-$11M.
P1 results suggest clinical benefit in multi-billion dollar arena In a recently published article in the American Heart Journal. Results from a clinical trial evaluating Amorcyte's lead product candidate, AMR-001 for the treatment of damaged heart muscle following AMI, demonstrated a significant improvement in perfusion, a trend toward improved cardiac function and the potential to reduce subsequent adverse cardiac events.
Approximately 31 patients were randomized to an autologous stem cell harvest group or control group five days after an ST elevation myocardial infarction (STEMI). The cells were infused into the patient via an infarct-related artery 7 to 11 days following the STEMI.
The study results in nine patients receiving 10 to 15 million cells demonstrated a significant improvement in resting perfusion rates at six months as compared to patients receiving five million cells and control patients, as measured by the SPECT total severity score, (-256 versus +13, p=0.01).
Furthermore, patients receiving 10 or more million cells showed a trend toward improvement in ejection fraction (+4% versus +1%), end systolic volume (-5.7mL versus -0.1mL), and infarct size/tissue death due to loss of adequate blood supply, (-10% versus -3%) at a 6 month follow-up.
Rodman & Renshaw issued a Market Outperform/Speculative Risk rating and a 12 month target price of $3.00 a share (since 3/2/11). The valuation for NeoStem is based on a sum of the parts analysis encompassing a comparables analysis for the regenerative medicine component and a P/ S multiple analyses for the Chinese pharmaceutical component. Companies developing therapeutics in the regenerative medicine space are trading at an average enterprise value (NYSE:EV) of $200 M, from which it derives a price target of $2/share for the stem cell business. The estimated value of the pharmaceutical business is $1.00 a share after applying an average 2.6X P/ S multiple to the 2011 pharmaceutical sales estimates. Based on a sum-of- the-parts methodology, R&R derived a 12 month target price of $3/share for NBS.
Maxim Group, the offering co-manager banker, has had a past and continuous target of $5.00 (since 3/26/10) and Morgan Joseph, another co-manager banker, had initiated with a buy at $3.50 (since 12/3/10) and has maintained their target.
NeoStem closed on 7/20/11 at $1.05 and is currently trading at $1.04 with a market cap of $84.34M. Shares had tumbled 21% after the announcement of the offering.
A follow-up statement on the transparency of the news and opinion business. I would hope that "accountability journalism" applies here, which holds us all to check our facts and figures before publishing. We should be all reasonably scrupulous in our reviews. Facts are facts. For the record, any financing lowers the pricing pre offering but, for a blogger, investor(?) or news contributor to scurrilously ascribe a large down-draft as a "block" sale by a major investor articulates ignorance of market mechanics.
Disclosure: I have no positions in any stocks mentioned, and no plans to initiate any positions within the next 72 hours.