Railway companies are considered conservative investments. In the United States and Canada, rail is primarily used to transport materials, machinery and other heavy goods. Rail is considered an economical method of transporting, and a business that will grow in need over time.
Below are the current yields and 2011-to-date performances for the three large-cap American railroads traded in the U.S., along with their 5-year dividend payout performance. These railroads primarily transport basic materials, machinery and other freight within the United States. A few years ago, Warren Buffet's Berkshire Hathaway (NYSE:
BRK.A
) purchased Burlington Northern Santa Fe Railroad, a large-cap American railroad company in which Berkshire was already invested. After acquiring it, only a handful of large-cap rails remain publicly traded.
Click on all charts to enlarge
Current Yield: 1.9%
2011-to-date Performance: 18.33%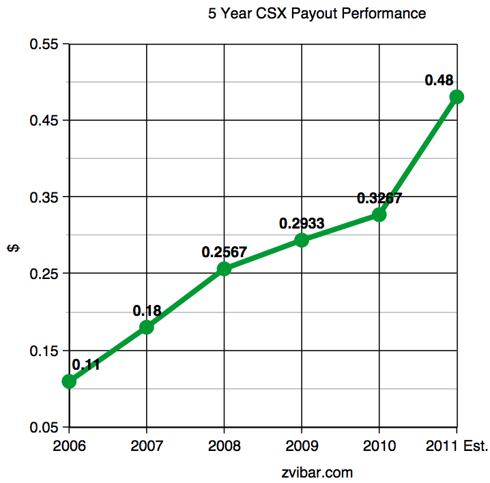 2.
Norfolk Southern Corp. (NYSE:NSC)
Current Yield: 2.2%
2011-to-date Performance: 22.01%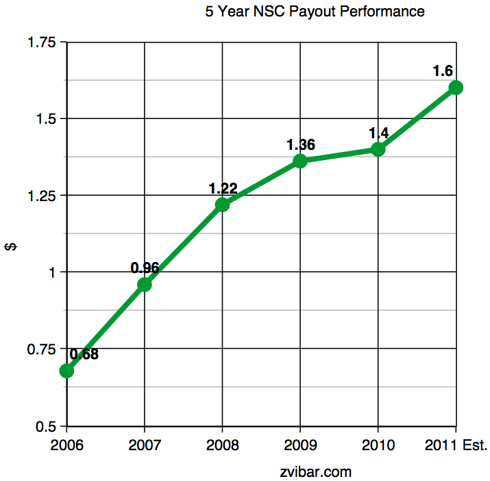 3.
Union Pacific Corporation (NYSE:UNP)
Current Yield: 1.9%
2011-to-date Performance: 12.67%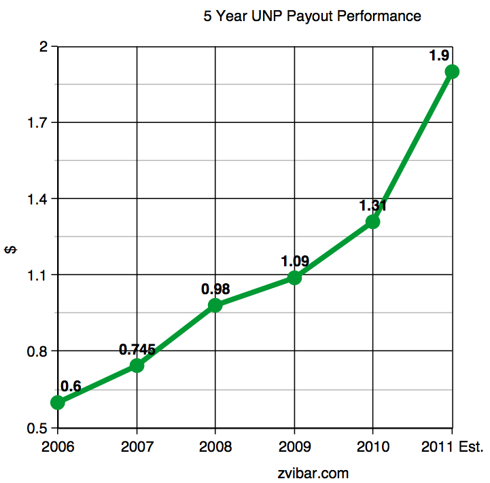 Beyond the yields that are comparable or higher than the greater market's average yield, these large-cap rails have also outperformed the broader market thus far in 2011, increasing between 12% and 22% in a timeframe where the S&P 500 (NYSEARCA:
SPY
) is up 6.95% and the Dow (NYSEARCA:
DIA
) is up 9.85%.
I also previously reviewed the dividend growth and 2011-to-date performance of the two large-cap
Canadian railroad companies
that are traded in the United States, Canadian National Railway Company (NYSE:
CNI
) and Canadian Pacific Railway Limited (NYSE:
CP
), which have a 1.7% and 2.0% yield respectively. Like their U.S. counterparts, these Canadian rails performed reasonably well since the financial crises, as demand has grown and distribution networks continue to choose rail for protection from high gas prices.

Disclosure:
I have no positions in any stocks mentioned, and no plans to initiate any positions within the next 72 hours.
Disclaimer: This article should not be construed as personalized investment advice as it does not take into account your specific situation or objectives.