By David Urani
Robert Half International (RHI) turned in a surprisingly strong second quarter, starting with sales that were up 22.0% year over year (to $938.0 million), and up 6.5% quarter to quarter. (See earnings call transcript.) All business segments showed nice improvements, with Technology and Finance & Accounting standing out. Management noted strong IT spending across all business sizes during the quarter, and Finance & Accounting saw demand for consulting, as well as high turnover. Once again, sales and profits in Protiviti were somewhat lagging, but earnings for the segment were in the plus column, which can be seen as a win given its weak track record. The Company benefitted from higher demand, a 5.6% increase in prices year over year (1.7% sequentially), an increase in mix of permanent placements to 9.7% from 8.3% year over year (and from 8.6% sequentially), and a year over year currency benefit of approximately $26 million.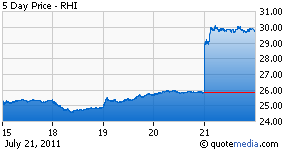 Gross margin also showed improvement during the quarter, with increased bill to pay spreads, higher conversion revenue and increased mix of permanent placements, partially offset by higher unemployment taxes. Meanwhile, although SG&A costs increased with added headcount and compensation incentives, it was lower as a percentage of revenue.
Going into the second quarter release, we did not particularly have high hopes considering national employment trends and other economic concerns such as European sovereign debt suggested a soft patch. However, Robert Half was able to buck those trends on the top line. Robert Half seems to be in a relatively good market niche within the employment market, with minimal exposure to the higher risk areas such as construction and government, for example. The big standout for us was Finance & Accounting, as jobs are reportedly being lost in the financial sector according to labor reports. However, we suspect the Company is still benefiting from chaos in the mortgage markets and changes in federal financial regulation. Add in the improvements in pricing, and there was a lot to be optimistic about.