What the heck happened to Stillwater Mining (NYSE:SWC)? This company is the largest US miner of palladium and platinum. While many analysts are still predicting supply deficits for platinum and palladium, this stock totally collapsed earlier this month.
This comes after the company announced preliminary second quarter results predicting $222 million in revenues. That's about 30% higher than last quarter as you can see here: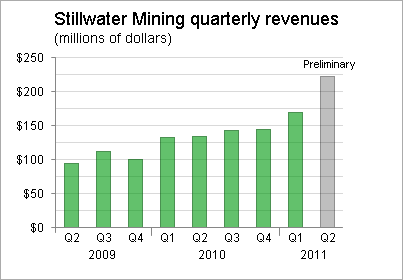 So What Gives?
As it turns out, Stillwater announced that it will be acquiring Peregrine Metals, a Canadian company that owns undeveloped copper and gold assets in Argentina. The $487 million deal means that SWC shareholders now own only 89.5% of the new combined company, with Peregrine shareholders owning the other 10.5%.
Was this a good idea? Peregrine's Altar Project in Argentina does look promising with a "measured and indicated" 7.4 billion pounds of copper and 1.5 million ounces of gold.
Unfortunately, Stillwater estimates that the aggregate capital cost of developing the mine will range from $2 billion to $2.5 billion – and major shareholders aren't pleased. Here are some quotes from a recent article on Bloomberg.
"This foray into another continent to buy a different kind of metal that is far from developed and pay a high price -- it raises a lot of question marks," said Jim Grefenstette, a Pittsburgh-based fund manager at Federated Investors Inc., which oversees $354.9 billion, including Stillwater shares. "It's a disappointment."

"I'd like to give them the benefit of the doubt that they did their due diligence and they know something that the rest of us don't," said Rick de los Reyes, a manager at T. Rowe Price Group Inc. in Baltimore, which oversees about $510 billion including Stillwater shares. "But it's hard to believe the market is so inefficient that it's pricing Peregrine at a huge discount."

The acquisition also means Stillwater may lose investors who owned the company because they wanted to bet exclusively on palladium, said Keith Moore, an event-driven strategist at MKM Partners LP in Stamford, Connecticut.

"To get into a different field from what they know, it's got me scratching my head," said Peter Sorrentino, a senior portfolio manager at Huntington Asset Advisors in Cincinnati, which manages $14.8 billion. "The easy money in a lot of the metals has already been made."
Less leverage to palladium and platinum
So I decided to buy some shares at around $17.25. I suspect I'll probably regret it, but it's not a huge position and I'm going to stick with it for a while.
I'm definitely bullish on palladium and platinum, owning both physical metals and the ETFS Physical Palladium Shares ETF (NYSEARCA:PALL) and ETFS Physical Platinum Shares ETF (NYSEARCA:PPLT), yet I generally shy away from mining companies. This is one reason why. Metals don't have balance sheets, quarterly earnings reports, nor do they make acquisitions that make Wall Street edgy.
One thing is clear. Stillwater is less hedged to palladium and platinum than it was before. Gains in these metals should be bullish for SWC, just not with the same level of leverage.
This chart from Stillwater's investor presentation is telling.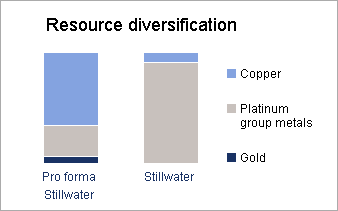 Stillwater represents the company's current resource diversification. Pro forma Stillwater represents the new resource diversification once the acquisition is finalized.
So, while the company was once a way to invest in rising platinum group metal prices, the stock is now somewhat more hedged to copper and gold. That may be good news but it could be years before the Altar project becomes profitable, if ever.
Anyway, the stock seems to be bouncing off of $16, so I'll hold for now, but I think I may have made a poor decision.
Disclosure: I am long SWC.