Amazon (NASDAQ:AMZN) is set for its next earnings release on July 26. But regardless of what that short-term blip may signal, the future of the company's profitability will be determined by its strategy and degree of success in its tablet product line, set to come out this fall. And the competing company whose fate and market capitalization will most likely be effected by this move is the current tablet king, Apple (NASDAQ:AAPL) and its iPad.
The tablet industry will ride the Google (NASDAQ:GOOG) Android trend, a trend I previously identified here on Seeking Alpha as the driving factor behind the consumer technology industry. The challenge for Amazon is to create its own product line and corresponding developer community that can optimize the creation of Android-based tablets for the target audience Amazon has in mind. Which begs the question: Who exactly is Amazon targeting with its tablet? And which companies will have its market affected by Amazon's foray into the tablet space?
A few hypotheses:
Amazon could design a mass market consumer tablet, meant to serve as a discount competitor to Apple's iPad. Just as the iPod saw enormous profit margins before companies utilizing a less proprietary, more cooperative approach used the economics of specialization to drive prices down, the same will ring true in the smartphone and tablet market: Apple gained the lead and the early high profit margin market share, but really this sets the stage for the market to be commoditized by companies with a more ecosystem-oriented - aka "open" - approach to technology development. If Amazon can successfully build a developer community that can satisfy the creation of specialized consumer tablets, it may have a market -- and Apple may need to move on to the next product line it can disrupt (such as television sets, which I suggested in my review of Apple).
Alternatively, Amazon's large base of business customers also positions the company to focus on developing tablets and a developer community for businesses. As Amazon is already providing shipping services and web hosting services for small businesses, offering tablets could deepen Amazon's clutches here, while setting the stage for a disruption of the enterprise computing market and its tenants, like Oracle (NASDAQ:ORCL) and Salesforce (NYSE:CRM).
In spite of the amazing opportunity that awaits Amazon, I still believe the company is overvalued. Its current P/E ratio in excess of 92 is more than twice the S&P 500 average P/E of just below 45 in the year 2000,

the peak of the dot com bubble. Even if we assume the Federal Reserve's expansion of the US money supply, as evidenced by the rising trend in

reported MZM calculations, results in an even larger bubble, a viewpoint I consider probable, such a dramatic valuation at this stage in the global economy and Amazon's growth phase is one I find excessive.
In terms of price action, we see that Amazon is up against the top of its channel. Short-term traders may find a short opportunity here, although as I don't prefer short trades in environments where MZM is rising for macroeconomic reasons, I'd consider a better short-term trade to be buying at the bottom of the channel while selling at the top.
click on image to enlarge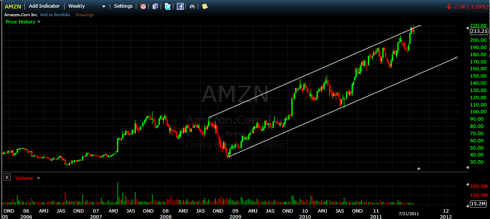 Disclosure: I have no positions in any stocks mentioned, and no plans to initiate any positions within the next 72 hours.