With the 10-year Treasury hovering around 3.0% and the Federal Reserve maintaining an "exceptionally low" interest rate policy due to continued economic headwinds, conservative income investors have been desperately seeking yield wherever they can find it.
Click to enlarge: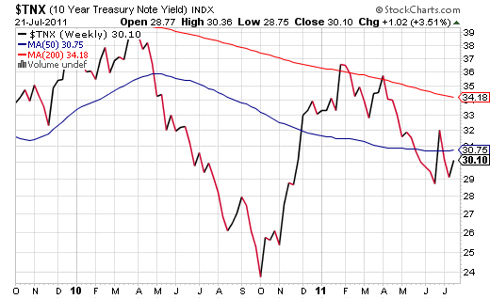 We have written a number of bullish articles on dividend paying stocks. We think that dividends help dampen an investor's portfolio against volatility and market uncertainty as well as provide investors with liquidity through cash flow from their investment portfolio.
In addition to U.S. large capitalization stocks, we have been bullish on more esoteric areas of dividend investing including master limited partnerships ("MLPs") and mortgage REITs. These investments are not for all investors due to the specifics risk associated with them. For instance, mortgage REITs like American Capital Agency (NASDAQ:
AGNC
) are susceptible to rising interest rates. A significant spike in interest rates could hurt the value of agency REITs such as AGNC.
That said, it's easy for investors to run to the perceived safety of U.S. Treasuries during times of uncertainty, but a spike in interest rates will hurt the value of these "risk-free" securities as well.
Dividend Stocks or Treasuries?
We think that more risk averse investors should pursue large capitalization, high quality, low levered, U.S. stocks over Treasuries for the following reasons:
U.S. Treasuries pay low nominal yields with no upside in interest income. As opposed to the 10 year Treasury that will pay you a nominal rate 3.0%, there are a number of high quality U.S. stocks that yield above 3%.
Most dividend paying companies have a management team focused on increasing their dividend. Management teams can adopt to inflationary or deflationary forces and structural or secular changes to the U.S. economy.
With the 10-year Treasury investors are making a one-way bet that rates will remain low for a prolonged period and

there is limited margin of safety if rates do rise.
Below (click to enlarge), are some examples of high quality dividend stocks that have yields greater than the 10-year U.S. Treasury rate. On average, the stocks below have a 4.1% dividend yield.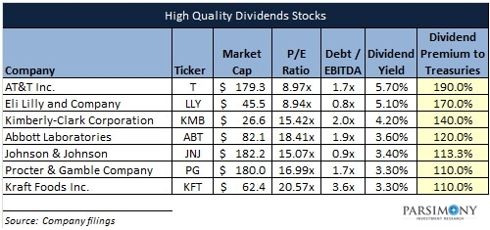 Even though these stocks will benefit the most from a strengthening economy, they should also hold up well if there is more trouble on the horizon.

Disclosure: I am long ABT.