Frontier Communications Corporation (NYSE: FTR) is another Communications Services stock that has paid a regular dividend for the past 7 years. However, unlike many other stocks, its dividend has not grown signficantly and recently has been reduced.
FTR is a communications company that offers regulated and unregulated services to a wide range of customers. FTR offers local and long distance telephone services as well as data and internet services. FTR has a market capitalization of $7.8 billion and an enterprise value of $15.7 billion. The following graph shows the historical yield.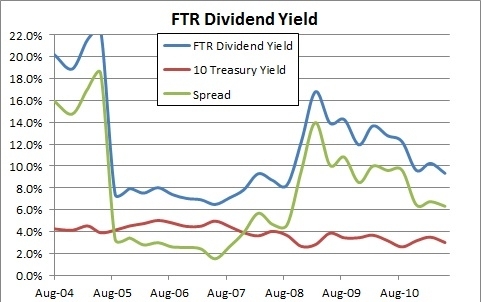 (Created from data from Yahoo!Finance. Includes an initial dividend of $2.25 in August of 2004.)

FTR has shown a much more irregular dividend yield. Initially this was due to a special dividend in late 2004. Since 2008, the yield spread increased dramatically relative to the 10 year Treasury bond. FTR also payed dividends throughout the 1990s, but these were irregular at times.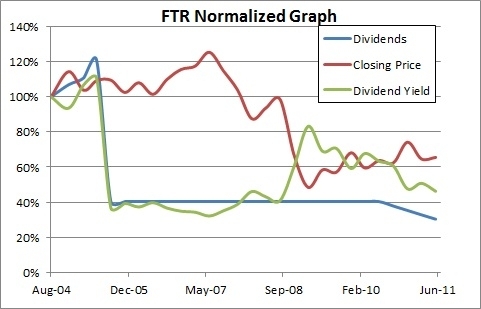 (Created from data from Yahoo!Finance. Includes an initial dividend of $2.25 in August of 2004.)

This second graph is more informative than the first. Since the dividends are consistent, the dividend yield is determined by the stock price.
In the fall of 2008, the dividend yield increased. The first graph also shows that the spread to the 10 year Treasury also expanded. Since that time, the stock price has slowly increased and the dividend yield has decreased. However, probably more alarming to investors, the quarterly dividend payment has decreased.
This is unlike many other Communication Services stocks which have posted consistently increasing dividends. In the absense of any additional analysis, the declining dividend and its previous track record of no growth are probably sufficient red flags to look elsewhere for dividends. The substantial spread between the dividend yield and Treasuries is demanded by investors to account for the risks and uncertaintly of future dividends. This spread is much higher than Verizon Communications, Inc. (NYSE: VZ) and AT&T, Inc. (NYSE: T). From a fundamental perspective, FTR has significant leverage resulting in large interest payments.

Disclosure: I have no positions in any stocks mentioned, and no plans to initiate any positions within the next 72 hours.

Disclaimer: This article is for informational and educational purposes only and shall not be construed to constitute investment advice. Nothing contained herein shall constitute a solicitation, recommendation or endorsement to buy or sell any security.