Many companies tend to follow similar patterns year after year; excluding market crashes. I will detail several stocks that have essentially moved right, grew slowly and grew fast over the past 12 months. The baseline for comparison is not zero percent growth. Even though zero is a universal baseline for no movement, it is more important to compare the movement in share price to the three main indices because the goal of any investor is to beat the market. Therefore any underperforming company is a poor choice.
Since the three main indices averaged 27% in growth over the past year, this will be the baseline point at which I will compare the following companies. It must be noted any share price that grew 27-37% is considered a stock that grew in line with the indices. While any share price that grew 37-50% will be considered a slow growing company and any share price that grew over 75% the past year will be considered a fast growing company. The companies between 50-75% are simply average growing stocks. Granted, a stock more near 50% would be considered more slow according to my analysis.
Before moving forward, it will be important to note I excluded small biotech or small healthcare companies because in my mind one day of overzealous buying does not constitute a strong company.
Flat Growth Companies
International Paper (NYSE:IP) has returned about 32% to investors over the past year; which is just above the baseline number. International Paper is one of the leading packaging companies in the world, and the acquisition of Temple Inland (NYSE:TIN) can further fortify International Paper's business. While International Paper's share price has been reaching new highs and higher lows over the past year, the company has still grown slowly. In fact almost half of this growth has come over the past month. Going forward, International Paper's share price has a good chance to move higher if the Temple Inland acquisition can go through around the $2.5-$3 billion level; which is less than International Paper wants to pay for Temple Inland.
Southwestern Energy (NYSE:SWN) has moved right as well the past year as the share price has only returned about 30% to investors. It must be noted Southwestern has broken out recently and the company has been showing bullish indications. However, the share price has been bouncing up and down and has not been able to hold any sustainable gains. Southwestern has an opportunity to shine bright in the future because the company focuses on natural gas in North America; which means if natural gas becomes a much needed commodity, the share price will become a rocket.
Deere & Company (NYSE:DE) is another stock that more or less moved right the past year as the share price has moved about 33%. The stock has fallen about 18% over the past few months and this makes the stock look appealing. The company does face stiff competition in the tractors and engines market. However, because Deere has a primary focus on farming equipment and turf care the share price should continue to move at this same rate. We may even see the stock breakout back to the 100 level if Deere can produce strong earnings next month.
Slow Growing Companies
This middle list of companies, that I coined "Slow Growers," applies to the majority of stocks. These stocks are often times the best long term companies for a portfolio because stocks in this growth range tend to outperform the market with very low P/E ratios year over year. Also, slower growth in share price allows for longer growth overall because the stock may not outgrow earnings capabilities unless the company in question faces difficult competition with no innovation, such as Research in Motion (RIMM), Cisco (NASDAQ:CSCO), and Borders (OTC:BGPIQ).
While Pfizer's (NYSE:PFE) share price has had a difficult time growing over the past two years, the share price has returned about 39% to investors over the past 12 months. Most of this is due to continuous developments of the companies pipeline; with an emphasis on Eliquis. Pfizer has always been one of the most consistent producers in the healthcare sector. This can be seen by viewing the slow consistent growth in the long term chart. Pfizer's growth trend should continue over the next few years as high profile drugs are brought to market.
One of the many technology companies that fall into this category of returns is VMWare (NYSE:VMW). VMWare is majority owned by cloud storage giant EMC (EMC). While VMWare mostly deals with virtualization, EMC focuses on cloud computing and cloud storage. VMWare has recently turned into a bullish rocket stock that jumped over the 110 level after being stuck in the low to mid 90s range for months. VMWare has returned about 44% to investors over the past year. With the growing interest in virtualization and cloud storage, VMWare is poised to run even higher over the next several years.
Alcoa (NYSE:AA) has returned about 49% to investors over the past year. Therefore Alcoa barely falls into the slow growth category. Nevertheless, Alcoa is one of the leading aluminum producers and manufacturers in the world. Alcoa has been helped by rising aluminum prices and the share price has pulled back quite a bit during this past quarter. Alcoa tends to do well when the world is developing and commodity prices are high. Both trends have occurred the first half of this year, but worldwide growth has began to slow. Therefore, going forward, investors must be careful because Alcoa may not move past 19 range this year if growth does not increase.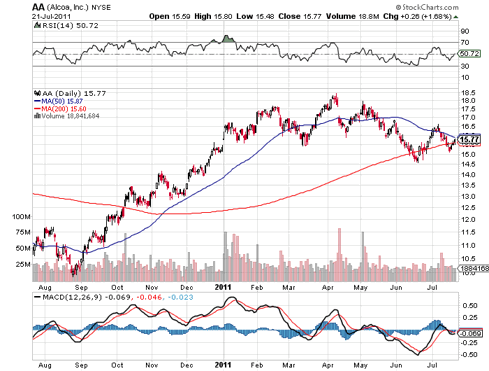 (Click to enlarge)
Fast Growing Companies
Often times some stocks will take off and ride the momentum to the moon. This is great for investors who believed in the company from the beginning, but it can be stressful for other investors who question whether or not the company has more run in it. In some instances, the company does continue to go with the momentum, but other times the share price runs too fast and plummets on any sign of bad news. The following companies are very strong and may slow down, but should not see any drastic drops in share price.
Cliffs Natural Resources (NYSE:CLF) is another company that relies heavily on commodity prices. Cliffs' share price has returned about 96% to investors over the past year. Cliffs focuses on mining iron ore and coal. Therefore, Cliffs is in a very good position to continue the same momentum if commodity prices continue to rise. The share price already went through a normal pullback phase and should be heading to new highs over the coming months. The next strong resistance point should be around the 106 level.
Arm Holdings (NASDAQ:ARMH) has returned around 114% over the past year. To put this in perspective, Apple (NASDAQ:AAPL) has returned about 50% over the same period. Arm Holdings has been able to do well because the company provides fast and efficient processors and software. Also, Arm's innovation towards tablets and cell phones has helped the company grow as well. One important note to make about Arm is the share price has not moved anywhere since February. Therefore the company is slowing down after a big run prior to February of this year. Riverbed (NASDAQ:RVBD) was following this same pattern until the recent earnings disappointment.
Lululemon (NASDAQ:LULU) has been one of the big winners the past year as the company returned about 228% to investors. Lululemon has been able to succeed by marketing a very popular clothing line in upper class areas. Even though the company has been growing at an incredible rate, I believe the moon is the limit for Lululemon. The company has not shown any sign of weakness on the balance sheet or the chart. Therefore going forward Lululemon is a good choice at any level. As I previously mentioned, Lululemon will be back to the pre split level within a year.
It should be clear many companies grow, which is why the indices grow every year. However, many companies stay even with the main indices and are not worth the investment. Also, many more companies underperform the indices, therefore these companies are most definitely not worth the investment. The big winners over the past year are good places to start a long term portfolio because these companies will more often than not continue to grow. Also, if these companies do face a spatter of bad news, the sentiment towards a big winner is much more forgiving than a small cap company with little background.
Disclosure: I am long EMC, LULU.