Food is one of the basic necessities in the world. We all have to eat. Its demand is largely inelastic. Some of the world may be economically troubled today, but the demand for food from those parts will be little changed. Other parts of the world are growing well. The demand from those countries will grow due to those countries' increased wealth. To some degree demand will grow due to increases population each year. This means the world will have to produce more food to satisfy the extra demand. To do this, farmers will likely use more fertilizer. This should result in long term demand increases for fertilizer. This should provide a long term impetus for fertilizer price increases. This should benefit fertilizer companies stock price performance over the long term.
In the short term, the price performance of fertilizer stocks (agriculture stocks in general) will be moved by immediate term events. Currently there are myriad recent events which seem likely to drive fertilizer stock prices higher.
Both Russian and Canadian potash companies have recently signed new potash contracts with China for 2H2011 for approximatley a $70/tonne higher price than in 1H2011. This was a better result than analysts had expected.
BPC, which markets potash for producers Uralkali (OTC:URALL) and Belaruskali, is close to signing a contract with India for 2H2011. It is trying for a price $100/tonne higher than in 1H2011, but so far India is holding out for a deal equivalent to China's. Either result seems likely to push up fertilizer stocks. Either result will be a big gain on 1H2011 potash prices.
Uralkali is strongly considering buying out Belaruskali in a move that would consolidate negotiating power for potash suppliers. Uralkali's recent $1B loan to Belaruskali is a strong indication of proprietary interest.
The Russian, Byelorussian, and Canpotex have been negotiating as a cartel. Together they control 80% of the world's potash. This greatly strengthens their ability to drive up prices.
The Uralkali CEO recently said potash prices could reach $600/tonne by the end of 2011. Such a price move would be very bullish for fertilizer stocks. The mere dangling of this carrot should help to drive fertilizer companies stock prices up.
Germany and France have reached a deal over the Greece bailout. This should lower the fears of an immediate term EU credit debacle. The lowering of the fear level will tend to allow commodity prices to rise.
Forty-five Asian countries' economies are forecast to grow at 7.8% plus in 2011. These incrementally richer countries will demand more food, which in turn will lead to further demand for fertilizers.
The IEA said on July 21 that it is unlikely to conduct a second release of emergency oil reserves. Belief that oil prices will not be manipulated downward is likely to increase speculation, which should slightly increase prices. Other commodities will tend to follow oil.
Bad drought conditions continue to exist in the U.S. The drought conditions will do more damage to U.S. crops the longer they persist.
The worst in decades drought conditions in Europe have worsened. The worst in decades drought in China has in the last month been followed by worst in decades flooding. Australia is experiencing bad drought conditions.
Brazil drought conditions have decreased expectations for its coffe and sugar cane crops. Other crops were negatively affected too.
Recent indications are that the U.S. will succeed in rasing its debt limit to avoid a default.
On a technical level, many of the Ag stocks have been in consolidation phases since the beginning of 2011 The two year chart of Agrium (NYSE:AGU) is an excellent illustration of the consolidation phase. After a long consolidation period, these stocks are due to break higher in a background of high Ag prices and rising fertilizer prices.
The two-year chart of Agrium:
[Click all to enlarge]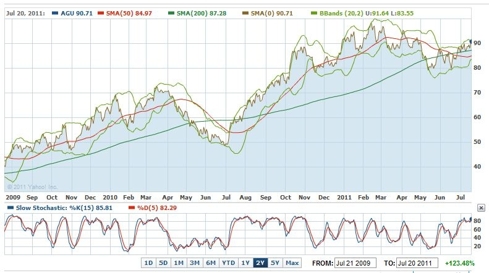 The two-year chart of Potash (NYSE:POT) is another good potash supplier example: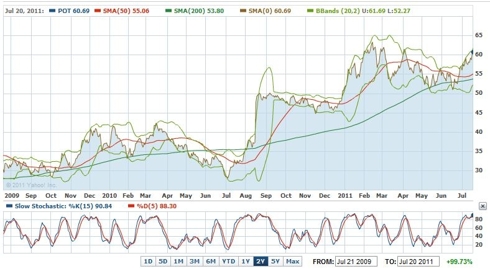 The two-year chart of CF Industries (NYSE:CF) is a good example of a non-potash supplier: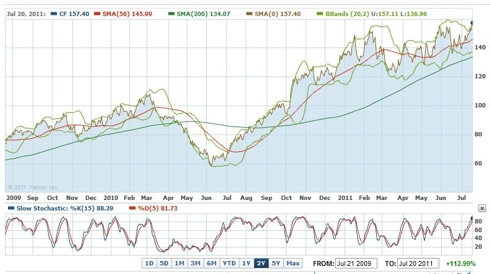 All of the above items add up to higher demand for food and fertilizers. The U.S. and Canadian fertilizer companies are set up for a strong break higher. Barring a sharp downturn in the overall markets, they seem likely to make such a break higher soon.
I should mention that POT and Mosaic (NYSE:MOS) are in a legal dispute over whether or not MOS has to keep supplying POT with 1 million tonnes of potash at near cost prices. The demand and supply fundamentals along with the technicals should drive fertilizer stock prices higher. It is safer to play this overall trend than to gamble on which of the two stocks above will win a court case. MOS is also having legal problems with an expansion project for a phosphate mine in Florida. It should be safer to invest in AGU and CF.
Disclosure: I have no positions in any stocks mentioned, but may initiate a long position in AGU, CF over the next 72 hours.