This is a follow up to 10 Food and Beverage Stocks for a Post QE2 Market posted on June 10, 2011.
PepsiCo (PEP) shares traded sharply to the downside Thursday following what was a disappointing earnings announcement. Although the company posted solid revenue and earnings growth during the quarter, PepsiCo lowered its outlook for the remainder of 2011. In addition, the company reported U.S. carbonated beverage sales that were weaker than investors had hoped. As a result, PepsiCo shares plunged by -5.4% intraday before ending the day -3.4% lower.
I was a buyer of PepsiCo shares on Thursday's pullback for several reasons.
First, PepsiCo ranks among the most consistent and highest quality names in the stock universe. While well known for its eponymous carbonated cola brand, it is far more than just a soda company. Instead, PepsiCo is more a diversified food company with leading worldwide brands including Frito-Lay, Quaker Oats, Doritos, Tropicana and Gatorade. This results in steady operating performance, which provides defensive appeal in more challenging economic environments such as today. The company is also a strong free cash flow generator and now yields 3% through a well-supported dividend that has more than tripled over the past decade. I was an owner of PepsiCo shares continuously from 2000 up until 2008 when the financial crisis struck. I have owned shares periodically in the years since and am glad to be back in the name today at current levels.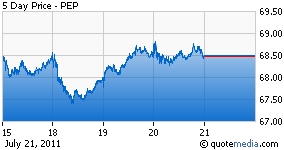 Second, PepsiCo's valuation is fairly appealing. Following today's pullback, PepsiCo shares are trading at 17.7x trailing earnings. This represents a modest 5% discount to its average historical valuation and only a modest premium to the broader market. In addition, it is now trading at 13.9x forward earnings, which is on par with the broader market. Given the defensive nature of the company, this represents an implied discount since PepsiCo typically trades at a considerable premium to the general stock universe.
Third, PepsiCo provides U.S. based exposure to emerging markets that include some of the highest growth areas in the world. This includes markets in Europe such as Russia, Asia such as Vietnam, and Latin America including Brazil, and Peru. Overall, PepsiCo generates 48% of its sales from outside the U.S. This includes a dominant 30% market share in the non-U.S. salty snack market.
Fourth, the segments where PepsiCo has recently been falling short are not likely the primary sources of growth going forward. PepsiCo continues to post solid snack volume growth, its healthier drink offerings continued to perform well and it is expanding nicely in many attractive global markets. These are all segments with much more appeal from a future growth perspective than the relatively mature U.S. carbonated beverages market. Moreover, PepsiCo has shown the muscle to gain market share in U.S. carbonated beverages in the past and has the potential to do so in the future with renewed focus.
(Click chart to expand)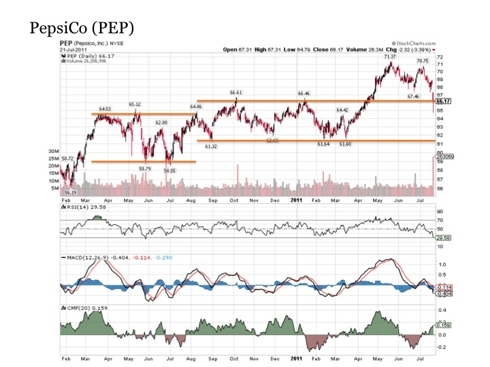 Lastly, PepsiCo is playing out well from a technical perspective. As discussed in my previous post, PepsiCo has been moving in various trading channels since early last year. After banging around in a channel between $58 and $65 during the "QE Pause" last year, it moved up to a slightly higher channel between $61 and $66 during the QE2 rally. And in late April 2011, PepsiCo stock broke out to the upside once again and settled into a new trading channel between $66 and $72. During Thursday's trade, PepsiCo made a quick break below before holding its $66 support level, closing the day at $66.17. As a result, it is currently resting at the bottom of its trading channel on a heavy volume day where over 26 million shares changed hands, which is more than 4x its average daily trading volume. As also mentioned in my previous post, PepsiCo sets up well for a buy when its Relative Strength Index (RSI) dips below 40 and its MACD falls below -0.25. PepsiCo's RSI ended the day at a definitively oversold reading of 29.58 and an MACD near past inflection point lows of -0.404.
For all of these reasons, PepsiCo represents an attractive buying opportunity heading into Friday's trade.
Disclosure: I initiated a position in PEP on Thursday, 7/21 at $65.47 per share
Disclaimer: This post is for information purposes only. There are risks involved with investing including loss of principal. Gerring Wealth Management (GWM) makes no explicit or implicit guarantee with respect to performance or the outcome of any investment or projections made by GWM. There is no guarantee that the goals of the strategies discussed by GWM will be met.