I have been bullish on gold for the last several years. My priority in owning the yellow metal has been hard asset protection against inflation and currency debasement including the secular weakening of the U.S. dollar. Looking ahead, I remain just as positive on the outlook for gold. Not only does the global economic picture remain fragile, supporting the notion of further monetary support from global policy makers, but I also remain unconvinced even after Thursday's news that the situation in Europe is anywhere close to being resolved. As a result, I like to continue to add to gold exposures when the opportunity presents itself.
To this point, my exposures to the precious metals space have generally been concentrated in the SPDR Gold Trust (NYSEARCA:GLD) and the iShares Silver Trust (NYSEARCA:SLV). In addition, I very much support the idea of holding the physical metals when possible. However, I have also monitored the precious metal miners along the way for potentially favorable entry points.
Agnico Eagle Mines (NYSE:AEM) represents a particularly attractive investment opportunity. The ability to land a particularly good price to add to positions in GLD has proved elusive throughout much of 2011. Most recently, the annual July retreat in the gold price proved fleeting, as it lasted all of seven days to July 1, before exploding to new highs. And while many of the gold miners followed suit in the rally, a small handful of names have been slower on the uptake including Agnico. And this fact coupled with its attractive underlying qualities set Agnico up for strong potential upside going forward.
Agnico offers a lot to like. First, the company has more than quadrupled its gold output over the last few years to roughly 1 million ounces annually. The company also sources all its gold output from more stable countries including Canada, and Mexico. In addition, the company is also generally well managed, is in solid financial health and offers a reasonably attractive dividend yielding 1.1%.
(Click charts to expand)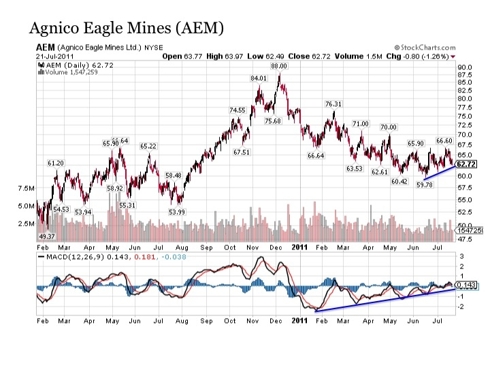 Although the stock price has been in a slump since December 2010, it appears poised for a turnaround. In recent weeks, the stock finally broke out above its downward sloping trading range that had been in place since the beginning of 2011. This gradual move higher is receiving support from momentum indicators such as the MACD that have been steadily trending higher for the last several months and now appear poised to break into positive territory.
The fact that Agnico has trailed in the recent rally is not necessarily a surprise. Agnico's stock chart was not set up as well as its peers coming into July. As a result, technical traders likely opted to allocate first toward other names in the space. But the fact that Agnico has been relatively overlooked thus far adds to its appeal going forward, as it is overdue to play catch up.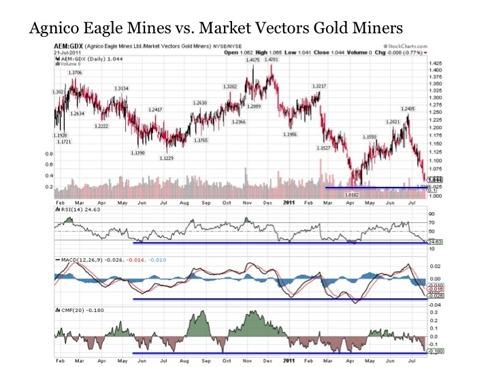 At present, Agnico is trading at bearish extremes on virtually all major technical readings relative to its peer universe, suggesting a meaningful upside reversal versus its peers is likely going forward. To begin with, it is all but at a double bottom on a relative price performance basis. It is also trading at vastly oversold levels versus its peers with a Relative Strength Index well below 30 at 24.63. Agnico is also at trough levels versus its peers in terms of momentum and money flow into Agnico in comparison to its peers is also running at extreme lows. All of these indicators suggest that Agnico has been ignored against its peer group to such an extent that at least some regression to the mean is likely going forward. And if this comes in an environment of a steadily increasing gold price, this would be a doubly positive tailwind for Agnico's share price going forward.
It should be noted that the share price of gold miners including Agnico can be notoriously volatile, and sudden shocks to the downside are not uncommon. But with that being said, Agnico sets up well both fundamentally and technically as an attractive opportunity to gain complementary exposures to gold in what is still an uncertain global economic environment.
Disclosure: I am long AEM, GLD.
Disclaimer: This post is for information purposes only. There are risks involved with investing including loss of principal. Gerring Wealth Management (GWM) makes no explicit or implicit guarantee with respect to performance or the outcome of any investment or projections made by GWM. There is no guarantee that the goals of the strategies discussed by GWM will be met.