Bad corporate governance practices are brought into focus during a downturn. As a result, a number of drybulk shipping companies, as well as a couple of tanker owners, have become trivial for institutional amd most retail investors since it is now not enough to get some public money, buy a ship and produce profits for all while skimming the top.
Bad business decisions, coupled with self-serving governance, have led operators such as Top Ships (NASDAQ:TOPS), OceanFreight (NASDAQ:OCNF), Aries/NewLead (NASDAQ:NEWL) and Seanergy (NASDAQ:SHIP) into penny-land exile, successive reverse splits and irrelevance. Many other companies in this space, less egregiously mismanaged, also gradully enter now into micro-cap levels due to the market headwinds. Under the new normal, if they are to survive, they would need to convince investors that management is taking rational decisions to limit related party and other costs and ensure long-term viability.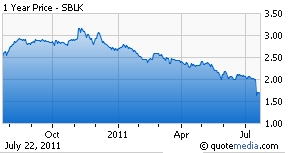 Star Bulk Carriers (NASDAQ:SBLK) has a spotted history. P. Pappas, current main shareholder, and Nobu Su of TMT fame (who still owned some 6% of the company before the recent secondary) decided to cash in on the sky-high dry bulk market of 2007/2008 and chose former CEO Tsirigakis, Pappas' employee at his private company, to lead the effort. In typical fashion, SBLK bought some very expensive ships from Nobu Su backed by very expensive charters back to TMT and others, paying by IPO cash, debt and shares. In the ensuing downturn, Pappas and Nobu Su started having business differences and went to court over FFAs. TMT and other charterers repudiated the charters, leaving with SBLK with compensation claims, a number of old capes, huge book values, high depreciation and a high share count.
SBLK management appeared to not know how to run a listed company. In November 2008, the bottom for the shipping shares, they decided to pay half of their unwarranted $0.36 dividend in stock. They were in violation of their debt covenants at year-end and had to suspend it anyway. In December 2009, with some very underwater warrants close to expiration, they issued a press release announcing the warrants' extension and potentially their exchange with new ones, presumably designed to have some exercised. Almost immediately, they changed their mind and allowed the warrants to peacefully expire (having not so peacefully jumped on the earlier exchange news).
On the business side, CEO Tsirigakis and CFO Syllantavos were strawmen for Pappas, who continued to use SBLK for strange deals. Very few analysts wondered why SBLK would charter-in Diana Shipping's (NYSE:DSX) newbuild capesize Houston ex-yard in late 2009 for 4-6 months as a relet from Shagang Shipping to service an SBLK commitment to Vale at $52,500 per day. They could have juggled one of their own capes or chartered-in an old one at better pricing. Well, perhaps because Pappas was simply returning a favour: Augustea, a business partner of Pappas, had taken in one of DSX's vessels for almost nothing during the early 2009 slump; perhaps, he now wanted to help in turn DSX to shave 6 months off the very expensive 5-year Houston charter for DSX's Chinese charterers. Later on, in May 2010, SBLK announced that Augustea will charter of SBLK's capes and perform certain shipments under the same Contract Of Affreightment with Vale. They did not really explain how that made business sense.
In the meantime, SBLK was breaking even in operating terms, but started handing out a 5c quarterly dividend, the maximum allowed under its covenants. In view of SBLK's remaining high rate charters expiring, the stock has been declining steadily, propped at $2 for a 10% yield.
Turning a Corner? Apparently Not.
Tsirigakis and Syllantavos went away in the first part of 2011 in order to launch their own shipping acquisition SPAC (Nautilus Marine Acq). Pappas brought in the ex-CEO of the Athens Stock Exchange to lead SBLK, as well as more people from his private company. Pappas made a promise to "assist" with management, probably because the new CEO is not exactly a shipping expert.
SBLK then announced the acquisition of two 15-year old capesize vessels with above market charters attached, at a total current market discount of 10m or so (according to management). In fact, Pappas had bought the vessels in 2010 for $54 million through his private company, arranged good charters for them and passed them on to SBLK for $51,5 million in what I thought was a "surprisingly good deal", to be financed specifically with cash on hand plus debt. I speculated that Pappas was getting involved and wanted to increase the value of his SBLK holdings, throwing a bone to it. He is after all grooming his daughter to take charge of SBLK in the future.
With the market stabilizing at low levels for years to come, compensation cash from the old failed charters coming in, ownership of relatively stable Japanese supramaxes and good cash-flows from the acquisitions appeared to provide SBLK an opportunity to turn a corner by cutting the absurd 10% dividend and focusing on reducing the high share count through share buybacks.
But no, SBLK has just offered upwards of 19 million shares (or almost 30% of the float) to allegedly partly finance the May acquisition. The offering, priced at $1.80 (excluding a 6% underwriters' discount), dropped the price almost 20%. Its rationale makes no sense. Instead, the offering appears designed to a) keep a fake dividend alive and/or b) allow Pappas and his daughter to take a good cheap chunk of SBLK through the secondary – in a press release this would translate into "showing support and alignment of interests". A real disappointment.
Meanwhile, shipbrokers have been reporting rumours of Star Bulk clients acquiring two new kamsarmaxes with good 7-year charters for around $100 million. It can't be SBLK, can it, since any such deal should have been in the prospectus. But who knows, SBLK management, with a 83 million share count and a 10% or more dividend policy is now ready "to explore other opportunities".
I'm afraid that SBLK is slipping into irrelevancy. Dividend seeking retail investor may hope that the continuation of a 4c-5c quarterly dividend will prop the price back up until good times return in shipping. But the point is that SBLK had a great opportunity to change ways, so to speak, and failed to do so.
Disclosure: I have no positions in any stocks mentioned, and no plans to initiate any positions within the next 72 hours.