The U.S. market has been rather promising for technology IPOs with successful debuts from Linkedin (NYSE:LNKD), HomeAway (NASDAQ:AWAY) and Pandora (NYSE:P). While HomeAway, the vacation home rental service, which filed its S-1 in March 2011, is already trading on the NASDAQ, Kayak, another travel sector IPO candidate has undergone almost five amendments since its S-1 filing almost eight months ago and is still no where close to going public. We currently value Kayak at $835 million. But why this delay?
Uncertainty regarding Google's upcoming travel search product
Despite much resistance from the travel agencies such as Expedia (NASDAQ:EXPE), the Department of Justice approved Google's (NASDAQ:GOOG) $700 million acquisition of ITA Software, the provider of global flight data (schedules, fare, occupancy etc). Google has already added flight schedules to its travel search results. See Google Search Shows Flight Schedules: Kayak & Others Safe for Now.
While flight schedules alone do not pose much threat, Google is rumored to launch its own travel search product in the coming weeks. [1] Google's new tool will provide map-based search which lets travelers visualize flight prices (as depicted in the pic – Kayak's 'Best' Fares from Boston) much like Kayak's Explore feature.
Kayak, which specializes in providing comparison in airfares across the innumerable sources online stands to lose traffic as Google begins providing best airfares to destinations based on a user's current location. Kayak could be waiting to see the impact on its business since it could significantly alter its valuation.
(Click chart to enlarge)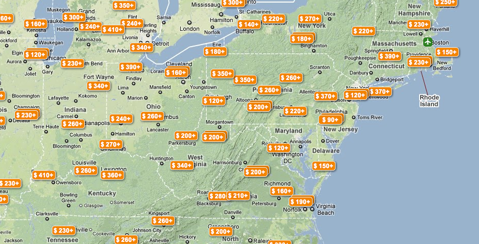 Airfare queries contract up for renewal
Kayak's contract with ITA Software expires in December 2013. Since Kayak's search results depend significantly on ITA, the markets would want to see Kayak's long-term renewed contract with ITA Software or a suitable replacement for it neither of which exist right now. This could be another reason why we haven't seen an S-1 from Kayak yet. [2]
Notes:
Report: Google Set to Launch ITA-Powered Travel Site, PCMag.com, July 7' 2011
Kayak IPO: Google-ITA Software acquisition still looms large, tnooz.com, July 14' 2011
Disclosure: No positions