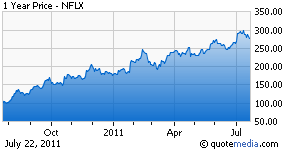 After the market closes on Monday, Netflix (NFLX) will report its second quarter results. No doubt the numbers themselves will be very impressive. Wall Street is already forecasting revenues to increase by an astounding 52% and earnings to grow by nearly 40%. I would expect that NFLX will exceed even these aggressive estimates.
However, the impressive quarterly results will not be the focus of Monday's earnings call. The key question that investors will want answered is what impact the massive rate increase is having on its subscriber base?
After Netflix announced an effective 60% price increase earlier this month, subscribers voiced their outrage on every platform they could find. Netflix's Facebook page was filled with angry customers promising to cancel service. A similar story has taken place on Twitter, forums and blog posts across the stratosphere of the internet. And that infuriation has yet to quiet down.
Maybe it is all idle chatter, but investors have a right to know. Just how many customers have canceled their service since the price increase was announced?
The price increase was effective immediately for new subscribers, so it would be interesting to see what effect the new pricing has had on subscriber growth. This is not a strong consumer environment as Pepsi (PEP) can attest. Drastically increasing your pricing in uncertain economic times seems questionable at best.
At the very least, the uncertainty around Netflix's third quarter results has increased dramatically. Even if the company assures Wall Street that cancellations to date have been minimal, that doesn't mean the company is out of the woods yet. Since the price increases don't go into effect for current subscribers until September 1, many are likely waiting until closer to that date before canceling service.
For some, canceling their Netflix service is more to show their displeasure with the company's policies than actually fleeing the service. Many of these subscribers will come back after a short hiatus and will begrudgingly pay the higher prices. However, there will be others who realize they are not as dependent on the service as they thought. Cost-conscious consumers may just discover a new way to save an extra $10 or $16 each month.
That's the key question Netflix needs to answer for investors on Monday.
Disclosure: I have no positions in any stocks mentioned, and no plans to initiate any positions within the next 72 hours.