Q2 RESULTS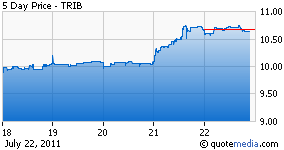 Revenue
On July 21, 2011 Trinity Biotech (NASDAQ:TRIB) reported financial results for the second quarter ending June 30, 2011. Revenue of $19.5 million was about 1% less than our $19.6 million estimate and represented y-o-y organic (ex-coag) growth of 7%. Clinical lab segment revenue was $15.3 million (versus or $15.1 million estimate) and was up 7.9% (ex-coag) y-o-y. Point of care revenue came in at $4.2 million (versus our $4.6 million estimate), up 3.6% y-o-y.
The Fitzgerald (antibody sales) portion of the clinical lab segment continues to be sluggish as a result of swine flu inventories remaining high and a slow flu season. Trinity is gearing up to begin targeting the research focused market instead of the diagnostics markets which have accounted for the bulk of the Fitzgeralds' business in the past. Management noted that the other major components of the clinical lab business, diabetes and infectious disease (including the newly acquired Phoenix Biotech syphilis tests), both performed strongly in Q2.
In the point of care segment, U.S. HIV sales increased 5% with sales in Africa growing 3%. Management noted on the call that HIV sales in Africa are expected to strengthen during the remainder of the year.
EPADR
EPADR came in at $0.173, compared to our $0.165 estimate. EPADR increased by $0.022 from Q2 2010 despite 14% less ($3.2MM) revenue in the current period as a result of the divestiture of the legacy coagulation business (which was sold in May 2010 and contributed $4.4MM in revenue in Q2 2010). The difference between our estimate and actual EPADR was a result of slightly better gross margin (51.4% A vs. 50.8% E) and significantly lower than estimated net operating expenses ($6.1MM A vs. $6.6MM E), partially offset by the lower revenue figure and net interest income about 9% less ($628k A vs. $690k E) than where we had it modeled. Shares outstanding also unexpectedly edged up sequentially as a result of no repurchasing activity in the quarter and stock issuance for share compensation. Management noted on the call that a run up in the stock price prevented them from buying back stock during Q2 but that they expect to resume repurchasing stock immediately.
Cash
Trinity exited Q2 with $71.4 million in cash and equivalents, compared to $59.8 million at the end of Q1 2011. Trinity received the first of two $11.25MM installment payments from Stago in April 2011 related to the coag divestiture. The final $11.25MM is due April 2012.
Trinity continues to generate substantial cash. Cash flow from operations and free cash flow were $4.3 million and $3.0 million in the most recent quarter. Trinity made the first of three $500k cash payments to Phoenix Biotech shareholders related to the February 2011 acquisition ($2.5MM total purchase price with $1.0MM paid upfront and $1.5MM paid out over succeeding 12 months). Trinity also paid out $2.1MM in stock dividends ($0.10/share annually) during Q2.
Management noted on the call that they are not actively seeking acquisitions. As we have noted in the past, given the high interest rate they have been able to earn on their cash (~4%), we see no reason to rush to reinvest through acquisitions. Trinity earned $628k (or about $537k after-tax, equal to ~ $0.025 per share) in net interest income in Q2 2011.
BUSINESS UPDATE
Premier Hb9210
Premier (aka PDX), Trinity's next generation clinical lab HbA1C (blood sugar) testing instrument, received CE Marking in early May 2011. Premier is expected to be a major catalyst to revenue growth of Trinity's clinical lab business over the next several years - some of which we expect to see in 2011. Management mention on the call that they look for Premier sales of $750k - $1MM through the remainder of the current year.
In February 2011 Trinity announced a deal with Menarini for exclusive European distribution rights for Premier. Trinity noted that Menarini, a large European pharma and diagnostics company, is "the market leader in HbA1C measurement in Europe" with about 40% share of that market. Trinity expects Premier to be very well received upon launch. Management pegs the reachable worldwide market for Premier at about $300MM, with roughly one-third of this represented by Europe (another 1/3 in the U.S. and the other 1/3 in ROW including Japan). Trinity believes that with Menarini now onboard, that they can gain a meaningful portion of the European market within a few years after launch.
Trinity filed Premier for 510k FDA clearance and expects to receive approval and possibly launch the instrument in the U.S. by year-end. Management reiterated on the Q2 call that they are near finalizing a deal for third party distribution in the U.S. Trinity also expects to hire its own U.S. sales force for Premier.
Trinity has also begun the registration process for Premier in China and Brazil although launch in either country will not happen in 2011 due to longer regulatory procedures (i.e. Brazil ~ 9 months, China up to 18 months).
POC - Infectious Disease
Trinity's new infectious disease products are expected to be a big driver of the company's POC segment revenues over the next several years. The company is working on new POC tests for sexually transmitted diseases, specifically HSV (herpes) typing, syphilis, HIV p24 (HIV antigen test) and Chlamydia. In the enterics area development is underway on tests for giardia, clostridium difficile and cryptosporidiosis. Trinity also expects to develop a variety of flu tests on the POC platform. Management noted that progress is being made on development of several of these tests and expects to begin filing for FDA approval in late 2011. If all goes well new product launches will commence during the first half of 2012.
OUR 2011 OUTLOOK
Revenue
We look for Trinity to post revenue of $80.4 million in 2011, implying growth from continuing operations of about 8.9% compared to 2010. We think clinical lab segment revenue grows to $62.7 million (+8.5% from continuing ops), aided by the incremental revenue from the Phoenix Biotech acquisition and launch of Premier in Europe. We model POC segment sales to grow 10.3% in 2011 to $17.8 million on continued strong U.S. HIV sales along with sales in Africa firming up as the year progresses.
Net Income / EPADR
We expect net income and EPADR to grow faster than the top-line, as a result of gross margin improvement, operating expense leverage and greater interest income from the growing cash balance. While we model operating expenses throughout the remainder of 2011 to edge up compared to the first six months of the year, as a percentage of sales, they should remain below the comparable periods in 2010.
We model Trinity to generate net income of $16.5 million and EPADR of $0.752 in 2011, which implies annual growth of 21% and 19%, respectively.
RECOMMENDATION / VALUATION
We continue to value TRIB using 15x 2011 our estimated EPADR which equates to approximately $11.50/share. The shares are up 89% since we initiated coverage in May 2010 and at $10.67, currently trade near where we think is fair value. As a result we are moving our recommendation from Outperform to Neutral. Our price target is $11.50/share.
Disclosure: I have no positions in any stocks mentioned, and no plans to initiate any positions within the next 72 hours.
Disclosure: I/we have no positions in any stocks mentioned, and no plans to initiate any positions within the next 72 hours.
I wrote this article myself, and it expresses my own opinions. I am not receiving compensation for it (other than from Seeking Alpha). I have no business relationship with any company whose stock is mentioned in this article.