Since Amran's (NASDAQ:AMRN) stock price popped last April, the excitement for the company has been somewhat muted. The profit takers are gone; day traders are no longer interested, and speculators (like me) are no longer as vocal. This is kind of weird because Amarin may still be one of the best short and long term investment opportunities available. In the last twelve months, the stock price shot up from $2 to nearly $20, before retreating to about $14 where it has hovered for the last month.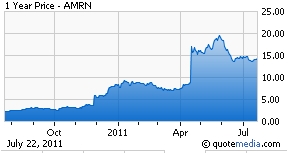 The excitement may have died down as a result of the CEO's comment that they may forgo looking to be acquired and market the drug themselves. The market did not like that. I did not like that. That was dumb and irresponsible. I know the CEO wants to be a big shot – every CEO does. However, Amarin is essentially a shell corporation. Until about a month ago, the company's entire workforce was 17; that's right 17.
The company has no marketing department, no sales force, and no real manufacturing infrastructure. It is a hollow corporation. Its entire staff was made up of the CEO, CFO, COO, and a few scientists. This does not make up a company. More importantly, if the market potential for Amarn101 is as big and lucrative as many, including me, think it is, then pussyfooting to be a big shot and build a company that you have no business trying to build will only destroy shareholder value and allow other better financed competitors to eat your lunch. It is absolutely silly for Amarin to think that it can market its only drug on its own and maximize shareholder returns. It cannot do it.
Thanks to its secondary offering earlier this year, Amarin has about $100 million dollars on its balance sheet. That is a lot of money; I wish I had it. However, it's chump-change in the context of launching a new drug, especially a potential blockbuster. According to a 2005 report by the pharmaceutical research firm Cutting Edge Information, the average marketing cost for a blockbuster drug is $238.5 million.
The report examined the marketing budgets for niche, mid-level and blockbusters drugs all the way from preclinical trials to the first 12 to 18 months they are on the market. The amounts spent on drugs whose peak annual sales exceed $1 billion (i.e blockbusters) ranged from less than $100 million up to $550 million. Cutting Edge also found that companies spent $40 to $150 million to market mid-level drugs and an average of $42.5 million to market niche drugs. Moreover, most of these drugs were launched by established firms with established marketing departments and sales forces. The bottom line is that launching a new drug is very expensive, and $100 million won't cut it.
So, what are the options? The CEO and CFO can raise more money in the equity markets in order to go at it alone, but that would piss off a lot of investors, including me, because it would dilute our ownership and reduce the value of our holdings. Amarin can attempt to raise debt, but that is a highly unlikely scenario. Biotech companies typically don't have huge access to the debt markets because there is usually too much risk associated with them.
The CEO can try to market the drug in specific markets first and expand outward, but that would piss off a lot of investors as well, including me, because that would be a grand example of leaving money on the table. Amarin can try to partner with bigger and more established firms like Cardinal Health. That would also not necessarily be wise either. Why risk going to market on your own when you can sell at a fair price and let someone else absorb all the risks?
The bottom line is that Amarin has to be acquired by a larger and more established firm with deep pockets. I would suggest Pfizer (NYSE:PFE). Pfizer knows the cholesterol market. Through its cash-cow Lipitor, Pfizer has the experience and vast infrastructure that would allow it to market Amrin101 to its full potential. Moreover, Lipitor's patent is about to expire; therefore, Pfizer needs another blockbuster cash-cow to keep its investors happy. Amarin101 can be Pfizer's magic pill. There is also GlaxoSmithKline (NYSE:GSK). Although it has Lovaza, GSM must be aware of the possibility that Amarin101 can effectively render Lovaza obsolete. By all accounts, Amarin101 is far superior to Lovaza. In fact, should Amarin101 get FDA approval, doctors will have no reason to prescribe Lovaza. Therefore, GSM acquiring Amarin is hedge against potentially losing a $1 billion dollar drug.
Bottom line is that there are plenty of potential suitors for Amarin, increasing its acquisition value and rewarding its investors. Therefore, there is no logical reason for Amarin to go at it alone. In fact, it would be stupid. I hope its board and CEO know that. For me, the question is not whether Amarin should go to market on its own or be acquired; the question is how much should Amarin be sold for? The answer to this question is the next blog entry.
Disclosure: I am long AMRN.