Many investors feel much better about Ford (F) than General Motors (GM) because they were the one domestic automobile manufacturer that didn't take a Federal bailout package. Do the facts justify that opinion or is that just an emotional reaction?
Ford was able to weather the 2008-09 recession because it levered up on debt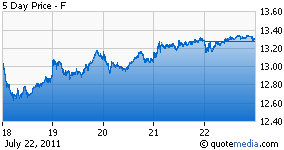 dramatically in advance of the subsequent credit freeze. The book value hit a negative $7.22 /share at year-end 2008 after non-recurring per-share losses of $5.22 in 2006, $1.21 in 2007, and $3.33 in 2008. Those were in addition to the cumulative $4.82 in operating losses in those three years. Book value was still slightly negative as of December 31, 2010.
When General Motors got bailed out most Americans were quite peeved to see their tax dollars being funneled toward 'Government Motors' pre- and post-bankruptcy. Whether or not you agreed with the process, the huge influx of taxpayer money and the court imposed debt restructuring left GM in relatively healthy financial condition.
Comparison of these two manufacturers must begin with their present day balance sheets. Here are Ford's March 31, 2011, numbers as per Value Line.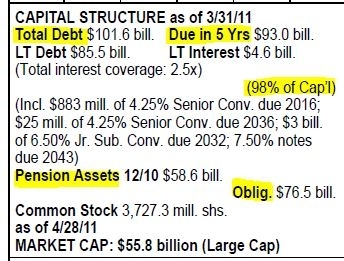 Most striking was Ford's 98% debt-to-equity ratio and its $93 billion in debt coming due within the next 5 years. Total debt was $101.6 billion. The automaker also showed an almost $18 billion pension fund shortfall as of year-end 2010.
That's a staggering amount of debt that will need to be rolled over in the relatively near term. Any sign of a 'double dip' recession could send Ford over the fiscal edge and into its own bankruptcy.
Value Line's evaluation of some other metrics for Ford don't look good either.

I think Value Line is being very generous in assigning Ford a 'B' for financial strength. It should be noted that Value Line's lowest non-default rating is a 'C'. Ford scored in the 5th – 15th percentile rankings in the other three categories (with 100th being best).
While Ford is earning nice profits now that could turn on a dime. Ford earned $3.22 /share in 2000, before pulling a 180 and losing $3.02 /share in 2001. Similarly it went from $1.25 in EPS in 2005, to (d1.50) in 2006, and that was when housing was still booming.
While the Friday afternoon price of $13.30 (2 PM) is only 7.1x the consensus estimate of $1.87 that's a very fluid expectation that could worsen faster than a Mustang can accelerate.
Now let's compare the above figures with General Motor's numbers.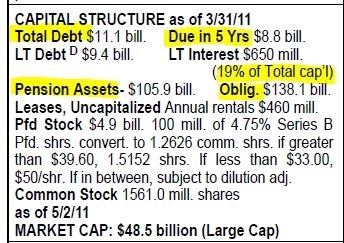 As of March 31, 2011, GM had only $11.1 billion of total debt and a fairly low debt to equity ratio. The automaker held more cash on hand than its entire short-term debt of $8.8 billion. Like Ford, GM has a pension fund deficit – about $32.2 billion as of YE 2010. That was about $8.68 per GM share though, versus Ford's smaller overall funding deficit of $11.50 /share due to having less shares outstanding.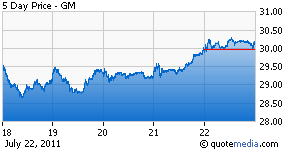 GM's Friday, mid-afternoon quote was $30.15 on a consensus view for this year of $3.98. That puts it at about 7.6x current year projections.
The 'new' GM is poor for earnings predictability and stock price stability just as Ford is but its current financial strength is magnitudes better. Even if you prefer the patriotic choice of non-bailed out Ford I'd say there's an easy choice if you're looking to own one or the other of these venerable names.
GM should be able to weather future stormy times while Ford could easily end up in the ditch.
If you deign to own a domestic auto company go with GM over Ford at similar P/Es.