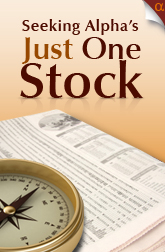 Seeking Alpha's Jason Aycock asks money managers about their single highest-conviction position - what they would own (or short) if they could choose just one stock.
---
Barry Barker is founder and president of Barker Financial Management, a fee-only financial planner and RIA based in Annapolis, Md. Before starting his investment firm, Barry earned a Master's from Johns Hopkins University Whiting School of Engineering, and worked for FMC Corp. performing financial analyses of technical innovations and new business while developing technology alliances and joint ventures.
Welcome, Barry. First of all, we talked with you about your high conviction choice before: CenturyLink (NYSE:CTL), up more than 15% in the 16 months since then, and it was up as much as 40% during that time. How did that investment work out for you?
CenturyLink has been an outstanding pick for me and I have recommended this stock at key entry points for some of my clients. CTL recently acquired Savvis to take advantage of an accelerating business migration to cloud computing and hosting. When you add Savvis to CTL's earlier mergers with Embarq and Qwest, they are clearly acquiring the capacity, technology, and services they need to enhance revenue and cash flow per share. CTL has an outstanding growth strategy and with a sustainable dividend yield north of 7%, it is a solid pick anytime the stock falls below $40.
So today, if you could only hold one stock position in your portfolio (long or short), what would it be?
I like Verizon Communications (NYSE:VZ), because they are focused like a laser on increasing shareholder value and pay a great dividend. Given the weakened state of today's economy, these are compelling reasons to own the stock.
Tell us more about the company behind the stock.
The leadership at Verizon understands the evolutionary nature of telecommunications technology and they are strategically positioning the company to profit from the rapid changes in both technology and customer expectations.
Verizon is noted for having the premier 3G and 4G wireless networks in the country, and they now offer some of the best Apple (NASDAQ:AAPL) and Android (NASDAQ:GOOG) smartphones and wireless devices on the market to create compelling communications and productivity solutions for increasingly jaded and fickle consumers.
They are clearly aware that their voice and DSL broadband business has matured, and are reducing costs and infrastructure to offset a declining revenue stream to improve margins in their wireline business. Meanwhile, they are are adding thousands of television and broadband customers to their FIOS network to better compete with cable, and are adding cloud computing and hosting with their recent acquisition of Terremark.
How does your choice of Verizon reflect your investment approach?
U.S. debt as a percentage of GDP is close to 100% and continues to grow. The country will continue to experience high unemployment and record deficit spending for years to come, along with manifest political dysfunction and a moribund and intransigent housing market. In this economic environment, I want to minimize risk while generating sustainable total returns. I like stable, large cap companies with balanced profit and growth plans that pay sustainable dividends, and short to intermediate investment-grade bonds. I also couple that with a near-term tactical plan to take advantage of compelling opportunities to buy oversold stocks beaten down by short-term events.
How much is your choice here based on Verizon's industry, as opposed to a pure bottom-up pick?
I like the telecom sector because the business does better than most in an uneven economy. Communication is essential to our culture and virtually instant communication is essential to effective global enterprise and political discourse. You could say that telecom has moved down Maslow's Hierarchy of Needs to the point that it is considered a requirement for personal and corporate survival. Many people now consider their cell phone an aural extension of their bodies, and I would not be surprised if, 20 years down the road, they aren't further miniaturized and embedded under the skin of our ears.
How is Verizon set up with regard to its competitors?
The telecom market is highly competitive and with technology evolving so rapidly, it takes a clear vision, a nimble business strategy, and solid execution and performance to stay in front of the competition. Verizon has done so by exploiting their strengths and by evolving the company.
For example, Verizon is improving a world-class wireless network by developing their 4G LTE wireless network which will be deployed in 145 markets by the end of this year, and in 175 markets by the end of next year. Wireless is the future of communications and productivity and given the spectrum and speed of their LTE network, it is a game changer. They have also added the latest Apple and Android smartphones, tablets, and wireless 4G PC cards to help them fend off stiff competition from AT&T (NYSE:T) and are developing a high-margin FIOS and wireline machine-to-machine, hosting, and cloud services business to further bolster consumer and enterprise profitability.
If I were doing a SWOT (Strengths, Weaknesses, Opportunities, Threats) analysis on Verizon today, however, I would be less concerned about AT&T's merger with T-Mobile (OTCQX:DTEGY) then with emerging competition from LightSquared, who will offer 4G LTE on a wholesale basis. If the FCC approves AT&T's merger with T-Mobile, it will likely hurt Sprint (NYSE:S) more than Verizon, forcing Sprint into the arms of LightSquared. If the AT&T merger is approved, we are looking at a Verizon-AT&T duopoly - and Sprint will lose customers to both if they are unable to work a deal with LightSquared, or LightSquared's LTE network buildout loses capital momentum.
How does VZ's valuation compare with its competitors?
Compared with their competitors, Verizon is fairly valued with a strong balance sheet and a P/E in the high 20s. With a PEG ratio around 3.5, this puts them at about the 75th percentile within the industry. Their Price-to-Cash Flow ratio is strong at a little over 6.0 and is less than half their peers, while they sport a Price-to-Sales ratio of a little under 1.0, which indicates that they are not overvalued. Verizon's Price-to-Book, however, is higher than its peers, and they are also heavily leveraged with substantial debt and a higher debt-to-equity ratio than its largest competitors. Still, they are a cash flow engine and handily cover their interest and dividend expenses.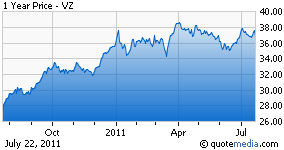 Regarding their hefty debt position, they are wisely taking advantage of today's low interest rates to further leverage the company so that they can fund pension obligations and grow and reposition the business to accelerate revenue growth and profits, which in my opinion is long overdue.
To increase shareholder value, Verizon is capitalizing on the enormous demand for wireless services, smartphones, tablets, data and video streaming. They are adding hosting and cloud services through the acquisition of Terremark while paring voice and DSL wireline infrastructure to reduce costs, and adding and converting customers to the more efficient 4G LTE and fiber-optic broadband networks where they have a better chance of accelerating profits through tiered data plan pricing.
Speaking of sustainable dividends: VZ had a payout ratio north of 200% that's now around 150%. A lot of people like that nice yield; is there room for them to be concerned with the payouts, or does the cash flow make any earnings bumps pretty irrelevant?
The payout ratio is a factor to be considered and it is higher than its peers. Still, Verizon's unblemished track record of maintaining or increasing dividends and the fact that most of their free cash flow ratios are better than their peers holds more weight with me.
My only caution is Verizon's potential Vodafone (NASDAQ:VOD) dividend payout in 2012 and that Vodafone's net income from Verizon Wireless factors into the free cash flow numbers reported by Verizon, making it more difficult to ascertain Verizon's actual cash flow position. Regardless, the bottom line to me is that Verizon has never reduced its dividend and is unlikely to in the near future. Couple that with its growth prospects and the potential for a modest dividend increase in September - Verizon looks like a solid dividend pick for years to come.
Does your view differ from the consensus sentiment on Verizon?
If you look at the latest analyst opinions who cover the company, it is a mixed bag. I believe that Verizon will execute their game plan in the near term and fully leverage their position to provide world-class 3G and 4G wireless network services and the best technology in smartphones, tablets, PC cards in the country. So I see decent growth prospects for Verizon over the next three years and with the 5%-plus dividend, it is an attractive pick to me. I think they need to do a better job of improving their margins and profitability, and they are moving in the right direction by going to tiered pricing, evolving the wireless business, and repositioning the wireline business.
Does the company's management play a role in your selection?
It is clear that Verizon's senior management is committed to maximizing shareholder value while effectively balancing growth and profitability. I think the company has rebounded well from the 2008 recession and that management understands that they must evolve the company to meet their growth and profitability targets.
What catalysts, near-term or long-term, could move Verizon's stock significantly?
If the FCC approves the merger of AT&T and T-Mobile, this will hurt Sprint and you could see Sprint's customers flocking to both Verizon and AT&T. I also have not mentioned Research In Motion (RIMM) until now, and I believe that RIMM has a deteriorating business model and a rapidly declining customer base who are now buying Android and Apple smartphones and tablets from Verizon.
I think that RIMM will always have a core business clientele, but that corporate IT departments are becoming less enamored of BlackBerrys and more willing to use Android and Apple smartphones and tablets, especially as they direct more of their corporate data needs into the cloud to drive down expenses. If the leak in the RIMM battleship becomes a flood, Verizon is well positioned to attract these customers to their wireless solutions, thus increasing their penetration of the profitable smartphone and tablet markets.
What could go wrong with your choice?
The emerging competition from LightSquared could be a game changer. In LightSquared's business model, spectrum to their LTE network is sold wholesale to any wireless device manufacturer that wants to bundle the LTE network with their company's wireless devices. This means that Best Buy (NYSE:BBY), Costco (NASDAQ:COST), and Wal-Mart (NYSE:WMT) can offer a bundled wireless LTE solution to consumers without using the major telecoms.
This assumes that LightSquared can secure the funding needed to build out their nationwide LTE network and resolve potential interference issues with GPS vendors and others that use adjacent spectrum. I don't think they will be able to go head-to-head with Verizon or AT&T, however, until their network is fully deployed in 2015, which is also when Verizon may start needing more wireless spectrum. My assumption is that LightSquared will be successful, thus fulfilling a major FCC mandate to foster telecom competition - which also will make it more likely that they will approve the merger of AT&T and T-Mobile.
Thanks, Barry, for sharing your choice with us today.
Disclosure: Barry Barker has long positions in VZ and CTL, and some of his clients are long VZ.