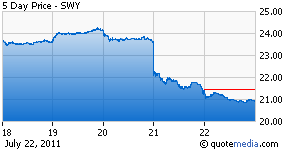 Safeway's (NYSE:SWY) second quarter earnings were given a bum rap. Despite the company beating by four cents on the bottom line (they also beat on the top line) and maintaining earnings guidance, its shares sustained a drubbing, falling more than 11% in just two sessions, and now trade at a 20% discount to their 52 week high. The selloff was an overreaction at the very least, as the order of the day emphasized the folly of selling first, and asking questions later.
Thanks to SWY's market cap loss, its shares now trade at a meager 12 times estimated 2011 earnings of $1.74, offering a fat dividend yield of 2.80%. On an historical basis, the supermarket operator's shares are only about 14% higher than their March 2009 lows of $17.50, which coincidently represent a 20 year low. (See earnings call transcript.)
Share repurchases a bright spot: SWY purchased back $14.9 million worth of its own shares in the second quarter, at an average price of $24; it still has $1.1 billion available on its authorization. The recent stock slide might even be construed as a good thing, when considering the company can get even "more bang for its buck" when purchasing future shares in the open market at lower prices.
Analysts scoffed at SWY's 4-cent beat, attributing it simply to fewer shares outstanding (due to the stock buybacks) but for heaven's sake, isn't that the main purpose for taking that particular action in the first place? A buyback's primary goal is to increase earnings per share and that's exactly what the company accomplished.
Second quarter analyzed: SWY's gross profit margin dropped a whopping 155 basis points from 28.55% to 27%, an ominous sign at first glance, but much more palatable when considering 104 bps was due to the negative impact of fuel sales and 32 bps resulted from an accounting change associated with gift card commissions. On the bright side, management was successful in reining in its costs, as its SG&A component fell from 25.55% to 24.28%, while its interest charges dropped from $69 .9 million to $61.5 million.
The bottom line: The shares were taken behind the woodshed and beaten beyond recognition and have entered a much oversold state. They are obviously on sale now and represent a compelling value. There is no doubt the shares are unpopular at this juncture, but how else are you supposed to be able to buy low? The median one year analyst price target of $24 indicates nearly 20% of upside potential in the works.
Look for those with short positions (there are 38 million shares short -- 11% of its 352 million shares outstanding) to start booking profits, by buying to cover, as well as bargain hunters, being unable to resist nibbling on the shares (sort of a dead cat bounce). This added buying will shift the supply/demand scenario to a more bullish posture and likely send the shares north at least 5% in the next five trading days, so get ready to pounce on the shares once they start to rally!

Disclosure: I am long SWY.