Advanced Micro Devices (NYSE:AMD) reported Q2 results of $0.09 EPS this Thursday and forecast better than expected revenue guidance for the rest of year, prompting a surge of close to 20% in Friday trading and a slew of analyst upgrades. Most encouragingly, the company reported a significant increase in gross margin, from 43% to 46%.
After the release of its Llano mobility platform (click here for my article on the platform), has been met with mixed but on balance positive reviews. The company is now in the final stages before launching its first new architecture release since 2003's highly successful K8, an all-new CPU core designed dubbed 'Bulldozer'.
The Bulldozer technology refresh has walked a long and torturous road from planning phase to retail shelves and OEM bins. Originally outlined on AMD's annual analyst day in November 2009, the new chips are designed to scale up to 8 cores per processor and emphasize memory parallelism and efficient performance-per-watt management, two key features of Intel's (NASDAQ:INTC) highly successful Core product line. Originally slated for early 2011 release, AMD announced repeated delays, the last at industry show Computex. And is now on record with a "late summer" target for earliest availability of its FX line of high-end, gaming and workstation oriented retail processors.
From a financial standpoint, Bulldozer's long-awaited arrival could herald a significant change in AMD's long-term prospects and lead to additional gains in gross margin performance:
Bulldozer chips will be manufactured using Global Foundries' 32nm SOI process, a shrink from current 42nm chips marketed under the Phenom brand. This allows not only higher design density for improved performance and lower power requirements but also cheaper production costs, since there are more dies produced per silicon wafer.
AMD recently renegotiated contracts with partner and former spin-off Global Foundries to only pay for good chips rather than whole wafers, a move with large potential for cost-containment. Traditionally, companies pay fabs per whole slab of silicon, with only vague yield targets (percent of chips cut from a single sheet proved to be fully functional.) AMD's move to per-die (single chip) pricing is likely to result in significant long-term savings.
From a performance and energy efficiency standpoint, AMD will finally be able to claim a degree of parity with Intel's offerings, which have been dominant for years. Early benchmarks have already been spotted in the wild, and although testing methodology and results have been called into question, preliminary outlook seems to be positive, with Bulldozer giving Intel's Sandy Bridge chips a run for its money. This may not be relevant from a volume OEM perspective, especially since AMD has clearly positioned itself as a value alternative to Intel offerings, bu the performance halo may translate into gains in the highly profitable server and enterprise market, where performance and energy efficiency are both critical.
After Friday's strong move, AMD still has a few potential catalysts for near-term price appreciation.
The first could be the announcement of a new CEO. The company has been looking for a replacement since Dirk Meyer stepped down on January 10th, although AMD hasn't shown much urgency around the search. Once the uncertainty is removed, the stock is likely to see a few strong days.
The second could be official reviews, thorough benchmarks and press reaction to commercial Bulldozer products. If the initial outlook pans out and AMD's offerings are confirmed to be truly competitive with Intel's Sandy Bridge chips, real momentum may build behind the equity, with a potential to reach the $8.5 - $9 range it saw earlier in the year.
click on images to enlarge

AMD's tentative line of FX-branded flagship CPUs, courtesy of Turkish technology site donanimhaber.com.
The long-term outlook, however, presents significant challenges. As described in my previous article, Windows 8's dual presence on x86/x64 and ARM (NASDAQ:ARMH) platforms could cut into AMD's prospects. The company competes on value rather than performance, lagging behind Intel's significant manufacturing and R&D edge. This quarter's positive gross margin trend and the future shift to 32nm fabrication could both be negated by strong competition and pricing pressure from ARM-based competition.
Similarly, Intel's upcoming 22nm refresh and 3D tri-gate transistor technology implementation represents a real threat to current marketshare dynamics. As AMD's swing back into profitability has been precarious, even a few percentage points could spell serious trouble for its Sunnyvale-based competitor: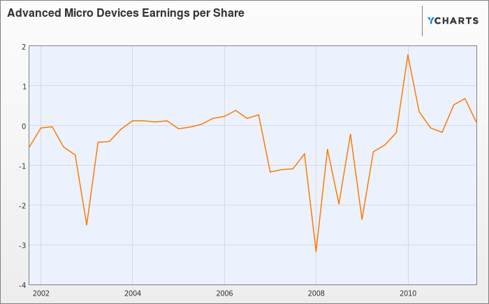 Data and chart courtesy of YCharts.
With these concerns in mind, the barrage of analyst upgrades after Q2 results appears to be a lagging reaction to a company with short-term catalysts for appreciation but significant risks to long-term prospects.
Those looking to profit from immediate opportunities in price appreciation should explore January 21st $7.50 calls for a premium of $1.09, implying a break-even point of $8.59
Disclosure: I am long INTC.