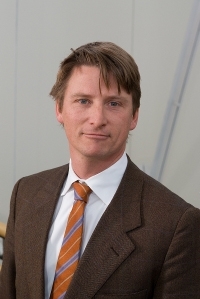 The big battle in health IT is for the Electronic Medical Record (EMR) market.
Before 2009, athenaHealth's (NASDAQ:ATHN) EMR offering was seen as second-rate. It strength was thought to be in the area of billing. But under CEO Jonathan Bush (shown here, from MIT) the company has built alliances that have made it a serious player. (Bush's co-founder, Todd Park, is now CTO for the Department of Health and Human Services.)

Bush moved quickly in EMRs because $19.2 billion in sweet, sweet stimulus cash was made available through what's called the Health Information Technology for Economic and Clinical Health (HITECH) Act. National Coordinator of Health IT David Blumenthal led the effort to develop "meaningful use" standards on which grants of stimulus cash would be based.

Clinics and hospitals can get the cash by meeting a set of escalating standards for fiscal 2011, 2013 and 2015. Clinics and hospitals that don't get with the program by 2015 could face lower reimbursement rates.
The stimulus is why analysts estimate the size of the health IT market will double by 2015. Most of that growth will be in EMRs.

While athenaHealth didn't have a competitive EMR when the new Administration began, it sold its billing system as a service. Such Software as a Service (SaaS) solutions are now often called "cloud" solutions.

The tight deadlines of the stimulus effort gave an advantage to SaaS companies. They would not have to sell clinics and hospitals expensive servers and PCs. The leading provider of SaaS-based EMRs, AllScripts (NASDAQ:MDRX), even had CEO Glen Tullman on the committee that created the new standards.
AthenaHealth still trails AllScripts in market share. AllScript's recent quarterly gross profit of $159.85 million dwarfs AthenaHealth's total sales of $69.93 million. But athenaHealth drew a much heftier chunk of its revenue, 61%, into gross profit, while AllScripts held a gross profit margin of only 47.6%. And it has greater market momentum.
The reason is an alliance with Microsoft which both improved the EMR software athenaHealth could offer and offered a reliable delivery network. What athenaHealth offers is industry expertise and a billing customer base to call on. Its first win under the new arrangement was Humana (NYSE:HUM), and recently it won the business for the state of Wisconsin, located just north of Allscript's Chicago-area headquarters.
Thanks to its Microsoft alliance athenaHealth can now go head-to-head with Allscripts for big contracts, like the one for University Hospitals Case Western in Cleveland, and win.
The reward has arrived. Thanks to a blow-out quarter, athenaHealth rose almost $9/share in Friday's trade and now has a market cap of nearly $2 billion, and a price-earnings multiple north of 100. This compares to a market cap of $3.6 billion for Allscripts, which has been slowed by its merger with Misys last year.

AthenaHealth is putting its winnings into Maine real estate and recently announced it will acquire Proxys LLC, a Birmingham-based SaaS provider of care coordination, to its holdings. Proxys gives athenaHealth visibility throughout the hospital supply chain, and will be quickly integrated with the rest of the company's EMR offerings.
From a position well back in the EMR race, Bush has cunningly used alliances to put himself toe-to-toe with the market leader. Investors are applauding.

Disclosure: I have no positions in any stocks mentioned, and no plans to initiate any positions within the next 72 hours.