McDonald's (NYSE:MCD) reported better than expected EPS of $1.35 versus $1.13 year over year. That was about a dime above estimates. Full year estimates have ratcheted up to $5.12 for 2011 and $5.60 in 2012. The shares hit a new all-time high of $89.57 before easing back to close Friday at $88.56.
Food cost inflation is a potential problem as management now expects to see 4 – 4.5% increases this year. McDonald's will try to pass these increased costs along to consumers but it is uncertain if they offset the full amount.
On balance, all the news is good and results have never been stronger. So why do I think MCD shares are likely to stagnant over the coming year? Valuation. If you're a Dr. Phil fan on TV you know one of his favorite sayings is, "The best predictor of future behavior is past behavior."
Take a look at this excerpt from Value Line's June 3, 2011 issue…
[Click to enlarge]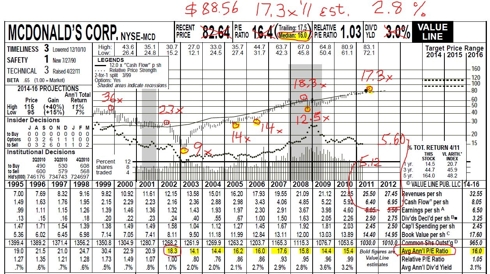 Click to enlarge
I've highlighted four of the best times that investors could have bought MCD over the past decade. Those who purchased when the shares subsequently did best paid P/Es of 9x (2003), 14x (2005 and 2006) and 12.5x at the exact bottom in late 2008.
Note that the three worst times to buy since 1999 each occurred at much higher multiples. In the overpriced market of late 1999, MCD traded at an absurd 36 times earnings and shareholders were about to see their shares marked down by 75.7% (from $50 to $12.15) by early 2003. The interim peak in 2002 was at 23X that year's EPS. Just before the market collapse in 2008, McDonalds touched $67 and 18.3x full year earnings before plunging to $45.80 just months later.
Value Line was kind enough to calculate MCD's historical 10-year median P/E as 16. That's also the multiple they deem proper in figuring their 2014-2016 target price range. You could have bought MCD shares at less than 15x earnings at their low point during each year since 2002. You'll likely get that chance again.
At the current quote, MCD now commands 17.3x the upwardly revised estimate for 2011 and 15.8x the 2012 expectation. If the company meets those views and reverts back to a normalized 16 multiple, MCD could trade for about $89.60 18 months hence.
That would represent a 1.2% increase in price to complement approximately 5% in cumulative dividends. If a potential total return of 6 – 7% in the next year and a half doesn't excite you consider taking a profit now with the intent of buying back on any dips to below $80.
If you just can't let go, I'd recommend selling some covered calls for January 2012 to capture some immediate income while getting some downside protection.
| | | | |
| --- | --- | --- | --- |
| MCD @ $88.56 | | | |
| | Premium | 'If Called' Price | Downside Protection |
| Sell Jan. 2012 $85 covered calls | $5.60 | $90.60 | 6.32% |
| Sell Jan. 2012 $90 covered calls | $2.80 | $92.80 | 3.16% |
MCD has limited upside and only moderate risk. It's had a good run, but is best used as a source of funds for stocks with bigger potential gains.
Disclosure: I have no positions in any stocks mentioned, and no plans to initiate any positions within the next 72 hours.