A rocket has now been loaded into the latest bazooka aimed at investment markets. On July 21, eurozone leaders announced their most recent plan to rescue Greece and to try and stem a contagion from spreading across the region. And the stock market cheered the moment they got the first sense that a deal was in the offing, rising a healthy +1.5% to close out the week. Of course, we've all been here a few time before in recent years. And unfortunately, whenever the bazooka is called upon, it always seems to end up missing its target in the end.
How stocks respond to this latest rescue plan remains uncertain. But what we can call upon to predict this outcome is how markets have responded to past instances when the bazooka has been loaded and ultimately deployed. As a result, it's worthwhile to take a look back to see if any bazooka related patterns are starting to emerge.
Since former Treasury Secretary Hank Paulson introduced the term back in the summer of 2008, we've had three past instances prior to this week that widely received the "bazooka" moniker.
The granddaddy of all bazookas came on September 8, 2008 when Fannie Mae and Freddie Mac were taken under government control.

The second bazooka moment came roughly a year and a half later on April 11, 2010.

With Greece sliding toward the brink of default and its Prime Minister pleading for stovepipe style help, the European Central Bank and the International Monetary Fund announced it would set aside 30 billion euros to implicitly guarantee all of Greece's debt.

And the third instance came one month later on May 10, 2010 when European Union finance ministers stepped up their effort with what was then supposed to be a game ending 750 billion euros in support not only for Greece but also its ailing PIIGS brethren.
In each instance, we have seen a similar pattern of behavior from markets in the days following these dramatic announcements. The stock market as measured by the S&P 500 Index (NYSEARCA:SPY) soared in the days immediately following each bazooka announcement. The day following the takeover of Fannie Mae and Freddie Mac in September 2008, stocks soared over +2% and were still positive days later heading into the notorious weekend of September 13-14, 2008. We all know what happened from there.
When the first of two Greek bazookas was launched in April 2010, stocks grinded higher on the S&P 500 for a few weeks before turning sharply lower, although the rally on the Europe heavy MSCI EAFE Index lasted only five trading days before dropping precipitously over the next few weeks leading up to the next Greece bazooka. As for the third bazooka in May 2010, stocks spiked over +5% in the first three trading days, only to give up all of these gains and more by the middle of the next trading week.
The pattern – initial euphoria followed by an unpleasant decline. Why? Because in each instance policy makers were trying to eliminate a problem by overwhelming it with massive amounts of money and brute force. The only dilemma is that these problems quickly grew in scale well beyond the ever-mounting resources deployed in vain trying to make the problem go away.
And looking at the most recent bazooka introduced this week, it's easy to see how we may find ourselves quickly in the same predicament once again this time around. Not only does the problem appear unresolved, but we also face the unpleasant prospect of a steadily weakening global economy even without these eurozone debt issues.
click on images to enlarge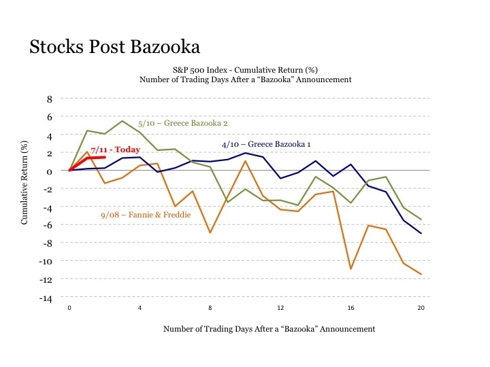 Click to enlarge
So if stocks are prone to correction once the initial buzz of firing a bazooka wears off, how have other markets outside of stocks performed. The good news is that many major categories have generally performed well. Thus, diversifying into some of these non-stock categories may have some appeal in the coming weeks.
U.S. Treasuries (IEI, IEF, TLT) are a prime example of an asset class category that responded well amid the post bazooka fallout. In each past instance, Treasury yields were meaningfully lower (and Treasury prices higher) in the weeks following such episodes. It is worth noting that, as shown by the orange line in the chart below, although Treasury yields did not respond initially in the days following the Fannie/Freddie takeover, they would have eventually spiked off the chart to near historical lows at 2% only a few months later.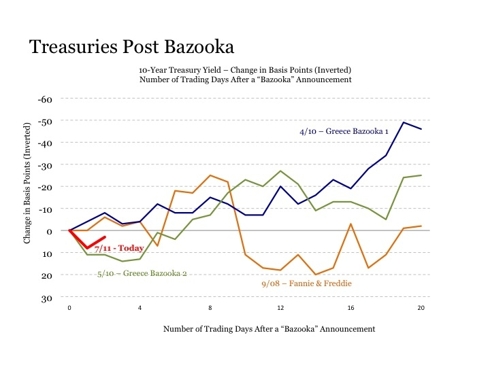 Click to enlarge
Gold (NYSEARCA:GLD) has also shown itself to be a steady post bazooka performer. The idea of massive fiscal and monetary intervention into capital markets is bullish for precious metal hard assets such as gold, since such actions serve to undermine the integrity of the associated fiat currencies. And in each past instance, gold has generated steady gains after finding its footing in the days that immediately followed such bazooka announcements.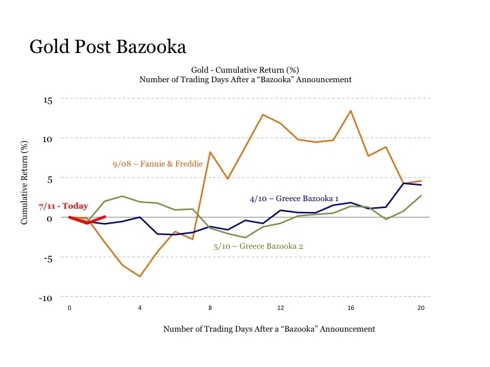 Click to enlarge
Bottom Line
So while stocks have enjoyed some initial euphoria following the announcement of the latest bazooka rescue plan from Europe, it is likely that they face the potential for downside in the coming weeks if recent history is any guide. This will be particularly true if the latest rescue plan fails to restore confidence to markets that the at risk countries in Europe can finally begin to stabilize. Other asset classes outside of stocks have shown the propensity to perform well in such environments including U.S. Treasuries and gold.
One final point, the ongoing U.S. debt ceiling debate should be monitored in the coming days both with caution as well as an eye on upside prospects. Assuming this issue will finally get resolved, any sharp sell offs in Treasuries (amid nervousness about default) or gold (amid the relief that a deal has been reached) should be examined for potential buying opportunities.