Many investors may not be familiar with LifePoint Hospitals (NASDAQ:LPNT). The company is in fact the smallest publicly traded hospital company. I am familiar with them only because a hospital in my community is owned by LifePoint.
LifePoint Hospitals was spun off from healthcare giant HCA Holdings, Inc. (NYSE:HCA) in 1999. LifePoint represented the smaller community hospitals that HCA was no longer focused on. LifePoint owns and operates 52 acute-care centers in the United Sates. Over the last several years it has been paying down debt. It is now focused on making some strategic acquisitions of larger hospitals in growing communities. It is also working with Duke University Health System to build a network of hospitals throughout the state of North Carolina.
LifePoint was recently featured in an article on Barrons.com. The article points out that the stock may have a 21% upside over the next twelve months, giving it a share price of $45.
Year-to-date, LifePoint shares are up about 4%. The stock price doesn't seem to reflect the true value of the company. LifePoint trades at only 5.8 times enterprise value to forward EBITDA, the lowest of the hospitals group. The stock has a forward P/E ratio of 12 and trades at 0.62 times sales. LifePoint has a stock price -to-owner earnings ratio of 10.88.
LifePoint has increased cash flow at an annualized 10.8% and trades at only 6 times cash flow. Revenue and earnings have increased at an annualized 12.5%.
click on image to enlarge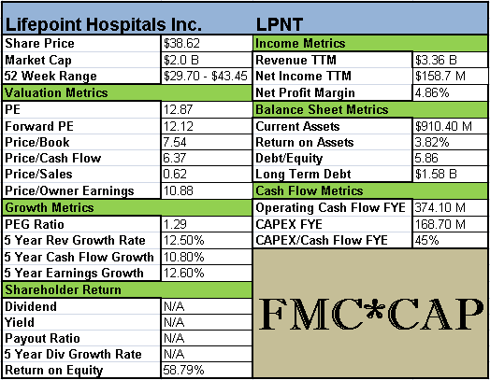 LifePoint is due to report earnings on July 29th and analysts are looking for $0.75 per share. The high and low estimates are $0.79 and $0.71, respectively.
Despite being able to grow earnings through the recession, LifePoint has faced some stiff headwinds that will continue.
First, the economy is growing very slowly and the jobless rate is not improving. This increases the amount of uncollected debt that LifePoint has on its books.
Second, the government is cutting payments for Medicaid and Medicare. Failure to raise the debt ceiling in the United States would only complicate these matters more.
However, one benefit is the number of insured Americans will increase as the new healthcare law begins taking effect.
LifePoint should be able to manage through these headwinds. The stock price is already reflecting much of the concern. The strategic expansion into areas with growing populations will help. The stock is relatively undiscovered when compared to competitors such as HCA, Tenet Healthcare (NYSE:THC), and Community Health Systems (NYSE:CYH). Now seems like a great time for investors to check out LifePoint, before the clouds clear.
Disclosure: I have no positions in any stocks mentioned, but may initiate a long position in LPNT over the next 72 hours.