Europe continues to kick the can down the road with the PIIGS while the USA plays with fire on the debt ceiling. As the comment stream on my weekly summary article last week shows, there is no consensus on this complicated problem.
The goal on any spending cutbacks is to deliver at least equal levels of support while spending less money. The goal of any tax increase is to not effect economic output. Easier said than done -jump up in the air and stay there.
Many of the budget solutions in the USA and Europe are based on misinformation or distortions of historical evidence. Econintersect has continued to post informative work on this subject (here and here). Our opinion on this subject is that the solutions must work – and not be the smoke and mirrors of the solutions to date. Again – there are no GOOD solutions available – and that is why there is no consensus.
This week, I want to focus on a particular problem which is the global community continues to kick the can down the road – piracy.
click to enlarge images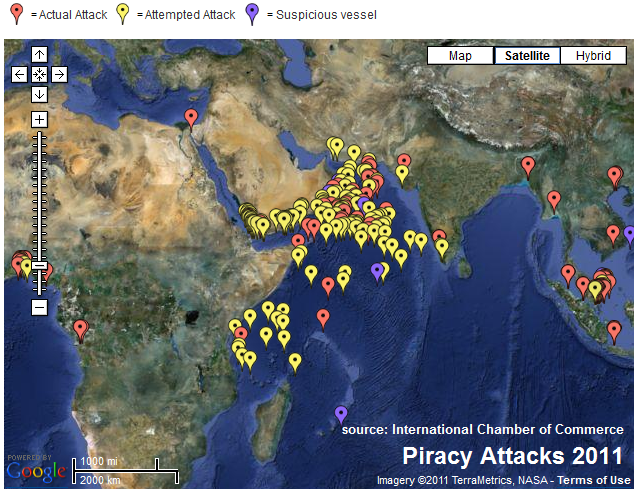 Earlier this week the Indian Navy intervened in a piracy attempt on a Greek ship in the Gulf of Aden. The pirates themselves were allowed to skedaddle – a normal procedure for the anti-piracy coalition which patrols these waters.
Then a few days ago, the pirates were successful in taking a 2100 ton general cargo ship with 16 souls on board.
One study puts the costs at $7 to $12 billion per year, including increased insurance premiums and the re-routing of ships.
A good background article points out that over 4,000 seafarers have been attacked with firearms.
What most land-lovers miss is that going to sea puts you into jeopardy. The laws of the seas in international waters gives no country any real enforcement powers. The seas in practice are lawless.
The current laws of the seas are based on 17th century concepts – and are out of place in 2011. The seas by design are lawless.
There are no real jobs around the Horn of Africa – and one successful piracy could set your family up for life. There are no real solutions being discussed to stop piracy which is continuing to grow.
Just one more example of kicking a problem down the road hoping it will go away. Piracy is not going away, and its financial impact will continue to grow.
Economic News This Week:

The Econintersect economic forecast for July 2011 indicates the soft patch will continue. This is based on "less good" data, not data suggesting the economy is falling off a cliff.
This week the Weekly Leading Index (WLI) from ECRI remains unchanged at 1.7%. This level implies the business conditions six months from now will be approximately the same compared to today. This index has eroding and in a three month downtrend. However, this index has been holding at 1.7% for the last three weeks.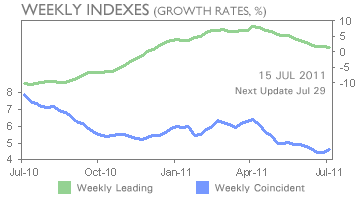 Initial unemployment claims rose 10,000 to 418,000 and remains elevated. The real gauge – the 4 week moving average – fell 2,750 due to backward revisions. Because of the noise (week-to-week movements), the 4 week average remains the reliable gauge. Historically, claims exceeding 400,000 per week usually occurs when employment gains less than the workforce growth.

No meaningful economic data was released this week except for existing home sales which exceeded Econintersect's expectations. The decline in rail traffic is troubling and is covered by Econintersect News (news here).
Weekly Economic Release Scorecard:
Item

Headline

Analysis

Sovereign Bonds

Dirk Ehnts answers Krugman's question why

Italian government bond yields are much higher than Japan's
USA & Europe Debt

Edward Harrison reviews the constraints to successfully solving the debt crisis

June Conference Board Leading Economic Indicator

Up 0.3%

Up and "less good" according to the conference board. Likely this index is broken as it is too heavily weighted towards monetary policy

Trade Balance

Michael Pettis finds arguments by trade surplus nations surreal.

June Existing Home Sales

Contracting

The data is flat at worse. Home sales are consistent with past trends, and home prices are now unchanged YoY

European Wines

Elliott Morss looks at the business & consumption end of European wines.

June Residential Construction Permits

Growing

Second month of YoY increase in permits. Completions still contracting.

Bank Regulation

Amar Bhidé warns against cookie-cutter bank regulations
USA Debt Crisis

John Lounsbury & Steven Hansen explain that there is no good solution to the crisis

Consumer Metrics

Rick Davis reviews the improvements to the CMI index

Employment Numbers

Elliott Morss dissects the BLS jobs numbers from 2001 to present

Cultural Child Raising

Frank Li's think piece this week is about the difference between Chinese and American parenting

Debt Crisis

Lance Roberts attacks the notion tax increases are a solution in balancing the budget

Fannie & Freddie

Dean Baker says government policy led to bad loans

European Bank Stress Tests

Dirk Ehnts discusses the potential of turmoil with the release of the European bank stress test results

Are Lawyers Protecting or hurting?

Rick Davis penned a provocative think piece about the legal profession rule of the USA halls of power

Greece

L. Randall Wray asks whether Greece can survive in the Euro

Charter Cities

Dirk Ehnts explores how one-shoe-fits-all approach may not work

Evaluating Trading Risk

Jeff Miller says the time to invest is when everyone is worried

Municipal Bonds

Ridgeworth Investments believes quality muni's should be a part of investor's portfolio

Risk Assessment

Jeff Miller says much risk is only anecdotal.

Income Investors

Larry Spears reviews how options are useful in a income portfolio

ETF vs Mutual Funds

John Lounsbury reviews the nuances of each of these investment vehicles
Bankruptcies This Week: Perkins & Marie Callender, Nebraska Book Company (NBC).
Disclosure: I have no positions in any stocks mentioned, and no plans to initiate any positions within the next 72 hours.