Johnson & Johnson (NYSE: JNJ) is a long time member of the Dow Jones Industrial Average and consistent dividend stock. JNJ is a leading global consumer health care company with more than 250 operating companies throughout the world. Founded in 1886, JNJ is currently headquartered in New Jersey. JNJ has three operating segments: Consumer, Pharmaceutical, and Medical Devices and Diagnostics. Their Consumer Segment manufactures and markets products under many brand names including Listerine, Neutrogena, Tylenol, and Sudafed. The Pharmaceutical Segment provides products, including Remicade for certain inflammatory diseases and Intelence for HIV/AIDS patients. The Medical Devices and Diagnostics Segment makes JNJ the world's largest and most diverse company in this space. In 2010, the Medical Devices and Diagnostics segment produced the most revenue at $24.6 billion of JNJ's overall $61.6 billion.

Over the past 40 years, dividend growth has been at an annual rate of about 15%. JNJ currently offers a dividend yield of 3.4% based upon its most recent quarterly dividend of $0.57. The following graph shows the historical dividend yield. Dividend yields were measured at the ex-dividend date for each of the past quarterly dividends.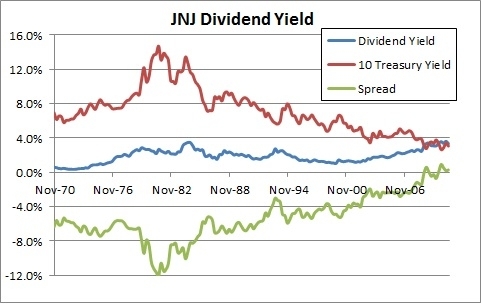 Created from data from Yahoo!Finance.

This dividend yield also represents an above average yield over the last 40 years. Previously highs included during the early 1980s when interest rates spiked well above 10%. During the market lows in the early spring of 2009, the dividend yield did spike to 4.5%. (It is not visible on the graph since it was in between the two quarterly ex-dividend dates and the price of JNJ was noticeably higher at that point). The second graph shows that over the past 10 years, dividend growth has drastically outperformed the stock price.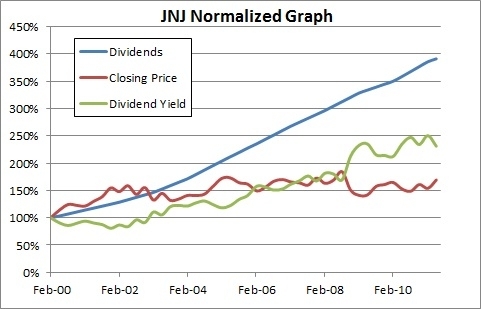 Created from data from Yahoo!Finance.

This graph leaves one wondering why the stock has not performed better with such a strong track record of growth. This stock is also clearly showing increased dividend yields due to rising dividends and not a falling stock price. The next chart shows the entire 40 year history, which I've included to further demonstrate the point about its dividend performance.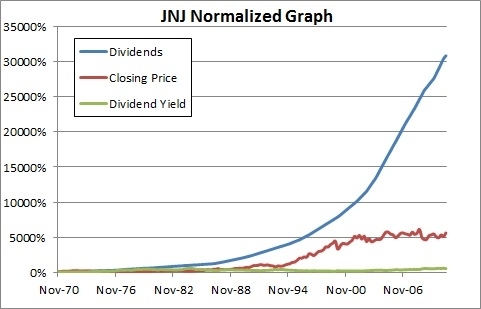 Created from data from Yahoo!Finance.

While JNJ's past dividend performance is no indication of future performance, JNJ has a consistent track record and has weathered several storms, including its Tylenol scare. The primary reason for looking more closely at JNJ is that its current dividend yield is relatively high compared to past yields. However, additional fundamental analysis would be needed to determine if that dividend is sustainable going forward.

Valuation techniques, like Dividend Discount Models, can also provide some insights. JNJ's recent dividend growth has been around 10%. Assuming there is no quarterly dividend growth for the next year gives a $2.28 dividend. JNJ has a low beta around .61 which suggests a discount rate of 7.5% using the Capital Asset Pricing Model. So fair valuation would occur if JNJ can achieve a long term dividend growth rate of around 4% which seems very reasonable given its past performance. A growth rate around 5% would give a price of $91.20 per share which is 37% premium to July 22's closing price of $66.72.

Disclosure: I have no positions in any stocks mentioned, and no plans to initiate any positions within the next 72 hours.

Disclaimer: This article is for informational and educational purposes only and shall not be construed to constitute investment advice. Nothing contained herein shall constitute a solicitation, recommendation or endorsement to buy or sell any security.