One strategy I recommend performing before opening a position in a particular stock is to compare other companies within the same sector. Often an investor can determine which direction a particular stock might go based upon another company in the same sector. Therefore, comparing charts of companies in similar sectors is a great way to determine the overall momentum of the sector. For instance, if the stock you would like to buy has been facing a slide and it looks good to buy; and you check and see another company in the same sector with a similar chart has dipped even more, it may be better to wait before opening a position.
JDS Uniphase (JDSU) and Nvidia (NASDAQ:NVDA)
The first two companies that share an almost identical chart is JDS Uniphase and Nvidia. Both companies are apart of the broad technology sector and JDSU focuses on optical networking while Nvidia focuses on graphics processing units (GPU). Over the past year, JDSU has outperformed Nvidia. It is very interesting to see how both companies made the same jump post earnings after the fourth quarter of 2010. Also, both companies had a steady 50% run up from July 2010 to January 2011. After the jump, both companies started to decline to the levels we see today. In terms of trading, it is better to follow JDSU if you are looking to open a position in Nvidia. JDSU tends to lead Nvidia, except around earnings seasons because Nvidia reports earnings before JDSU on a consistent basis.
[Click all images to enlarge]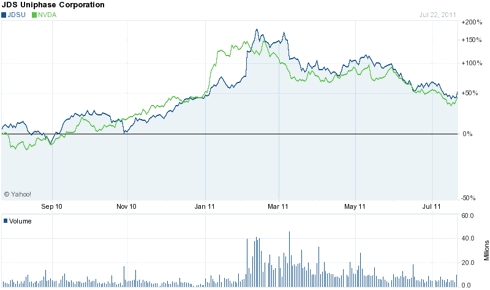 Caterpillar (NYSE:CAT) and Cummins (NYSE:CMI)
Caterpillar and Cummins are two of the leading engine manufacturers in the world. Both companies have bright futures as developing countries continue to need diesel and natural gas engines for trucks and busses. Caterpillar has an added bonus of being in the business of mining for natural resources. Both companies' share prices were nearly identical until about February, when Caterpillar continued rising and Cummins sank. However, it appears in this case Cummins beat Caterpillar to the slide since Caterpillar's stock did eventually slow down almost three months later. Also, Caterpillar's most recent earnings report sent the share price down about 6%. This slide could begin the trend where Cummins leads Caterpillar up. We saw this trend prior to February 2011. It will be important to monitor this because both companies have a tendency to lead the other for a span of 6-10 months before switching.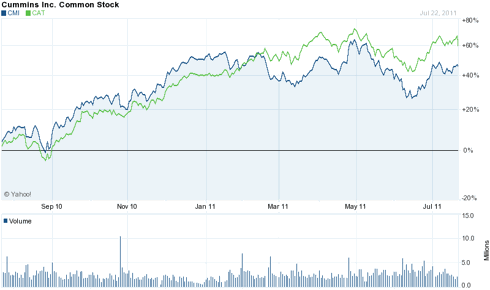 Devon Energy (NYSE:DVN) and Hess (NYSE:HES)
Devon Energy and Hess have nearly identical charts. It may not be a complete surprise since both companies are in the same sector and have a focus on producing oil and gas. Also, both companies operate in the exploration of new oil and gas sites. As you can see, Devon and Hess are nearly identical. While Hess has returned more to investors over the past year, the truth is both companies make the same moves at around the same time. One point of interest is that Hess has a tendency to make sharper surges, while Devon tends to slide more harshly.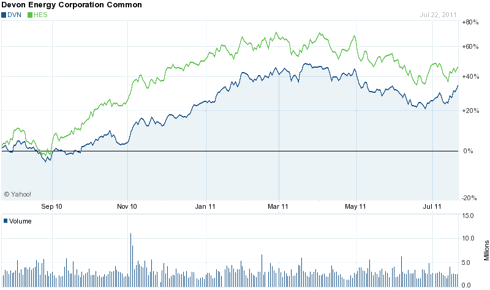 Eli Lilly (NYSE:LLY) and Abbott Laboratories (NYSE:ABT)
Eli Lilly and Abbott Labs are two of the more successful healthcare companies in the sector. It must be noted, most healthcare companies struggle to follow continuous upward momentum. Despite both companies being two of the strongest healthcare companies, Eli Lilly has returned 10% the past year, while Abbott has returned 8%. As you can see in the chart, both stocks have stayed together most of the past year. Also, an important point to note is both companies tend to lead the other for a 3-4 month span. Therefore, investors of either company can predict when to buy or sell based upon the stock of the competing company.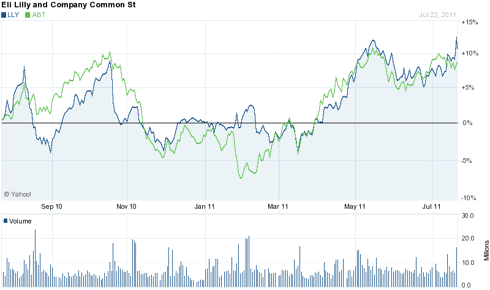 Seagate (NASDAQ:STX) and Western Digital (NYSE:WDC)
Seagate and Western Digital are both leaders in the hard drive and storage market. Therefore, it should not be surprising to see both stocks sharing the same movement over the past year. However, in reality Seagate's share price had been performing at a higher level prior to last week's earnings. This dip was predictable because Seagate's stock had been growing too quickly compared to Western Digital. Two things may happen from here; first Seagate may lead Western Digital lower, or Western Digital may lead Seagate higher. As you can see, both situations involve Western Digital's stock returning more, or losing less, for investors.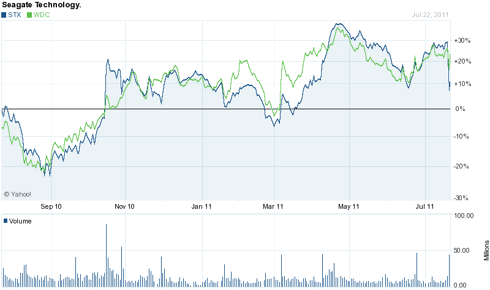 Deere & Company (NYSE:DE) and AGCO
Deere and AGCO are also very similar just as the previous five pairs. Both companies have a focus on tractors and farming equipment. Because of this, commodity prices affect both companies. The higher the commodity prices, the better these two companies should do because farmers are working more and need more tools. In regards to the share price, both stocks have made the same moves over the past year; with very few exceptions. This pattern should continue until one of the two companies can innovate in a way that puts the other competitor out of business.
As you can see the stocks mentioned share similar growth patterns. Investors should learn how to spot these trends to make sound decisions. One important fact to note is these patterns are useful for long term trading because it shows which direction a stock will go over a 6-12 month span. Also, these patterns show which company in a particular sector is the strongest.
Disclosure: Author is long CAT and may initiate a long position in JDSU over the next 72 hours.