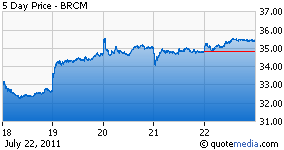 Broadcom (BRCM) is expected to report Q2 earnings after the market close on Monday, July 25, with a conference call scheduled for 4:30 pm ET.
Guidance
The consensus estimate is 63c for EPS and $1.80B for revenue, according to First Call. Guidance for Q2 provided on last earnings call was for revenue of $1.75B-$1.85B - or roughly flat vs. Q1 revenue of $1.82B. Product gross margin for Q2 was guided to be up 50 bps from Q1's 50.7%. And Q2 R&D expenses guided to be flat from Q1. Management said they expected their mobile and wireless segment revenue to decline in Q2 due to softness at some of our key customers. And, Broadcom at Q1 reports said they see minimal impact from Japan earthquake. Nomura believes investors are preoccupied about Broadcom's exposure to Nokia (NYSE:NOK) and underestimating the contribution from Apple (NASDAQ:AAPL), which is 2-3x larger as a percentage of sales. Nomura thinks this distinction is important as Apple reported strong revenue, driven by 20M iPhone units and 9M iPad units.
Analyst Views
Nomura estimates that Broadcom has $4-$5 of content per device. The firm feels momentum should accelerate in Q3 as Apple indicated that iPad inventory is below the normal range of 4-6 weeks. Furthermore, Nomura believes Broadcom will benefit from several new phone launches. In addition, Nokia should grow sequentially for Broadcom in Q3 due to inventory restocking. Overall, Nomura thinks mobile and wireless, which is 46% of sales, will grow 15-18% in Q3 and drive total revenue up 8% to $1.93B. Nomura's Q3 non-GAAP EPS estimate is 75c, slightly above consensus. Consensus for Q3 is: 71c/$1.93B.