1) Petrobras is fairly valued on a current income basis but significantly undervalued on a forward looking basis (continued).
Completing the first of five factors identified as supporting Petrobras as a long term, tuck-it-away-and-forget-about-it hold was the thesis that Petrobras is significantly undervalued on a forward earnings basis. Underpinning this argument is Petrobras' vast, yet to fully be recognized, offshore oil reserves.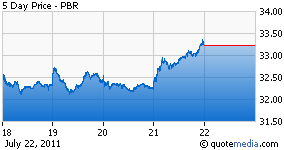 In the Company's five year plan released Friday, July 22, 2011, one of the stated goals of the plan is the "expectation to double Petrobras' proved reserves" - (pdf). In March, Company CEO, Jose Sergio Gabrielli, said that Petrobras can "easily" double its 15 billion barrels of proven oil reserves in four to five years - "We have 10 billion to 16 billion barrels already discovered that can become proven reserves when we declare commerciality."
Critical to this achievement, is the oil from the "Transfer of Rights" or "Assignment Agreement" granted by the Brazilian government on September 3, 2010. Petrobras paid the Brazilian government $43.868 billion (recorded in Property, Plant and Equipment) for the right to produce up to five billion barrels of oil equivalent for an average cost of $8.77 per barrel. This was at a time when Brent crude was $76/barrel (versus $118 today). If, however, the expectation of the price of oil over the development period reaches $100/barrel at the time of commercialization of these fields, Petobras will be required to pay about $17.5 billion to the Brazilian government for the increased value of these rights – increasing the cost of the assignment to $12.27/barrel. While funding for the deal greatly diluted existing shareholders, the value proposition is extremely compelling. Notably, if the value of these rights turns out to be less than five billion BOE, the Brazilian government will refund the difference. I believe that investors have significantly underestimated the value of these rights, which Petrobras intends to fast-track development of with a $12.4 billion investment according to its 2011 – 2015 Business Plan. The Business Plan forecasts development of these rights to reach annual production levels of 5 million barrels in 2015, and 300 million barrels in 2020.
Despite its tremendous potential, Petrobras is currently valued very close to its book value and in line with, or below, other majors in terms of EV per Proven BOE reserves, regardless of the lack of comparative growth opportunities inherent in these other companies.
| | | | |
| --- | --- | --- | --- |
| | PBR | CVX | XOM |
| | | | |
| Proved Reserves (in billions, BOE) @12/31/10 | 11.953 | 10.545 | 11.673 |
| | | | |
| EV (in billions) @ 7/22/11 | $259.33 | $213.80 | $422.80 |
| | | | |
| EV/BOE | $21.70 | $20.28 | $36.22 |
| | | | |
| Price to Book Value | 1.07 | 2.00 | 2.76 |
2) Petrobras' state ownership is a net positive for the Company and its investors in the long term.
Petrobras' majority ownership by Brazil provides distinct advantages to the Company and its shareholders that outweigh various concerns that state ownership has raised. By jawboning Petrobras to keep down domestic energy prices and enforcing adherence to local content laws, the government has provided a foundation for continued economic prosperity and is fighting inflation in the Company's home and largest market – Brazil. The strength and stability of its home market provides a safety net for the Company against the greater economic volatility and general malaise of much of the rest of the world. Brazil has shown wise power in its oversight of the Company's long term capital plan. Particularly heartening to equity investors of the Company is the expectation that the Company will internally generate 85% of the cost of its $225 billion long term investment plan with just $33 billion in net debt financing making up the remainder of proceeds. The plan calls for no further equity issuance.

Brazil is deftly positioning Petrobras for long-term value creation and is doing so amid favorable debt markets. As a result, the Company has greatly benefited by borrowing cheaply and investing its cash holdings in high yielding short-term Brazilian treasuries. However, Petrobras has also been limited in its ability to pass along higher energy costs to consumers in Brazil. "We don't pass through to the Brazilian market short-term variations of the international price of oil," Chief Executive Officer Jose Sergio Gabrielli said in an interview. "Our policy is a long-term policy, and it's too early to decide what to do."
Guido Mantega, Brazil's Finance Minister avers that with public ownership, state-owned enterprises also have public responsibilities, but what multi-national company does not? In time, the government will lessen its pressure and allow natural gas and gasoline prices to rise again.
And indeed, strong Brazilian demand growth for oil will be one of the largest sources of demand for Petrobras' products. "Talking to journalists on the sidelines of a Brazilian-UK panel on energy generation [last month] in Rio de Janeiro Gabrielli said, 'In terms of growth possibilities, in the next 10 years, most of the discoveries will come from Brazil. In the immediate future, we will see a reduction of the consumption of oil byproducts in the U.S., Europe, and Japan, and an increase in consumption in China, India, Brazil, and Africa, where you have accelerated economic growth and social inclusion,' Xinhua news agency reported."
Another advantage to shareholders is Brazil's requirement that its corporations adhere to a progressive dividend policy for the benefit of shareholders. "According to the Brazilian Corporate Law (pdf), shareholders are entitled to a mandatory dividend of 25% of the annual net income." This policy, which has been adopted by Petrobras, provides shareholders with a healthy cash flow on their investment, yielding 3.2% (after taxes) during the past twelve months.
Brazil's majority ownership of the Company puts in balance myriad forces including employment, tax policies, stewardship of natural resources and economic development, that provide a mutual benefit to both country and Company and compares favorably with the knee-jerk public scrutiny that our home-based oil majors receive when oil prices are high or there are oil spills.
Furthermore, Petrobras' high representation, of approximately 80% in Brazil's sovereign wealth fund, FSB, should provide sufficient stimulus for that country to nurture its investment and provide an environment for share growth. Now seems to be an opportune time, to take a position as junior partner in the largest oil exploration and development venture of our time.
Disclosure: I am long PBR.