Though the buying effort tapered a little on Friday, it was a still a great week, with the average stock advancing 1.8% (one of the better weeks in a while). Don't get too excited just yet though; the market still hasn't cleared the big hurdle. We'll look at those lines in the sand in a second. Let's just start at the top, with the economic overview.
Economic Calendar
Not a lot of economic numbers pursed through last week, but we did get a good glimpse of the real estate market. At a quick glance, it looked encouraging. With a longer and deeper look at the numbers, though, it's just more of the same tepidness.
Housing starts rose to an annualized rate of 629K, from 549K. Permits rose from 609K to 624K. Both numbers are at or near multi-month highs. That's good. Neither number is actually meaningfully above (if above at all) last year's peak numbers. In fact, both numbers have been stuck in the same range for three years now.
Existing home sales rolled in at an annualized 4.77 million, which though short of May's 4.81 million, isn't too bad. Again, though, we're not actually making long-term forward progress. There is a somewhat bright spot here, though: At least housing inventory levels are dwindling, to 3.77 million units last month. Home prices edged slightly ahead, though we'll actually get a better feel for home values this week.
Here's a look at the longer-term trends for each of those data sets:
[Click all to enlarge]
Housing Permits, Starts, Existing Home Sales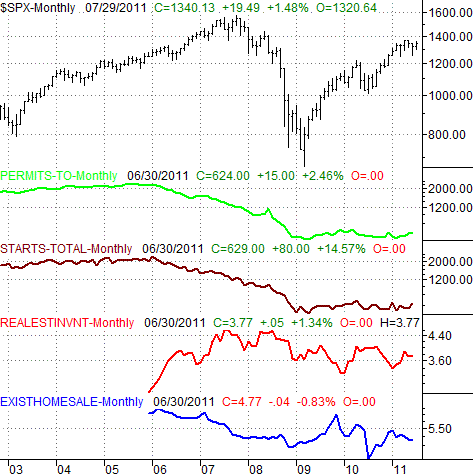 Here's the whole week in a nutshell; note how initial unemployment claims popped back up, while ongoing claims (from two weeks ago), didn't sink all that much – they're just 1.3% lower.
As for the coming week, we're going to round out the real estate picture with the Case-Shiller Index and new home sales on Tuesday, and pending home sales on Thursday. The pros are looking for more weakness than progress. We'll also get a snapshot of the average consumer mindset, with the Conference Board's consumer confidence figure on Tuesday, and the Michigan Sentiment Index (final – July) on Friday. Again, look for more weakness than strength.
Nasdaq Composite
Just to shake things up a little bit here – and because it was a clear leader last week – we're going to swap out the S&P 500 with this week's analysis and look at the Nasdaq Composite instead. It's still the same basic story though: Last week's 2.4% rally still doesn't actually clear the technical hurdles it needs to really set the composite free.
The line in the sand is mostly 2878, where the Nasdaq has peaked three times since May (the first two were almost back to back in May), and where the upper Bollinger band (blue) is going to be very soon at its current rate of decline. Friday's close of 2858.83 – thanks to a gain not mirrored by the other indices – definitely puts this index within striking distance of new highs for the year, but we're not there yet.
Bolstering the bullish case, however, is the fact that the Nasdaq Volatility Index (VXN) still has room to fall before reaching a floor. Its straight-line support as well as the lower Bollinger Band are both (or soon will be) around 16.20. The three points between there and Friday's close at 19.17 may be just enough time/distance to let the Nasdaq Composite hit new highs for the year, at which time an alarmingly low VIX could take a distant backseat to the bullish euphoria of hitting new highs. The four-month consolidation period could further fan those bullish flames.
Let's cross that bridge when we come to it though. For now, we just know the composite is headed for a level it hasn't been able to cross in several weeks.
Nasdaq Composite & VXN Daily Chart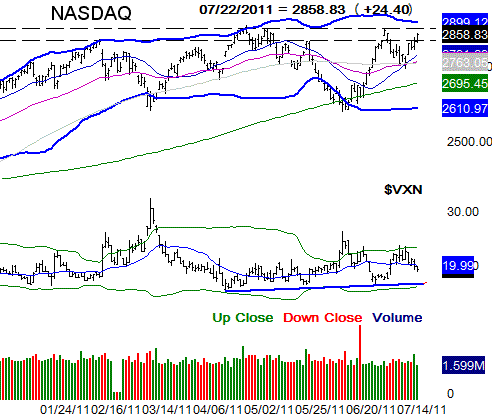 Just for a little extra perspective, a weekly chart of the Nasdaq Composite may put things in a slightly different light. The resistance around 2878 still stands, but one has to wonder of that sharp V-shaped reversal from late-June really cleaned out all the market's dead weight and effectively reset the clock for the bulls. After all, we've only seen one losing week since then (two weeks ago), and even that wasn't all that bad of a week.
Something else shows up on the weekly chart, however, that's a little obscured on the daily chart: Volume, or more specifically a lack thereof.
Although stocks have made good progress since the bottom of the V, with the exception of the dead-cat bounce for the week ending on July 1st, they've only made that progress on pretty light volume. An even bigger red flag is that the one bearish week we've seen in the last four is the one that saw the most volume.
COMP & VXN Weekly Chart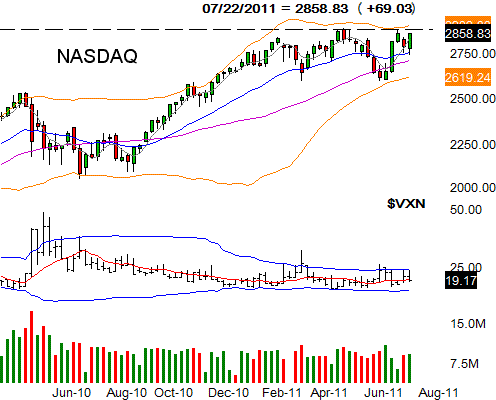 If this rally is to last – above or below 2878 – it needs more participants. And this is the time of year where generating real bullish interest is exceedingly difficult.
Sector/Industry Performance
Since we're shaking things up this week by looking at the Nasdaq rather than the S&P 500, let's stay in the shake-up mindset by looking at some interesting individual industry charts rather than the sector horse-race. Specifically, we're going to point out some groups that look the most action-worthy based on the shape of their charts.
Electric Utilities
It seems hard to believe that the electric utilities group is a trade-worthy leader now, but charts don't lie; the S&P Electric Utilities Index (NYSEARCA:XLU) has been making slow and steady progress since early 2009. That consistency, however, has made it a bigger winner than most investors may realize. Either way, now that it's setting up a base above the resistance at 202, it's well-positioned to make a move above the more recent ceiling around 210 (not marked). One thing that will have to happen before or immediately after such a move though: Volume. It was strong in late 2010 and early 2011, but the buying volume has been a little weak over the past two months. It's more seasonal tepidness than anything else, but still.

S&P Electric Utilities Index Weekly Chart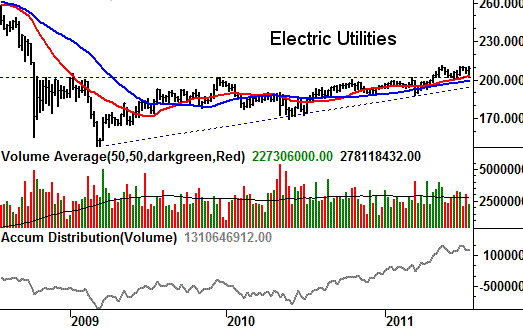 Casinos/Gaming
Either the casino stocks are about to breakout, or fall apart. The S&P Casino/Gaming Index (NYSEARCA:BJK) is back at the upper edge of a rising but shrinking trading range (dashed). The shape of the chart – a rising wedge – more often than not implies bullishness is brewing. Unfortunately, most casino stocks aren't yet justifying higher prices. Don't let that be a mental stumbling block though, as stocks don't always trade at their current values. They trade at what the market think they'll be worth a year from now. One way or another, there's likely to be some movement brewing here.
S&P Casino/Gaming Index Weekly Chart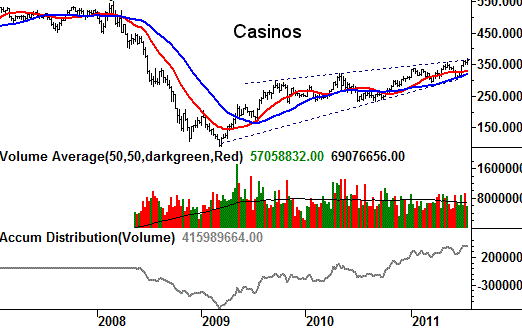 Publishers
Finally, the death of printed newspapers has been greatly exaggerated. While they may have been very, very ill for the prior decade, the action of the S&P Publishers Index (NYSEARCA:PBS) over the past couple of years suggests healing is being done. It's a little tough to make out on this chart, but the index – which includes newspapers, magazines, and book publishers – has punched through the ceiling at 148 (dashed) with last week's 3.0% pop. After a multi-month consolidation phase right in front of this breakout effort, we have to think there's some gas in the tank, and obviously a lot of ground to make up.
S&P Publishers Index Weekly Chart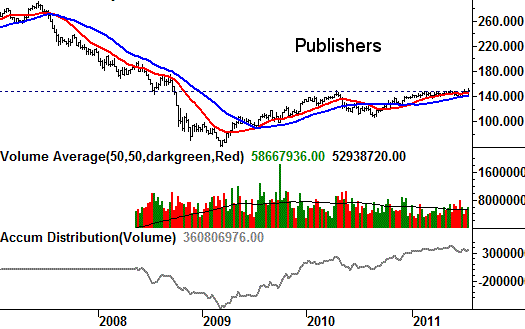 Disclosure: I have no positions in any stocks mentioned, and no plans to initiate any positions within the next 72 hours.