US Bancorp (NYSE:USB), with net revenue of $4.7 billion, earns over $1.2 billion in net income, reported net income of $1,203 million for the second quarter of 2011, showing new lending activity of $52.7 billion and a list of very positive numbers.
US Bancorp chairman, president and CEO Richard K. Davis said:
Our second quarter results clearly illustrate our Company's continuing ability to produce solid, repeatable, and high quality earnings in a challenging environment ... As expected, credit quality continued to improve during the second quarter, as evidenced by favorable trends in net charge-offs, nonperforming assets, delinquencies and criticized assets.

I am especially proud of our company's performance and, importantly, the many dedicated employees that have faced the challenges presented, navigated the hurdles and continued to produce these exceptional results. I am confident that our strong business model, our adherence to prudent risk policies and our outstanding employee leaders will allow us to continue to invest, innovate, adapt and perform for the benefit of our customers, communities and shareholders.
The numbers across the board by category are positive and show the actual direction where loans are improving:
[Click all to enlarge]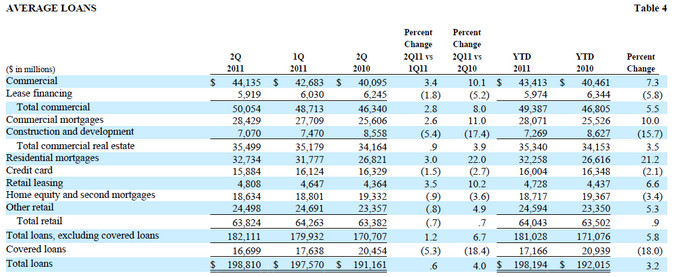 Lease financing continues a downward trend, although only a 1.8% changes from the first quarter: $6,030 to $5,919 (billions). Commercial transactions are up overall. Construction and development is down, a category that has had many losses in the past to almost all banks; however, commercial real estate is up. The drop in credit card business brought retail down below the first quarter, but overall loans were up enough to bypass the drop in covered loans to raise total loans to $198,810.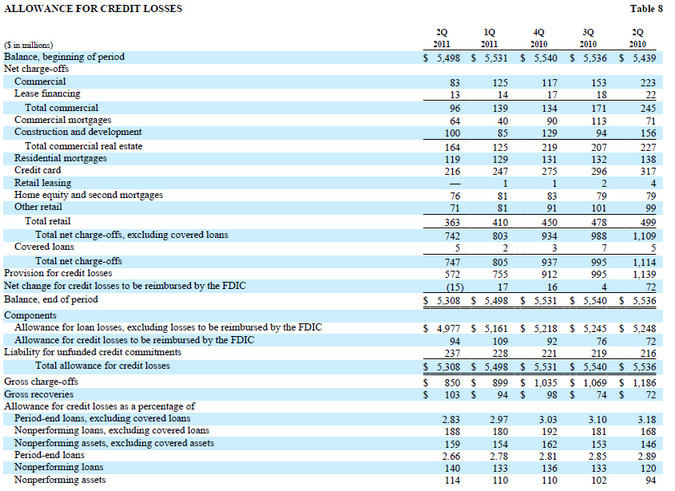 The difference between the second quarter 2010 of $22 million in lease financing charge-offs to $13 million in second quarter of 2011 is quite good, as is the trend since the second quarter of 2010.
All the loss numbers are good, except for an increase, although minor, in nonperforming loans and nonperforming assets, according to the allowance. According to the income side, construction and development is down -- the major category of banks who have recently failed -- but the allowance for the second quarter here is up to $100 million from the previous quarter of $85 million, better than the fourth quarter of 2010 at $129 million. Overall there has been good improvement, and while some of the categories can be picked over, they should not be, as most of this is very positive news.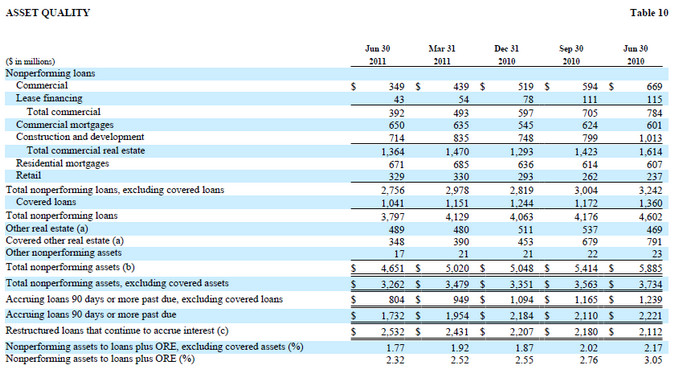 Here is where the key to the performance improvement in the bank stands out, with commercial loans down from second quarter of 2010 of $784 to the second quarter of 2011 of $349. Leasing numbers are also very encouraging, down from the previous period of $115 to $43. Overall all the nonperforming loans are down.


And it's solid here, too, showing equity going up from $30,507 to $32,452 and Tier 1 capital 11% with a risk-based capital ratio of 13.9


The 8K statement noted that wholesale bank and commercial was up, with a lower provision for credit losses due to performance, and a guideline that seems positive.
Disclosure: I have no positions in any stocks mentioned, and no plans to initiate any positions within the next 72 hours.