The long end of the Treasury bond curve was under pressure Monday after U.S. political leaders were unable to hammer out a deal on boosting the debt limit over the weekend.
The iShares Barclays 20+ Year Treasury Bond (NYSEARCA:TLT) was down more than 1% in premarket action. Exchange traded funds that invest in U.S. government bonds have been volatile in recent weeks on concerns a failure to raise the debt ceiling would trigger a default.
"It still appears very unlikely that the U.S. will actually default, since the political cost of being seen as the group which triggered one could be very high. However, it is less certain that the current negotiations will result in a big enough deal to satisfy the ratings agencies which currently have U.S. Treasury securities on credit watch," said David Kelly, chief market strategist at JP Morgan Funds.
Standard & Poor's last week repeated its warning that it could downgrade its U.S. debt rating if the limit isn't raised by the Aug. 2 deadline.
"At some stage in the next two weeks, we will either have a default, a downgrade or a deal. For investors, while the last outcome would clearly be the best, it is difficult to see how Treasuries fare well in any scenario," Kelly said.
"While a default would cause investors to run to a 'safe-haven' asset, it is hard to see how that could be the security in default. Nor are there many examples in financial history of a security rallying on the news of its own downgrade," the JP Morgan Funds strategist wrote in a weekly outlook Monday. "However, if there is a deal, even if it limits the growth in Treasury issuance over the next few years, it could remove the roadblock of budget uncertainty from both the economy and markets, an eventuality that should prove stock-positive and bond negative."
iShares Barclays 20+ Year Treasury Bond
click to enlarge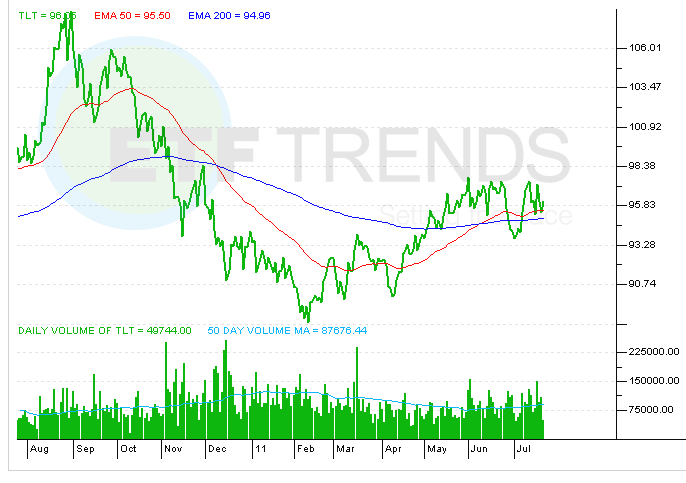 Disclosure: None