Apple (NASDAQ:AAPL) is a unique company due its size ($365B), earnings growth rate (125%), and volatility (1.3β). I have recommended option strategies on Apple since 2010, with tremendous results. For reference, please view the first and other articles in the series to fully understand the strategy and its strong potential returns.
(Click charts to expand)

Click to enlarge
A brief recap of this week in Apple [Up $27.87 (7.6%)]:
Unless you have been living under a rock, you saw Apple's phenomenal third quarter earnings release in which it (a) beat all estimates and (b) setup the company for future growth prospects. You can ignore the sandbagged guidance per usual but focus on the comments from the COO and CFO that detail why Apple's high growth will continue. I detailed four reasons why Apple is going to $500 last week:
Cheaper, Prepaid iPhone Closer to Reality

The Succession Wheels Are In Motion

Competitors Are In Trouble

Apple Is Still a Value Play – "Cash" Adjusted PE of ~12
In addition, next quarter should see the release of the iPhone 5 and possibly even the rumored iPad 2.5/3. With these exciting prospects ahead you need to own Apple; however, you likely know that the company goes through long periods of stagnation. This is precisely why selling covered calls is such an attractive strategy. While others choose to speculate that Apple will appreciate this week, you get paid to assume the risk of foregone profits. With the debt clock ticking, I want to be on the cautious side, even with Apple.
Below I present three possible scenarios and the potential returns for the July 29 weekly options (Source: TD Ameritrade). The first scenario represents a negative outlook for Apple while the final two scenarios are more realistic. As a general rule, selling calls with higher strike prices has greater potential return but additional risk of loss due to the lower (or lack of) downside protection. For more information on the fundamentals of covered calls, consult Investopedia.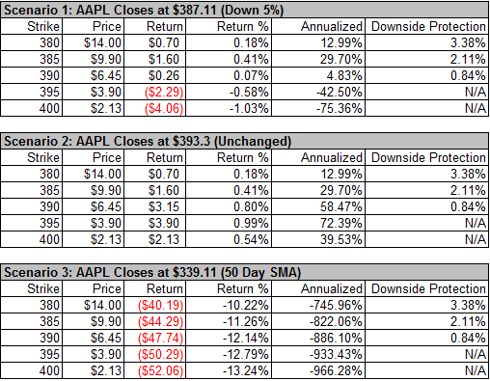 Click to enlarge
Additionally, if you would like even more information, I have prepared a sensitivity analysis for absolute return and percent returns, respectively. After studying the information above, these two charts make it easy to pick a strike price based on where you believe Apple will close on Friday.

Click to enlarge
With this information, executing a buy-write on AAPL July 29 (Weekly) 395s is the optimal risk-return strategy. If you are uncomfortable with this approach, I suggest utilizing the 385s or 390s. Even if you do not normally write covered calls, I believe this is a profitable strategy as forced profit taking. An alternative approach is to sell out-of-the-money 390 puts and collect the premium without having to purchase the stock outright. Note that if the stock declines to the strike price, you are obligated to buy the stock (or closeout the position). In the past I have recommended a short straddle but with Apple rising so rapidly I cannot suggest it at the current price because market-wide profit taking could cause significant loses.
Disclosure: Author plans to purchase AAPL and write July 29 395 Calls.